Francesco Gaetano Caltagirone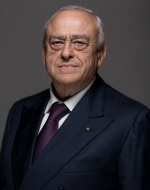 Vicarious Vice-Chair
Non Independent Director
Non-executive Director
Member of the Corporate Governance, social and environmental Sustainability Committee
Member of the Investments Committee
Member of the Strategic Operations Committee
Member of the Appointments and Remuneration Committee
Born in Rome on 2 March 1943
Career
Francesco Gaetano Caltagirone has been a member of the Board of Directors of Assicurazioni Generali since April 2007 and has been Vice-Chairman since April 2010. After studying engineering, he re-launched his family's construction firm, extending its business to the cement and media sectors, giving rise to one of the largest Italian business groups, which includes four publicly listed companies and significant strategic holdings, and has a growing international presence. He was awarded the title of Cavaliere del Lavoro (captain of industry) in 2006.
RELEVANT POSITIONS ACCORDING TO OUR DIRECTORS OVERBOARDING POLICY
Chair of Caltagirone S.p.A.
OTHER POSITIONS
Chair of Il Messaggero S.p.A.
Non-executive member of the Board of Directors of Aalborg Portland Holding A/S
Member of the Board of Directors of ICAL S.p.A.
(Il Messaggero S.p.A., Aalborg Portland Holding A/S and ICAL S.p.A. belong to the FGC Group)