Andrea Sironi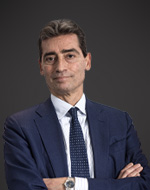 Chairman

Born in Milan on 13 May 1964
Career
Andrea Sironi has been a member of the Board of Directors of Assicurazioni Generali since February 28, 2022.
He graduated in Economics from the Bocconi University in Milan. In addition to being Rector of Bocconi University, he also held the role of Vice Rector for International Relations, Dean of the Graduate School and director of the research division of SDA Bocconi. His research activity has so far mainly concerned the measurement and management of risks in financial institutions and the regulation of markets and financial institutions. He has published numerous articles in national and international scientific journals and numerous Italian and international books.
He was financial analyst at Chase Manhattan Bank in London, Chair of CEMS, the global alliance of management schools, member of the board of directors of London Stock Exchange Group, Banco Popolare, Cassa Depositi e Prestiti, Unicredit Group and Intesa Sanpaolo. He was Vice-chair of Banca Aletti and Chair of Borsa Italiana.
Andrea Sironi is currently President and Professor of Economics of Financial Intermediaries at Bocconi University in Milan.
Relevant positions according to our directors overboarding policy
He does not hold relevant positions according to our Directors Overboarding Policy.
Other positions
Chair of Bocconi University Milan

Chair of the AIRC Foundation for Cancer Research

Member of the Corporate Governance Committee of Borsa Italiana

Member of the Executive Committee of Assonime

Member of the Board of Directors of the Italian Institute for International Political Studies (ISPI)

Member of the European Financial Services Round Table (EFR)

Member of the Board of Directors of Agnelli Foundation

For additional info see also the Linkedin profile.