Sustainable real estate investing

Generali Real Estate is the specialized asset manager in the Generali Group, with more than € 39.1 billion of assets under management as of Q4 2022.
By managing a unique portfolio, comprising both historic and recently- constructed buildings, Generali Real Estate has developed in-depth know-how of technological innovation and sustainability. Through its specialized asset management company, GRE also manages a series of pan-European real estate investment funds.
At Generali Real Estate, taking a proactive stance in reducing the environmental impact of our portfolio is not enough. Environmental, social and governance (ESG) metrics and monitoring are integrated in every stage of our business operations, with a market-leading portfolio of sustainability credentials as well as best practice asset and property management and a sustainable approach to construction and to urban development. The Responsible Property Investment Guidelines are the frame for the Corporate Governance for GRE Sustainability, encompassing the activities within a structured framework that guides all the future endeavours and ensure that the environmental priorities become a reality.

GRE aligns the focus of its ESG strategy, in addition to the regulatory needs, primarily to the needs of the internal and external clients. This is reflected in the commitments undertaken and the tools introduced.

As far as regulation is concerned, major focus is given to the SFDR regulation and to the incoming EU Taxonomy and to national regulations affecting the real estate business (eg. Tertiary Decree in France).
GRE commitments
Net-Zero Asset Owner Alliance

(NZAOA)
The Net-Zero Asset Owner Alliance was launched in September 2019 by the United Nations, since asset owners have a key role in driving the decarbonization of the economy through their investments. As a member of the Net-Zero Asset Owner Alliance, Generali is committed to gradually decarbonizing its investment portfolio in order to reach its carbon neutrality by 2050. Generali has set specific decarbonization targets for 2025 for the direct investments portfolio; for real estate in particular, on average the selected portfolio will be aligned with the decarbonization pathway of the CRREM model, to limit global warming to 1.5° C.
Green Bond
In the Generali Green Bond, assets are included, which fulfill particular high ESG criteria, like high-level certification for newly acquired buildings (i.e. LEED Gold, BREEAM Very Good or plus), energy monitoring, optimization of energy efficiency improvement >30% for retrofitting.


Some 'green assets' included in the Green Bond I:
Generali Tower, Milan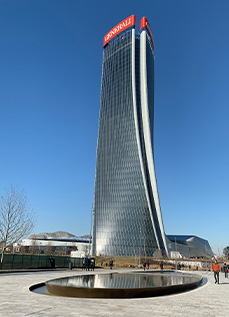 Generali Tower is part of CityLife, one of the most important urban redevelopment projects in Europe, a balanced mix of private and public services including a business hub, a shopping district, a residential area and Milan's third largest park. The tower (170 meters, 44 storeys) has a sinuous shape and was designed to guarantee the highest levels of efficiency and the maximum control of energy consumption. It has obtained the LEED 'Platinum' certification. This iconic office tower, Generali Group Headquarters, stands for Innovation, Sustainability and Corporate Citizenship, which are core values for the Group.
Fencourt, London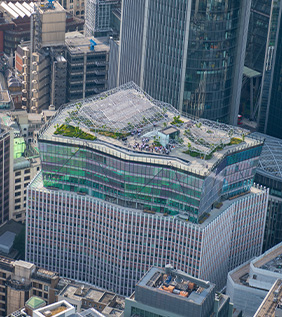 Fen Court is in a prime location in the heart of the tower cluster of the City of London. Its 15 storeys offer over 39,800 sqm of office and retail space, a public passageway through the building with 180 sqm digital LED ceiling to be used for public art installations, and a panoramic restaurant on the 14th floor. The building is crowned by a public roof garden offering stunning views to the London skyline and 3 new public spaces which were created within and around the building. Fen Court has been designed to the highest environmental sustainability requirements and has achieved the BREEAM 'Excellent' certification.

Some 'green assets' included in the Green Bond II:
Viale della Liberazione, The Corner, Milan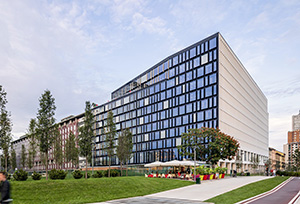 The works carried out have kept unchanged the intended use of the building (offices), expanding the surface with the raising of a floor.
The intervention resulted in an improvement in energy performance, thanks to the complete renovation of the building envelope (facades and roofing) and systems. Due to the renovation works and the technical equipment the energy saving is estimated at 61% while also the CO2 emissions in operation are reduced by 58% (without considering the potential purchase of CO2-free electricity).

The EPC of the building improved from D to A2 (97 kwh/m2), obtaining the qualification as "Nearly Zero Energy Building".

Old oil-fired boilers replaced by ground water condensed multipurpose heat pumps that feed a 4-pipe system with radiant ceiling panels, floor fan coils and radiators in the bathrooms.
Each module is managed by a dedicated controller complete with temperature probe, presence sensor and anti-condensation probe.

Air handling units

with cross flow recovery device, steam humidification and fans equipped with inverters.

LED lighting

has replaced fluorescent lamps.

Renewable energy production through photovoltaic system and use of ground water.
Fhive and Coeur Marais, Paris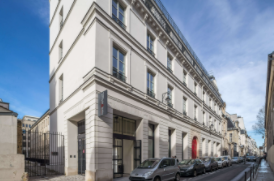 Two historical assets built in the 1800s, located close to each other in the heart of Marais district in Paris. After a major renovation both obtained HQE certification, EXCELLENT and the BBC Effinergy renovation label, which attests their high energy performance. More recently, the assets obtained the BREEAM IN USE certification, EXCELLENT, showing also high commitments as regards health and wellbeing.
Connection to district heating for Cœur Marais

CO2-free electricity supply for both Coeur Maris and Fhive since beginning of 2018

Building Management System (BMS) in both buildings: connecting to HVAC system, lighting and comfort control (Heating, Air conditioning, Ventilation), regulation according to the outside temperature

Electric car charging stations in the underground car park

Rainwater collection tank in Coeur Marais, water-saving sanitary equipment's in both buildings (infrared detection + aerators)

4 waste streams are separated on site

Extremely well connected with public transportation in Paris city centre

Several free public bicycle stations located in the neighbourhood (<50 m), secure bike storage, changing rooms and showers

Co-working space and co-living at work in Coeur Marais

Green roof and green courtyard to improve tenants' thermal comfort
Sono West, Frankfurt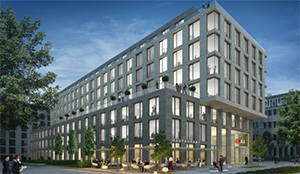 The 8,200 square meters Generali property in Frankfurt is the German headquarter of Jones Lang LaSalle SE, who occupies the entire building.
The heating system is powered by district heating, so minimizing the CO2 impact into the atmosphere.
There are charging stations for e-cars in the underground car park
The project has reduced potable water use by 41%
The building is located directly on the opposite side of the Westend subway station.

Bicycle storage, changing and shower facilities

are present in the building

Building's flexibility to enhance internal design, connect teams and promote a sense of community and new ways of working

Extensive roof greening reduces the necessary cooling performance

and the associated energy consumption of the building
The property has a Building Management System (BMS) that automatically controls the heating, cooling and water supply and adjusts it to consumption
Palazzo Berlam, Trieste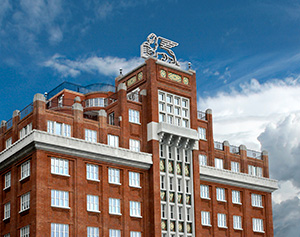 Palazzo Berlam, one of the Generali premises in Trieste, was built in 1900s and is known as the first skyscraper of the city. Modernist asset identifiable for its red bricks coating was the former Generali Real Estate HQ until 2017 while now, after a major refurbishment lasting 3 years, it hosts the Generali Academy and offices. Thanks to the renovation works and the technical equipment the energy saving is up to 56% while also the CO2 emissions in operation are reduced by more than 50%.
The EPC of the building improved from D to B (169 kwh/m2).
The heating system is powered by renewable sources, by using the water sea and groundwater in order to enhance energy performance and minimize the consumption.
The thermal comfort is guaranteed by the synchronization/integration between ceiling radiant panels and active chilled beams.

The lighting system is

LED with automatic control.

Building consumptions reduced, although the occupancy is now up to 500 people vs 191 people before intervention.

High level standards followed for façade insulation and thermal break joinery, low consumption lifts.
The building is located directly in front of the sea and the relevant rooms provide with the view of a natural outdoor environment.
Building's design (including a roof terrace and a public Caffetteria at ground floor) to enhance social events, connect teams and promote a sense of community and new ways of working.
Certification and assessment
We focus on buying and/or developing certified buildings – including but not limited to BREEAM, LEED, HQE and DGNB - in order to increase the share of certified buildings in the portfolio.

All new investments must undergo a sustainability KPI assessment, in order to ensure the acquisition of assets with high sustainability certifications, to increase the portfolio credentials through certification and/or assessment. For this purpose, GRE developed and implemented an own assessment tool, related to the BREEAM® In Use scheme. This provides GRE the possibility to have a comprehensive view on ESG quality and shows a forecast on certification opportunities. The report is part of the decision-making memorandum for new acquisitions.
Tour Saint-Gobain, Paris La Defense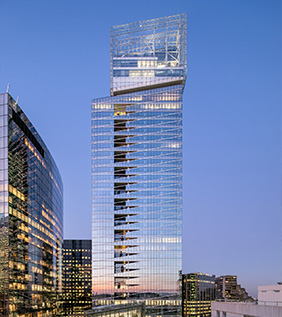 The most important development project by Generali in Paris, Tour Saint-Gobain, made sustainability its distinctive mark since the design phase. As a testimony of this environmentally- centric approach, the Tour, recently completed in La Défense and hosting the new global headquarters of Saint-Gobain, has achieved all the four main international environmental certifications with the highest marks in the scale. HQE Exceptionnel, High Energy Performance Label: Effinergie +, LEED Platinum and BREEAM New Construction Outstanding. A concrete sign of the Generali commitment to set new sustainability benchmarks for the real estate sector and to reduce the environmental footprint of its properties portfolio across Europe, in close collaboration with like-minded, market leader tenants such as Saint-Gobain.
Puerto Venecia, Zaragoza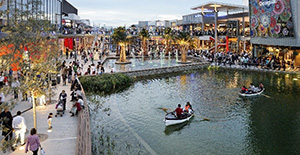 In 2020 GRE acquired the Spain's largest ( 200.000 sqm) and sustainable shopping resort which is LEED Gold certified, Puerto Venecia.

Since opening, this Mall has a very strong ESG strategy with particular emphasis and governance in place on the Environmental and Social elements. In fact a specific energy optimization system is in place and PV has an "A" energy stamp as it uses 100% renewable supply. It also promotes sustainable mobility by ensuring that onsite facilities are available and sustainable transport in order to save CO2 emissions and contribute to environment: electric skate charging parking, carsharing promoting.
There is a solidarity space, free for NGOs to carry out their charitable causes and local community importance is shown by supporting suppliers which are based on our catchment area being local development key in the decision to select the supplier. In 2021 the obtaining of the BREEAM In Use certificate and the Zero Carbon Footprint stamp are ongoing.
Investors commitment
GRE funds have implemented an ESG framework aimed to grant a sustainable allocation of capital into environmentally-friendly assets, in conjunction with a strong governance process, enhanced by a set of policies and process able to further increase transparency, fairness and productivity. For example, the implementation of multiple risk management layers is granting sound monitoring capabilities, the development of cutting-edge data driven research adds objective and up-to-date ground to the underwriting phase, the robustness of a lean investment process ensures safe and fast execution. Social aspects are embedded in the asset management activities and typically depend on the peculiarities of the assets and of the communities in which it is located.
Tenancy engagement
With GREEN LEASE, GRE undertakes the integration of the most important ESG topics into commercial leases in order to engage with tenants for a win-win sustainable collaboration, and to meet demand for data analytics and disclosure.
The case stories: ITALY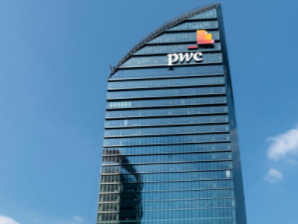 PwC Italy is one of the best examples of building a win- win tenant landlord relationship with a 15 + 9-year contract, signed in 2018.
The client signed a mandate by which they will give direct access to their energy provider platform. This allows Generali Real Estate to obtain the related data and start a profitable/fruitful relationship with them.
Based on a transparent communication about energy optimization and environmental actions undertaken by each of them in order to respect environmental commitment. And put in place future actions to improve energy performance in private areas by choosing more energy efficient actions accordingly.
A Tenant survey supports GRE in understanding needs and current situation of our tenants and enhancing relations and communication with tenants. In 2021 GRE carried out a digital survey across international portfolio with more than 2000 tenants, including questions about Sustainability & Innovation