Generali Global Transactional Net Promoter System Program
Listening to customers, understanding theirs needs and tailoring products and services to suit them is Generali's priority.
Transactional Net Promoter System (T-NPS) is a key element of the company's customer-centric strategy. Generali uses T-NPS to better understand the customer's experience at key touch points in their interactions with the company, for example during purchase, claims, renewal and servicing.

Every time a customer interacts with Generali, they receive a short, two-question survey:
How likely are you to recommend us to colleagues, friends and family?
Why?
Based on their feedback, customers are rated on a ten-point scale as Promoters (9-10), Passives (7-8), or Detractors (0-6). The feedback responders provided helps highlight problems or issues that can be fixed within Generali. All detractors are called back within 24-48 hours by team managers from the area of the company that actually provides the service or products in question. These calls either lead to service recovery, or highlight underlying problems that cannot be fixed right away, but can be flagged and addressed as part of an internal structural resolution process.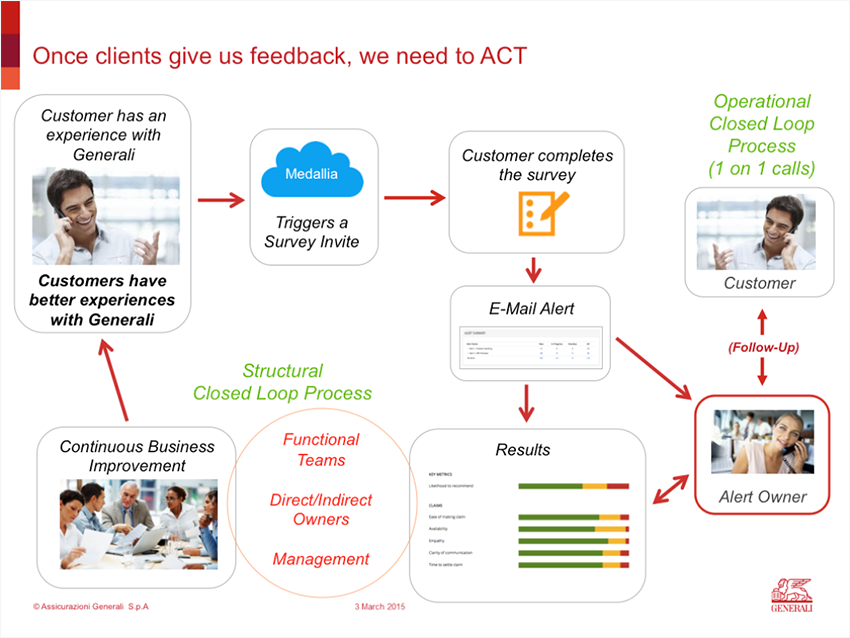 We call this process of contacting customers, collecting feedback and acting to resolve issues, "closing the loop." Acting on customer feedback becomes essential in order to close the loop, and this continuous feedback loop drives a profound shift in business culture, making the entire company customer-centric. This process takes place on a continuous basis, so every day again. So once started there is no escaping the voice of the customer any more.

It is important to understand that Generali's T-NPS system is not a measurement or research tool, but rather a way to bring the customer's voice into the heart of the company's operations. The feedback is not going to a research department but it is going straight to the business departments that deliver the core service to the customer. That leads to a change of culture and working.

Generali's T-NPS was rolled out in January 2015 and covers now all Generali BUs, including B2B, covering more than 52 million customers (Q42022). Based on the feedback, our business units implemented thousands of structural improvement actions increasing promoters by 28%.These numbers demonstrate that the program is well embedded in our daily operations.
More in detail
The T-NPS program will rely on the following methodology:
Collect our customer feedback.
We try to understand how each client has experienced the whole process after an interaction with us. For example, a customer will receive a survey after a claim or other interaction he or she had with Generali like buying a policy, a call to support or an interaction on the website. These are so called touch points along the customer journey.
Close the loop with customers.
The touchpoint team managers empower their teams to take actions on "alerts" based on customer survey responses. The touch point teams receive the alerts that are relevant to them so they can respond to customers immediately. This close the loop process will ensure Generali to fix individual problems where is possible right away and save unsatisfied customers who could be at risk of leaving.
Analyze aggregated data and share the results.
Individual customer comments and aggregated insights are available to the teams who provide the experience to our customers day to day. The Generali NPS programme helps drive structural improvements based on customer feedback. It also helps our teams track the impact on customer satisfaction of the improvement initiatives right away.