Umberto Malesci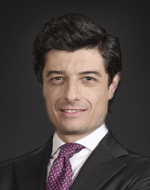 Independent Director
Non-executive Director

Born in Firenze

on 6 January 1981
Career
Umberto Malesci has been a member of the Board of Directors of Assicurazioni Generali since 29 April 2022.
He holds a Bachelor of Science and a Master of Engineering in Electrical Engineering and Computer Science from the Massachusetts Institute of Technology (MIT).
His career began as a Business Analyst at McKinsey & Company, Inc. In 2005 he co-founded Fluidmesh Networks, a tech start-up in the field of wireless networking. He served as Fluidmesh Chief Executive Officer (CEO) until the acquisition by Cisco in June 2020. Between 2011 and 2014 he also served as executive vice-chairman and board member of AvrioRMS Group and Pantascene LLC, until the acquisition of both companies by Hitachi Ltd in 2014. Since Fluidmesh acquisition by Cisco in 2020, he has been Director for Internet of Things (IOT) Business Development and Marketing at Cisco and he has been responsible for the integration of his former company into Cisco.
RELEVANT POSITIONS ACCORDING TO OUR DIRECTORS OVERBOARDING POLICY
He does not hold relevant positions according to our Directors Overboarding Policy.
OTHER POSITIONS
Member of the Board of Directors of the Italian Institute of Technology

Member of the Board of Directors of Tanaza S.p.A.

For additional info see also the Linkedin profile.