Our activities
Total gross written premium by country (*)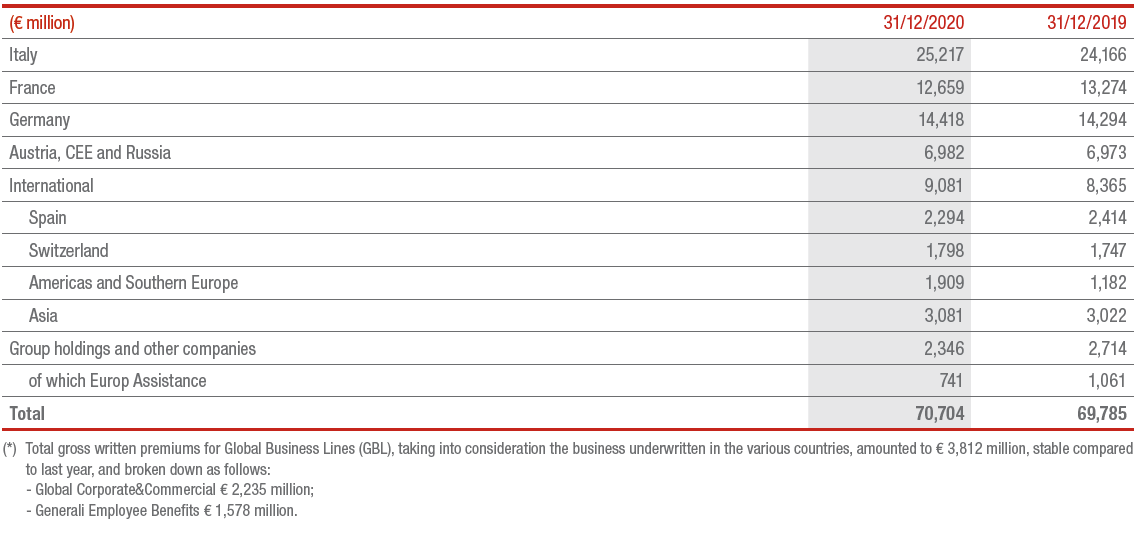 Net inflows confirmed at excellent level. The operating result was impacted by the continued acceleration of provisions for guarantees to policyholders in Switzerland and the negative financial markets performance.
LIFE NET INFLOWS
​-10.5%
€ 12,114 mln
NEW BUSINESS VALUE (NBV)
+4.9%
€ 1,856 mln
OPERATING RESULT
-16.1%
€ 2,627 mln
Gross written premiums € 48,557 mln (+0.8%)
Property and Casualty (P&C)

Premiums were stable in a context heavily impacted by the pandemic. The operating result grew thanks to a significant improvement in the CoR.
GROSS WRITTEN PREMIUMS
​+0.1%
€ 22,147 mln
COMBINED RATIO (COR)
​-3.5 pps
89.1%
OPERATING RESULT
+19.4%
€ 2,456 mln
ASSET MANAGEMENT
Significant increase in operating revenues, especially in performance fees. Assets Under Management of the segment rose.
OPERATING RESULT
​+28.5%
€ 546 mln
NET RESULT
​+38.0%
€ 386 mln
ASSET UNDER MANAGEMENT
+5.7%
€ 561 bln
(Figures at December 31, 2020)