Our activities
INSURANCE: GROUP'S HIGHLIGHTS AT DECEMBER 31, 2019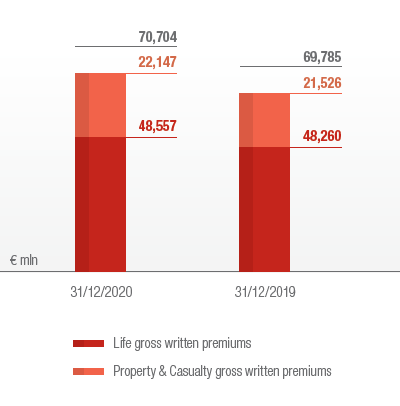 Total gross written premium by country (*)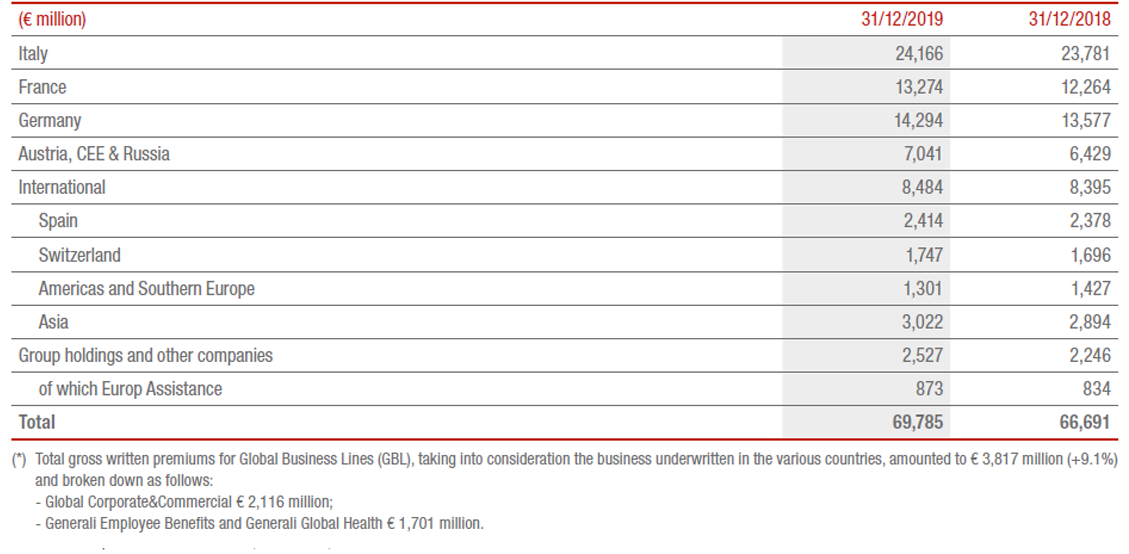 Good performance: both net inflows and gross written premiums increased.
Operating result grew.
LIFE NET INFLOWS
​+19.6%
€ 13,632 mln
NEW BUSINESS VALUE (NBV)
-2.2%
€ 1,777 mln
OPERATING RESULT
+2.0%
€ 3,129 mln
Gross written premiums € 48,260 mln (+4.5%)
Property and Casualty (P&C)

Premiums increased in both lines of business.
Operating result grew; CoR confirmed at excellent level.
GROSS WRITTEN PREMIUMS
​+3.9%
€ 21,526 mln
COMBINED RATIO (COR)
​-0.4 pps
92.6%
OPERATING RESULT
+3.3%
€ 2,057 mln
INVESTMENTS, ASSET & WEALTH MANAGEMENT
The business unit unifies in a single entity the Group's units operating in investments, asset management and wealth management.
TOTAL OPERATING RESULT
€ 687 mln
(+30.4%)
COST/INCOME RATIO
48%
(+3 pps)
(Figures at December 31, 2019)
In a continuously evolving market in which specialisation, efficiency and innovation are crucial elements in order to compete, Generali aims at becoming a company of reference in the asset management market not only for the insurance companies of the Generali Group, but also for third-party clients.

This objective will continue to be followed for the entire duration of the three-year plan in order to:
exploit the cross-selling opportunities - by promoting the growth of a capital-light business such as the LDI (Liability Driven Investments) Solutions services - that set out to offer institutional clients the expertise developed in investment management;
expand the multi-boutique platform in order to increase the offer of products and services for all clients. The multi-boutiques are companies acquired on the market or created in partnership with operators having acknowledged investment skills in highly specialised asset classes.