Ownership structure
This section contains our shareholding structure, with a strong participation of institutional investors.
SHAREHOLDER AGREEMENTS
Please note that the aforementioned is an unofficial translation. Only the Italian version is official.

SHARE OWNERSHIP
Updated to 15th September 2021 in line with the Shareholder's Register, mainly on the bases of the dividend pay-out dated 20th May 2020, with the integration of information pursuant to article 120 of consolidated law on financial intermediation and other available information.
* Main Shareholders
12.93% Mediobanca Group
6.07% Caltagirone Group
5.00% Del Vecchio Group
3.97% Benetton Group
| | | | |
| --- | --- | --- | --- |
| | December 31 2019 | December 31 2020 | Current |
| Institutional investors | 38.24% | 40.90% | 40.25% |
| Main shareholders (>3%) | 26.89% | 27.15% | 27.96% |
| Mediobanca Group | 13.03% | 12.97% | 12.93% |
| Caltagirone Group | 5.00% | 5.36% | 6.07% |
| Del Vecchio Group | 4.86% | 4.84% | 5.00% |
| Benetton Group | 4.00% | 3.98% | 3.97% |
| Retail shareholders | 25.46% | 23.99% | 23.93% |
| Other Investors | 8.80% | 7.80% | 7.70% |
| Not identifiable shareholders | 0.61% | 0.16% | 0.16% |
Geographic breakdown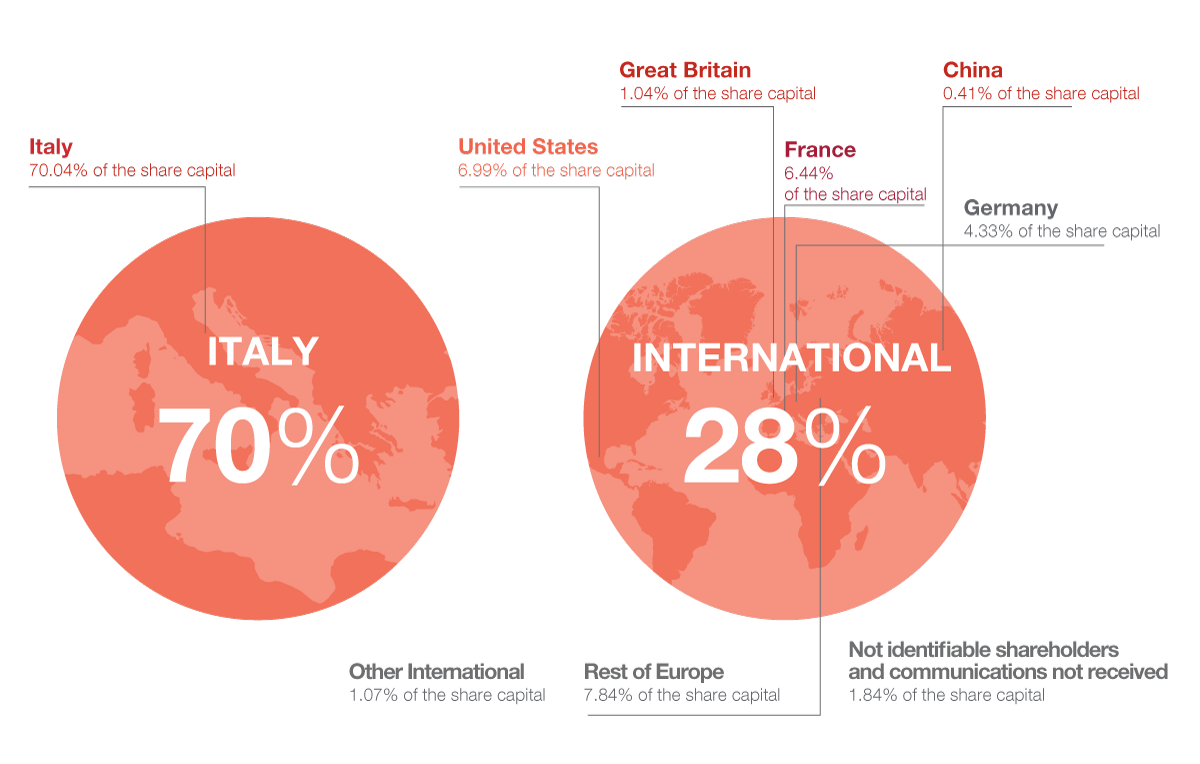 | | | | |
| --- | --- | --- | --- |
| | December 31 2019 | December 31 2020 | Current |
| Italy | 64.03% | 61.89% | 61.89% |
| World | 35.97% | 38.11% | 38.11% |
| United States | 10.37% | 10.35% | 10.35% |
| Great Britain | 7.24% | 5.37% | 5.37% |
| France | 5.40% | 4.79% | 4.79% |
| Germany | 2.52% | 2.19% | 2.19% |
| China | 0,71% | 0,53% | 0,53% |
| Rest of Europe | 6,36% | 10,93% | 10,93% |
| Rest of world | 2,76% | 3,72% | 3,72% |
| Not identifiable shareholders and communications not received | 0,61% | 0,23% | 0,23% |
Breakdown by number of shares held
Shareholdings
(From - to)
Number of shareholders
% of the share capital
1 - 10,000
195,503
14.51%
10,000 - 100,000
7,069
11.59%
100,000 - 200,000
479
3.86%
200,000 - 500,000
358
6.65%
500,000 - 1,000,000
135
5.72%
1,000,000 - 5,000,000
109
15.30%
5,000,000 - 10,000,000
11
5.38%
10,000,000 - 50,000,000
15
14.93%
>50,000,000
3
21.90%
Total identifiable shareholders
203,682
99.84%
Not identifiable shareholders
0.16%
Total
100.00%