Philippe Donnet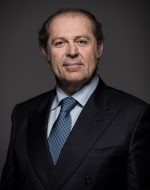 Executive Director as Managing Director and Group Chief Executive Officer
Chair of the Investments Committee
Chair of the Strategic Operations Committee
Chair of the Group Management Committee
Manager in charge of the Internal Control and Risk Management System
Born in Suresnes (France) on 26 July 1960
career
Philippe Donnet was appointed Managing Director and Group CEO of Generali on 17 March 2016.
He graduated from the Ecole Polytechnique in Paris and the Institut des Actuaires.
Between 1985 and 2007 he held various positions within the AXA Group, most recently serving as Regional CEO Asia Pacific. In 2007 he became the Managing Director for Asia Pacific at Wendel Investissements, Singapore. In 2010 he was appointed Managing Partner of the investment management company HLD in Paris. On 7 October 2013 he joined Generali as Country Manager Italy and CEO of Generali Italia, position he held until May 2016. In this role, he led the programme to merge the five Generali brands operating in Italy, one of Europe's most complex integration and simplification projects.
From 2008 to 2016 he was member of the Supervisory Board of Vivendi, from 2013 to 2016 he was member of the Board of Directors of Banca Generali S.p.A. and from 2016 to 2017 he was Vice-Chair of ANIA.
Chevalier de l'Ordre National du Mérite. Chevalier dans l'Ordre de la Légion d'honneur.
RELEVANT POSITIONS ACCORDING TO OUR DIRECTORS OVERBOARDING POLICY
He does not hold any relevant positions according to our Directors Overboarding Policy.
Other positions
Chair of Generali Italia S.p.A.
Chair of Generali Services Pte. Ltd.
Member of the Board of Directors of Fondazione Generali the Human Safety Net Onlus
Member of the General Council of Fondazione Giorgio Cini

For additional info see also the Linkedin profile.