Alessia Falsarone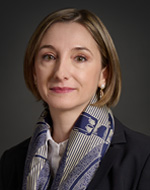 Independent Director
Non-executive Director
Born in

Rieti on 9 February 1976
Career
Alessia Falsarone has been a member of the Board of Directors of Assicurazioni Generali since February 28, 2022.
She graduated in Economics from Bocconi University in Milan, with a thesis on Institutions and Financial Markets, she received a Master of Science in financial mathematics from Stanford University and an MBA from the Massachusetts Institute of Technology, Sloan School of Business.
She began her professional career in the United States as an Investment Banker at Credit Suisse First Boston. Then she was Vice President of Global Investments in New York at Citigroup. Later, in 2007, she joined the investment team of American International Group (AIG), a leading US insurer, holding positions of increasing responsibility at AIG Investments (now PineBridge Investments).
Alessia Falsarone is currently a Managing Director, Head of Sustainable Investing and Senior Portfolio and Risk Strategist for PineBridge Investments' Developed Markets Fixed Income team.
RELEVANT POSITIONS ACCORDING TO OUR DIRECTORS OVERBOARDING POLICY
She does not hold relevant positions according to our Directors Overboarding Policy.
OTHER POSITIONS
Member of the Operating Board of OpenCorporates Ltd (UK)

Member of the London Stock Exchange's Sustainable Bond Market Advisory Group

Member of the Standards Advisory Group of the Sustainability Accounting Standards Board (SASB)

Member of the UN PRI Advisory Committee on ESG in Credit Risk and Ratings

Member of the Advisory Board of Fintech, Center for Financial Professionals (UK)

Chair of the Governance and Appointments Committee of the International Education and Resource Network (iEarn-USA), virtual exchange network of the World Economic Forum

For additional info see also the Linkedin profile.