Marina Brogi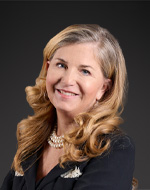 Independent Director
Non-executive Director

Born in Rome

on 15 July 1967
Career
Marina Brogi has been a member of the Board of Directors of Assicurazioni Generali since 29 April 2022.
Graduated in Political Economy at the Luigi Bocconi Commercial University, she completed her economic studies at the London Business School.
She has over twenty years of experience in the field of research and training on banking and finance at both university and post-graduate level at numerous Italian and foreign universities and business schools. After having worked as a researcher in the economics of credit companies at the Luigi Bocconi University, she took on the role of associate professor of economics and financial market techniques at the Sapienza University of Rome, of which she has been a professor of Economics of Financial Intermediaries since 2007. She is the author of numerous scientific publications on banking, insurance, corporate governance and the securities market.
She has been an independent director of various Italian listed companies such as Banco di Desio e della Brianza S.p.A., Luxottica Group S.p.A., Mediaset S.p.A., Prelios S.p.A., Salini Impregilo S.p.A. and UBI Pramerica SGR and supervisory board member of A2A S.p.A. and UBI Banca S.p.A.
Relevant positions according to our directors overboarding policy
Independent director, chair of the ESG Committee and member of the Nomination and remuneration and Related parties committees of Media for Europe NV
Other positions
Independent Director of Epta S.p.A. and Guala Closures S.p.A.

Member of the CFA Institute Systemic Risk Council

Member of the MSCI Thought Leadership Council on Corporate Governance Fundamentals

Worldwide cochair of the WCD Family Business and Private Companies Council of Women Corporate Directors (WCD)

Member of the jury of the Sustainable Enterprise Award promoted by the 24 Ore Group

Chair of the Scientific Committee of the Italian Association of Financial Industry Risk Managers (AIFIRM)