Arts and Culture
Committed to protecting Arts and Culture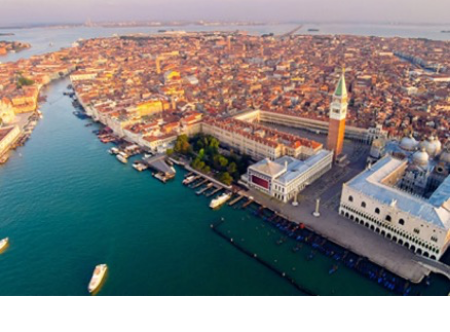 In Venice, Generali is undertaking a unique restoration of its own Procuratie Vecchie, overlooking St. Mark's Square, as the future home of The Human Safety Net, and the adjacent Royal Gardens. The project will provide a new experience of the St. Mark's Square area, re-connecting these iconic spaces with a purpose for social impact. For the Royal Gardens, re-opened to the public in December 2019 after a unique renovation, Generali has decided to partner with the Venice Gardens Foundation with the intention of bringing new life to an essential part of the history and art in the heart of Venice and return it to its residents and visitors. The restored historical drawbridge will re-connect the gardens with St Mark's Square and the Marciana museum district.

Rediscovering our roots and enhancing our artistic and cultural heritage is important; making cities accessible places tailored to people's lives is aligned with Generali's mission, which is committed to supporting people's wellbeing and quality of life. Click here to discover more.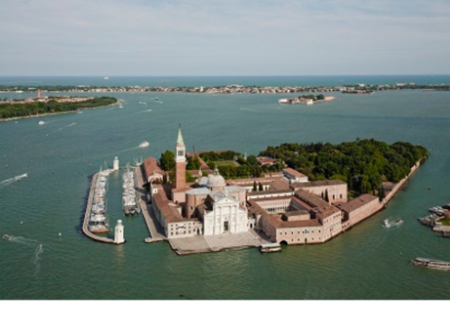 Fondazione Giorgio Cini © ORCH
We recognize that art is a powerful driver of knowledge and growth. Since 2014, we have been the main partner to help open to the public Venice's magnificent Palazzo Cini Gallery, Home Museum of the great collector Vittorio Cini. We have been working for many years alongside the Giorgio Cini Foundation as an institutional supporter. We believe that it is fundamental to rediscover its roots and make its rich artistic and cultural heritage ever more accessible to the community, so we are promoting a new project of guided visits to the Cini Foundation on the Island of San Giorgio. Specifically designed educational activities also demonstrate our commitment to culture for young people. The Radici del Presente (Roots of the Present) museum in our premises in Piazza Venezia, in Rome, is home to the Group's archaeological collection. It is accessible to visitors in a space designed for young people, organizing thematic lessons for schools about archaeological topics.

To book a visit go to: www.radicidelpresente.it and info@radicidelpresente.it

The Second Violinist, Fedora - Generali Prize for Opera
We actively engage in promoting music, which we support through active partnerships with organizations like FEDORA, The European Circle of Philanthropists of Opera and Ballet. The FEDORA - Generali Prize for Opera is awarded to new opera co-productions of excellence created by emerging young artists. Music is also supported through partnerships with theatres, including the Teatro la Fenice in Venice and the Rossetti theatre in Trieste.

For info visit the website.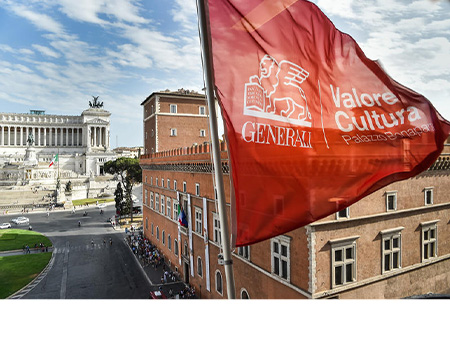 Valore Cultura
We support the activities of Italy's great opera houses and the exhibitions of the great masters of art, with initiatives that are accessible to young people, families, schools and communities, with projects that drive development in the areas in which we operate.
In this context, the first Generali Valore Cultura space has been opened in Rome in Palazzo Bonaparte, a historic Generali building, which has been offered to the city as a centre for major artistic events following a major restoration. In Venice, the Ca' Corniani development project has also come to life, a historic area of more than 1,770 hectares inland in the Venetian lagoon, restored with innovative projects involving technology and contemporary art.

Discover more on the website.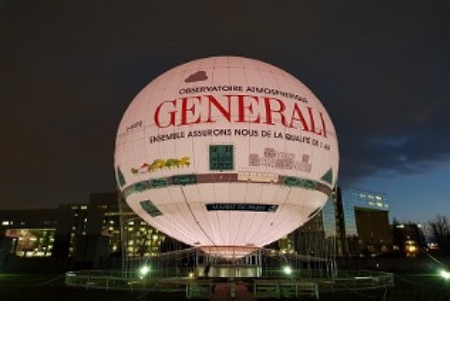 Grand Balloon de Paris © Generali France
To protect the environment, we activate both raising awareness initiatives and specific projects. In France, we sponsor the Grand Ballon de Paris. This hot air balloon measures pollution levels in the French capital by analyzing air quality, making an important contribution to science and understanding.
We work to raise environmental awareness in Asia through The Green Power Hike initiative in Hong Kong. Meanwhile, in Italy, through Europ Assistance, we look after a 17-hectare forest known as the Bosco dei 100 Passi (The 100 Steps Wood) near Milan.