190 Years of Future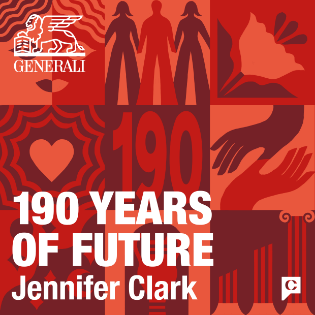 190 Years of Future
Not so many companies in the world can take pride in a business that is 190 years old. Having lived through the three centuries during which modernity took shape, Generali has built a unique heritage of knowledge, experience, relations and business initiatives. With the podcast 190 Years of Future, Generali looks back at its history and at its longstanding commitment to sustainability, inclusion, diversity and innovation that has constantly been projected into the future. A commitment that has always been about engagement, passion and dedication to shape a better future for all. Our guide through this journey will be American journalist Jennifer Clark. She will bring to you the voices from Generali's offices and from the communities where the Company is active: the voices of its entrepreneurs, partners, and customers. The voices of Generali's people.
n.1
The Power of a Safety Net
Nancy Córdoba is a young woman who grew up in Monte Quemado, a small town in rural Argentina. Like most girls her age, she had to leave school to help her family make ends meet. But instead, she was referred to Haciendo Camino, one of many NGOs that are part of Generali's Human Safety Net. A movement of people helping people, a net that gives the confidence and support to take on the challenges of life.