Antonella Mei-Pochtler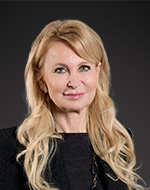 Independent Director
Non-executive Director
Born in Rome on 17 May 1958
Career
Antonella Mei-Pochtler has been a member of the Board of Directors of Assicurazioni Generali since 7 May 2019.
Mrs Mei-Pochtler is an Italian Citizen based in Austria. She was born in Rome and attended the German School where she graduated with honors, winning a DAAD-scholarship to study business administration at the Ludwig Maximilian University of Munich and at the University La Sapienza in Rome. In 1983 she earned an MBA with distinction at INSEAD, Fontainebleau, and then started her career as management consultant at the Boston Consulting Group (BCG) in Munich, where she focussed on consumer strategies, media and digital transformation. In 1990 she became one of the youngest Partners and first female Managing Director in Germany. She held various senior positions within the same company.
She has extensive Board experience both in the profit and not-for-profit area, having served on the Board of Directors of J.A. Benckiser SE, of Wolford AG (from 2015-2017 as Chairwoman), of Business@School (an educational project), of Phorms S.E. (a school network), of DKMS (the German Bone Marrow Donor Association) and of Teach For All (a global network aimed at fostering educational opportunity).
In 2018 she was appointed special advisor to the Austrian Chancellor at the head of ThinkAustria, the think tank of the Austrian Chancellery until July 2022 and is now Senior Advisor of Boston Consulting Group.
Relevant positions according to our directors overboarding policy
Member of the Supervisory Board, the Compensation Committee, the Strategic Committee and of the Sustainability Committee of Publicis Groupe SA
Member of the Supervisory Board, the Audit Committee and of the Appointments Committee of ProSiebenSat.1 SE
Deputy Chair of the Supervisory Board and Chair of the Remuneration Committee of Westwing Group SE
Other positions
Member of the Supervisory Board of I

SI Automotive Group GmbH

For additional info see also the Linkedin profile.