Strategy
Generali is one of the world's largest companies in the insurance and asset management sectors, with a successful history that in 2021 celebrated its 190 years. We want to strengthen our leadership in Europe and expand our presence in selected Asian markets, bringing forward our commitment to being a sustainable Lifetime Partner to our customers.
During the Investor Day that took place on 15 December 2021, Generali launched the Group's new three-year strategy Lifetime Partner 24: Driving Growth.

The bedrock of the new plan is our ongoing commitment to be a Lifetime Partner to our more than 68 million customers in over 50 countries. Investments in personalised products, digitally-enabled advice and a best-in-class customer experience will see Generali and its global network of 165,000 agents get even closer to customers.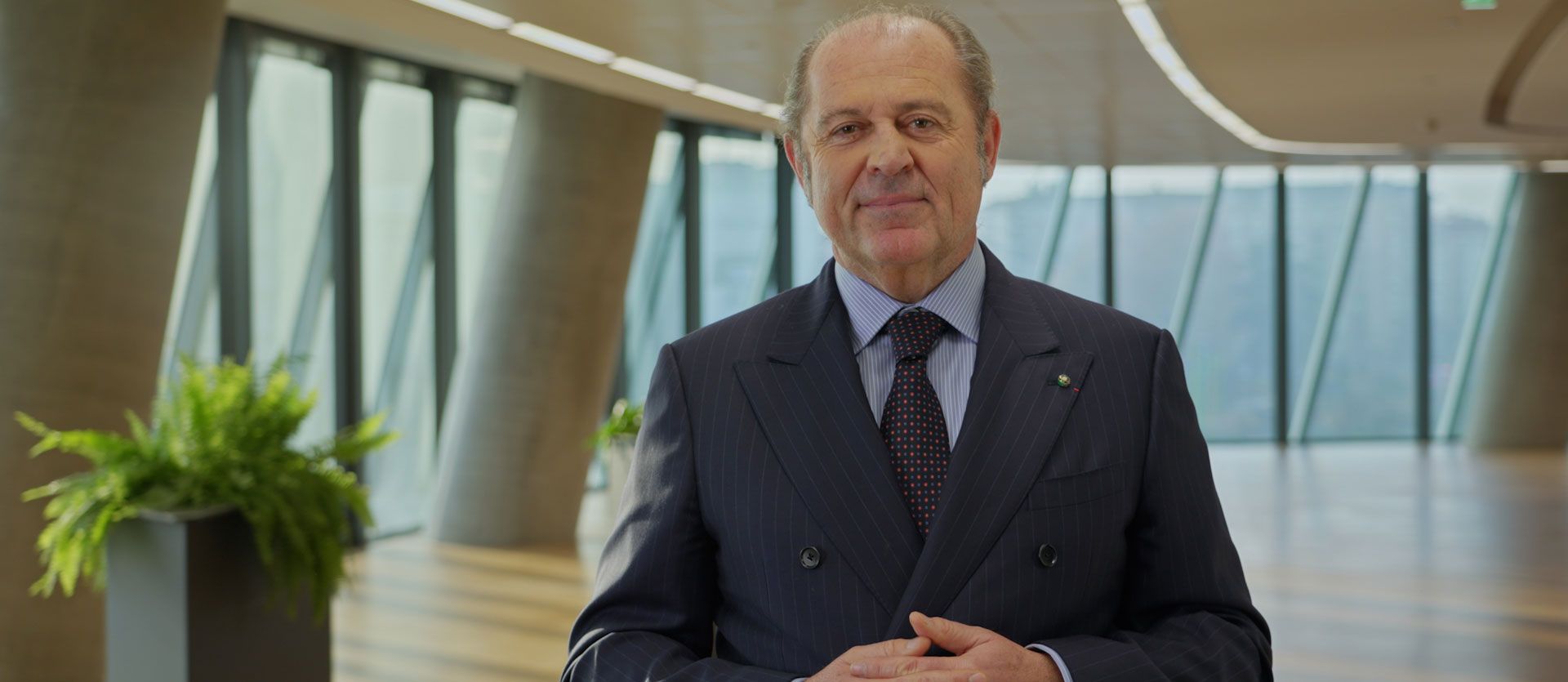 "Generali's longstanding Lifetime Partner commitment puts our customers at the heart of everything we do. Under our new plan, we will take this commitment to the next level and confirm Generali as a customer-focused and data-driven innovator.
The ambitious targets and initiatives we have announced today are possible thanks to the successful delivery of our previous strategic plans. Today, Generali has a strong financial position, diversified earnings, consistent profitable growth and a track record of generating best-in-class shareholder returns. We look forward to building on these achievements over the next three years. Our leadership in insurance, our established in-house asset management capabilities, our digitally-enabled network of 165,000 agents and our increased commitment to making a positive social and environmental contribution mean that Generali is ideally placed to achieve sustainable growth for the benefit of all stakeholders."

Philippe Donnet, Generali Group CEO

The strategic plan Lifetime Partner 24: Driving Growth sets out a clear vision for Generali in 2024 and is built on three strategic pillars: drive sustainable growth, enhance earnings profile, and lead innovation. The plan will also deliver strong earnings per share growth, increased cash generation and a higher dividend.

We will go further in our sustainability commitments during this strategic cycle, with a continued focus on making a positive social, environmental and stakeholder impact. In addition, we will continue to invest in our people to ensure they are engaged with the successful delivery of the new plan while fostering a sustainable work environment.
Ambitious 2024 targets based on sustainable growth:
Strong earnings growth: 6% - 8% EPS CAGR range (2021-24)
Robust EPS growth driven by:
Higher growth in P&C and ongoing transformation of Life portfolio, supported by continuous expense optimization
Sustained revenue growth in Asset Management
Increased contribution from high quality technical and fee earnings
Effective capital redeployment

Increased cumulative net Holding cash flow: > € 8.5 billion (2022-24)
To be achieved through:
Growing recurring cash remittances underpinned by solid capital generation
Continued implementation of disciplined Group Capital Management Framework, enabled by resilient Solvency position

Higher dividend: cumulative € 5.2 - 5.6 billion cash dividends (2022-24) vs € 4.5 billion (2019-21)
To be achieved by:
Boosting P&C revenues and maintain best-in-class technical margins
Growing capital light business, technical profits and ESG product range
Underpinning growth with effective cost management


Key highlights of the new strategic plan
Drive sustainable growth
Improve market share in segments with significant growth potential – SMEs, Senior Care in Europe and Travel in the US
Seize growth opportunities offered by health protection gap thanks to our leadership in core markets
Drive Unit Linked business volumes and further internalize margins
Boost protection as a de-risking tool for investment solutions
Expand ESG solutions proposition
Maintain cost discipline in mature insurance markets
Focus investments in Asia and fee businesses

Enhance earnings profile
Undertake comprehensive in-force optimization to reduce capital intensity and improve operating result
Enhance strategic asset allocation, integrate ESG and leverage real asset platform to improve returns
Reinforce leadership in Europe and strengthen presence in selected Asian markets
Invest in selected Asset Management capabilities and build scale to accelerate 3rd party growth
Expand real asset capabilities building an in-house private debt proposition to improve risk-adjusted returns and fee margin
Upscale distribution platform to drive organic growth in 3rdparty revenues

Lead innovation
Increase customer value by scaling digitally-enabled advisory model
Establish seamless omni-channel approach across distribution channels
Gain share of European digital profit pool by scaling direct operations
Leverage new data capabilities to improve technical leadership and offer value-added services through digital ecosystems
Develop powerful and sustainable innovation engine to support future growth
Reduce costs through digitization, core process automation and shared platforms
Optimize further claims management using Artificial Intelligence
Strategy archive
Generali 2021: Targets delivery in an unprecedented global scenario
FINANCIAL TARGETS 2019-2021

CURRENT STATUS

6%-8%
EPS CAGR RANGE1
2018 – 2021

7.6% ACHIEVED

€4.5 - 5.0 billion
CUMULATIVE DIVIDENDS
2019 – 2021

55% - 65%
DIVIDEND PAY-OUT RANGE2



€ 4.52 bn ACHIEVED
subject to regulatory enviroment

>11.5%
AVERAGE RETURN ON EQUITY3
2019 – 2021

12.4% 2019 ACHIEVED
7.7% 2020 impact of COVID-19 and one-offs
12.1% 2021 ACHIEVED
(1) 3-year CAGR, adjusted for impact on gains and losses related to disposals and acquisitions
(2) Adjusted for impact of gains and losses related to disposals and acquisitions
(3) Based on IFRS Equity excluding OCI and on total net result
Generali 2021: Industrial KPIs achieved in all strategic areas
STRATEGIC ITEM
MAIN INDUSTRIAL KPI
GOAL
END OF PLAN
Profitable growth
Earnings CAGR 2018-2021 insurance markets Europe
3% - 6%
OVER-ACHIEVED
Earnings CAGR 2018-2021 service-based revenue streams
7% - 10%
Impact of COVID-19
Earning CAGR 2018-2021 high potential insurance markets
20% - 25%
Earning CAGR 2017-2021 Asset Management
>20%1
Capital management and financial optimization
Cumulative Capital Generation 2019-2021
> €10.5 billion
Net cash remittance to Holding 2019-2021
> €7 billion
Debt Reduction by 2021
€1.5 - 2 billion
Gross Interest Expense Reduction 2021 vs. 2017
€70 - 140 million
Innovation and digital transformation
Total Investments toward internal strategic initiatives 2019-2021
€1 billion
Cumulative expense reduction Insurance Europe 2018-2021
€300 million
People, brand and sustainability
New Green and Sustainable Investments by 2021
€4.5 billion
Relationship NPS by 2021
Best among
international peers
Reskilled employees by 2021
50%
Organizational entities with a smart working policy in place
100%
1 Including inorganic growth