Flavio Cattaneo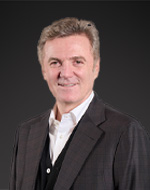 Independent Director
Non-executive Director

Born in Rho on 27 June 1963
Career
Flavio Cattaneo has been a member of the Board of Directors of Assicurazioni Generali since 29 April 2022, after having already been one from December 2014 to April 2016.
Graduated in architecture from the Milan Polytechnic, he obtained a specialization in finance applied to the real estate sector (SDA Bocconi).
He has a consolidated experience in the management of large industrial companies: from 1998 to 2001 he was vice-chair of AEM (currently A2A); from 1999 to 2003 he was chair and CEO of Fiera Milano S.p.A .; from 2003 to 2005 he was general manager of RAI; from 2007 to 2011 he was chair of Terna Participacoes S.A .; from 2005 to 2014 he was CEO of Terna S.p.A.; from 2014 to 2016 he was member of the board of directors and from 2016 to 2017 he was CEO of Telecom Italia S.p.A.; from Februay 2015 to March 2016 and from September 2017 to Dicember 2018 he was CEO of Italo-NTV S.p.A. He currently holds the position of executive vice-chair of Italo-NTV S.p.A.
In 2011 he received the honor of Cavaliere del Lavoro.
Relevant positions according to our directors overboarding policy
Chief Executive Officer and General Manager of Enel S.p.A.
Other positions
Executive vice-chair of Italo-NTV S.p.A.

Member of the board of directors of

Essecieffe Investments S.r.l.