We LEARN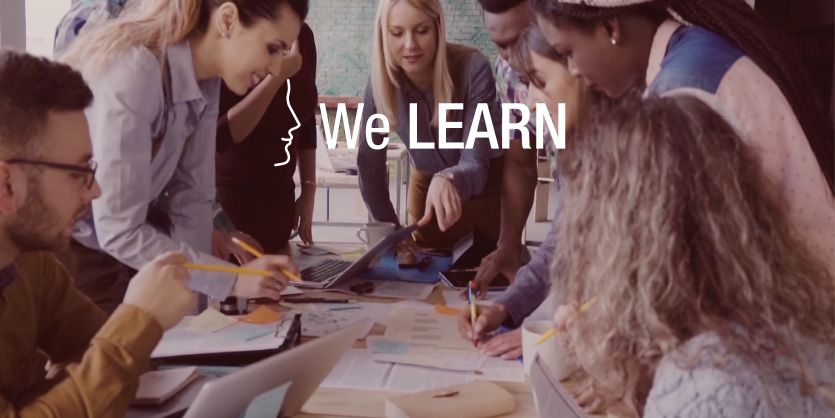 Your way to the Future
The enhanced sustainable ambition to become a Lifetime Partner to its customers, the increasingly changing external context and the accelerated deployment path of new technologies require Generali Group to keep investing in building key skills for the transformation.

Through the We LEARN Program, the Group-wide upskilling initiative launched in 2019, Generali will continue to equip its people with the cutting-edge business, digital and behavioral skills to drive growth and make the difference in the new digital age, delivering them through a mix of classroom courses and digital learning.

In this new global challenging and unprecedented context with a continuous rising of new needs, the We LEARN Program evolved, allowing the Group to thrive in the Next Normal and to boost its people impact and employability.
We LEARN includes the following main components:
GLOBAL STRATEGIC LEARNING CAMPAIGNS
Training pills for all Generali people, to spread awareness of the new strategic cycle objectives (e.g., Strategy e-learning, Sustainability, Next Normal)

UPSKILLING
Digital and classroom courses and highly specializing learning path aimed to equip Generali people with the newest relevant skills to best perform in their current* or new role**, drive growth, make the difference in the digital age and thrive in the Next Normal

PROFESSIONAL LEARNING ECOSYSTEM
Collaborations with highly specialized partners, such as the Data Science & Artificial Intelligence Institute, with the aim of conducting research initiatives and fostering increased knowledge and contamination in machine learning, data science and artificial intelligence
We LEARN Platform: a new learning experience

We LEARN gives Generali people the opportunity to get in touch with internal content experts and allows interested employees to become ambassadors of the Program.

Over 500 internal local trainers, content experts, and ambassadors collaborate to We LEARN to support the engagement of all Generali's people.

We LEARN supports all Generali people in learning every day and strengthening their capabilities, contributing to the Group transformation journey, and anticipating the future with innovation and a scientific approach based on data and analytics. During 2022, in fact, more than 5,000 of Generali people covered STEM (Science, Technology, Engineering and Mathematics) related positions, and used their STEM skills in their daily responsibilities. Among them, 35% were women***.

Thanks to We LEARN, Generali aims to build a learning organization culture where people feel they are the owners of their continuous upskilling journey, leveraging on enhanced We LEARN Platform functionalities, new devices such as the Mobile App and benefitting from a hybrid learning approach both virtually and gradually physically in Palazzo Berlam in Trieste.
* Launched the Business Translator learning path as a bridge between Business and Data Analytics to boost data-driven innovation across the Group
** From 2020 fours New Roles Schools have been rolled out to internally empower the development of new jobs (i.e. Data Scientist School; Actuary of the Future School; Smart Automation School; Customer Experience Design). ~40% of participants experienced role evolution after completing the programs. 18+ new market services launched after 18 Customer Experience Design workshops.
*** Figures refer to Group entities representing 90% of total GWP and 86% of total employees.