Lorenzo Pellicioli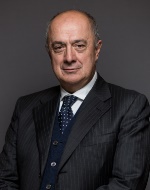 Non independent Director
Non-executive Director
Born in Alzano Lombardo (Bergamo) on 29 July 1951.
Career
Lorenzo Pellicioli has been a director of Generali since April 2007.
He began his career in the field of journalism and television, and in 1984 joined the Mondadori Espresso group, where he was soon appointed to top management positions. He then moved to the Costa Crociere group, where from 1990 to 1997 he was first chairman and CEO of Costa Cruise Lines and Compagnie Française de Croisières, then worldwide general manager of Costa Crociere SpA.
In 2017 he was awarded with the title of Chevalier dans l'ordre de la Légion d'Honneur.
In the past he has also been CEO of SEAT Pagine Gialle SpA, director of ENEL, INA and Toro Assicurazioni and a member of the advisory board of Lehman Brothers Merchant Banking.
Relevant positions according to our directors overboarding policy
Executive Chair of De Agostini S.p.A
Other positions
Member of the Board of Directors of B&D Holding S.p.A.
Member of the advisory board of Palamon Capital Partners

For additional info see also the Linkedin profile.