Diva Moriani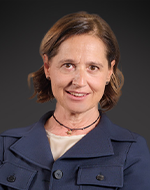 Independent Director
Non-executive Director
Born in Arezzo on 18 October 1968
Career
Diva Moriani has been a member of the Board of Directors of Assicurazioni Generali since 28 April 2016.
After graduating in Economics at the University of Florence, she immediately began her career in the investment field. Within Intek S.p.A., in less than thirteen years, she carried out a large number of acquisition, restructuring, break-up and divestment operations. She founded and served as chair of Ergycapital S.p.A., the first listed investment company in the renewable energy sector. In 2007 she became managing director of the private equity fund I2Capital partners. In 2015, she became first managing director, then executive vice president and Chief Transformation Officer of KME SE, a leading European group in the copper semi-finished products sector. Within the same, she played a decisive role in the financial restructuring, strategic repositioning, refocusing of the core business and more recent market consolidation, including through the creation of strategic joint ventures in China and in the USA. For years she has developed a strong interest in sustainability issues, which led her to become directly involved in the creation of Dynamo Camp, a philanthropic organisation dedicated to children with serious or chronic illnesses. From 2014 to 2020, she was an independent director of ENI S.p.A., where she served as chair of the nomination committee, member of the remuneration committee and member of the control and risk committee.
Relevant positions according to our directors overboarding policy
Executive Deputy Chair of

KME Group S.p.A.

Member of the Board of Directors, Chair of the Nomination and Remuneration Committee and member of the Related Parties Committee of Moncler S.p.A.
Member of the Board of Directors of Culti Milano S.p.A. (company that belongs to KME Group S.p.A.)
Other positions
Member of the Board of Directors of Dynamo Academy, Dynamo Foundation and Dynamo Association, first Italian Camp of recreational therapy for children with serious pathologies.

For additional info see also the Linkedin profile.