Outlook and Strategy
Generali is one of the world's largest insurance companies with a successful history of more than 185 years. We aim to be a leader in the European insurance market for individuals, professionals and SMEs, becoming a "life-time partner" to our customers.
AN UNCERTAIN ENVIRONMENT IN CONSTANT CHANGE
The insurance industry faces unprecedented challenges. The global economic, financial and political environment is increasingly uncertain. Some factors, such as higher volatility in interest rates and equity markets, have a direct impact on our business. The speed at which technological innovations are spreading and increasing digitalisation are affecting consumer behaviour, modifying operating processes and working methods. The regulatory framework is getting stricter.
In addition, the industry in which we operate is also at the crossroads of some of the great contemporary issues: demographic trends and in particular the ageing of the population; climate change; the company's social role.
These challenges, however, represent a great opportunity to distinguish us from our competitors.
A NEW PARADIGM FOR THE INSURANCE MARKET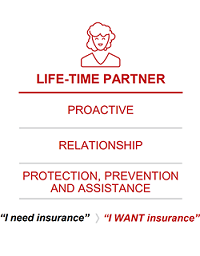 In the insurance world, the focus is shifting from "products" to "customers", from "protection and compensation" to "prevention and service". Customers are increasingly looking for products that integrate Life and Asset Management, in order to protect and grow their assets. For this reason, we want to become a "life-time partner" and follow the customer in every phase of their life and for every need.
A NEW CHAPTER OF OUR HISTORY
---
"Our track record of delivery, driven by our talented colleagues and underpinned by our strong brand and long-term culture of sustainability, will ensure the success of our strategic plan Generali 2021."
Philippe Donnet, Group CEO
---
Our Company today is a leader for insurance in Europe with about €70 billion of premiums and a distribution network comprising 156,000 people (data as of year-end 2019). Following a comprehensive and successful financial (2012- 2015) and operational (2016-2018) turnaround, we have delivered best-in-class technical and operational performance.

Following a comprehensive and successful financial (2012- 2015) and operational (2016-2018) turnaround, Generali is writing a new chapter in its history.

The strategic plan "Leveraging strengths to accelerate growth", presented on November 21st 2018, leverages on Generali's history and on our strengths to consolidate leadership in the European insurance market, in particular for individuals, professionals and SMEs, offering innovative and personalized solutions. At the same time, we will build a focused, global asset management platform and pursue opportunities in high potential markets, both geographically and in terms of activities.

This new ambitious strategy will allow to accelerate the profitable growth of the Group, offering high returns to our shareholders. We will continue to focus on generating and managing capital to fund growth opportunities in key markets and we will continue to invest in innovation and digital transformation.
Profitable Growth
We will strengthen our leadership in Europe, in particular consolidating our leadership in Italy and Germany, building on the current turnaround in France, investing in markets and in developing segments.
We will focus on high-potential insurance markets, aiming at delivering profitable growth in Asia and Latin America, upgrading SME segment offering and increasing developing sectors offering.
We will develop a global asset management platform.

Capital Management and Financial Optimization
We will increase capital generation.
We will enhance cash remittance.
We will reduce debt level and cost.

Innovation and Digital Transformation
We want to become a "life-time" partner to our customers.
We will enable the digital transformation of distribution.
We will transform and digitalize our operating model.
Empower people for the future. We will continue to foster a customer-centric and innovative culture, nurturing global and diverse leaders and talents. We will help staff acquire new digital skills.

New Brand promise. We will ensure a consistent and distinctive brand experience built around the promise of becoming a life-time partner for its customers.

Continued commitment to sustainability. Generali 2021 is aligned with the Group's sustainability commitments. We also commit to grow green and social retail products by 7%-9%11 and to allocate €4.5 billion to green and sustainable investments by 2021.