Outlook and Strategy
Generali is one of the world's largest insurance companies with a successful history of 190 years. We aim to be a leader in the European insurance market for individuals, professionals and SMEs, becoming a "Lifetime partner" to our customers.
AN UNCERTAIN ENVIRONMENT IN CONSTANT CHANGE
The insurance industry faces unprecedented challenges. In an operating context made even more complex by the pandemic, we have continued to monitor the mega trends that pose significant risks and opportunities for the Group and for our stakeholders, with a view to sustaining our ability to create value over time. The speed at which technological innovations are spreading and increasing digitalisation are affecting consumer behaviour, modifying operating processes and working methods. The regulatory framework is getting stricter.

In addition, the industry in which we operate is also at the crossroads of some of the great contemporary issues: geopolitical and financial instability; pandemics and extreme events; digital revolution and cyber security; climate change; ageing and new welfare.

These challenges, however, represent a great opportunity to distinguish us from our competitors.
A NEW PARADIGM FOR THE INSURANCE MARKET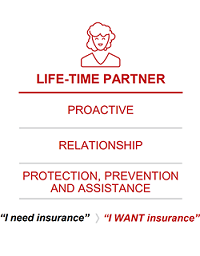 In the insurance world, the focus is shifting from "products" to "customers", from "protection and compensation" to "prevention and service". Customers are increasingly looking for products that integrate Life and Asset Management, in order to protect and grow their assets. For this reason, we want to become a "life-time partner" and follow the customer in every phase of their life and for every need.
A NEW CHAPTER OF OUR HISTORY
---
"Our Generali 2021 strategy remains effective and even more valid in the current market context. The Group is navigating the most serious post-war global crisis by leveraging its strengths: disciplined strategy execution, focus on technical excellence, strong distribution network and a diversified business model. These strengths, combined with our solid capital position and excellence in innovation, allow us to fully commit to the financial targets of our strategy and to be well-positioned to capitalize on future opportunities. Two years after the launch of the plan, we are maintaining our commitments to all stakeholders, thanks also to the empowerment of our people, an increasingly strong brand and our growing commitment to sustainability."
Philippe Donnet, Group CEO
---
The Covid-19 pandemic spread around the worl represents not only a serious threat to people's health: it is also causing a major economic crisis and great uncertainty in financial markets.

Therefore, during 2020 we carried out a detailed analysis of our strategy to verify if it was still valid and consistent in light of the new context.

We were able to confirm we are solid and fully committed to reach our financial targets by 2021 thanks to three key factors:

our resilient financial and operating performance thanks to our core strengths underpinning Generali 2021: a clear strategy, a focus on technical excellence and a high-quality, diversified business model;

proactive and decisive actions taken since the beginning of the crisis to protect value of shareholders, our customers and our people;

our core convictions underpinning Generali 2021, which are today more relevant than ever and allow us to capitalize on emerging opportunities.
We also worked on the implementation of our strategic initiatives in line with our ambition to become a Lifetime Partner to our customers.

Our Company today is a leader for insurance in Europe with € 70.7 billion of premiums (data as of year-end 2020).

Following a comprehensive and successful financial (2012- 2015) and operational (2016-2018) turnaround, Generali is writing a new chapter in its history.

The strategic plan "Leveraging strengths to accelerate growth", presented on November 21st 2018, leverages on Generali's history and on our strengths to consolidate leadership in the European insurance market, in particular for individuals, professionals and SMEs, offering innovative and personalized solutions. At the same time, we will build a focused, global asset management platform and pursue opportunities in high potential markets, both geographically and in terms of activities.

This new ambitious strategy allow to accelerate the profitable growth of the Group, offering high returns to our shareholders. We continue to focus on generating and managing capital to fund growth opportunities in key markets and we continue to invest in innovation and digital transformation.

​​​​​​​
Profitable Growth
We will strengthen our leadership in Europe, in particular consolidating our leadership in Italy and Germany, building on the current turnaround in France, investing in markets and in developing segments.
We will focus on high-potential insurance markets, aiming at delivering profitable growth in Asia and Latin America, upgrading SME segment offering and increasing developing sectors offering.
We will develop a global asset management platform.

Capital Management and Financial Optimization
We will increase capital generation.
We will enhance cash remittance.
We will reduce debt level and cost.

Innovation and Digital Transformation
We want to become a "life-time" partner to our customers.
We will enable the digital transformation of distribution.
We will transform and digitalize our operating model.
Empower people for the future. We will continue to foster a customer-centric and innovative culture, nurturing global and diverse leaders and talents. We will help staff acquire new digital skills.

New Brand promise. We will ensure a consistent and distinctive brand experience built around the promise of becoming a life-time partner for its customers.

Continued commitment to sustainability. Generali 2021 is aligned with the Group's sustainability commitments. We also commit to grow green and social retail products by 7%-9%11 and to allocate €4.5 billion to green and sustainable investments by 2021.