Leading innovation and the digital transformation
With the new strategic plan 'Lifetime Partner 24: Driving Growth', Generali takes its commitment to the next level to confirm itself as a customer-focused innovator thanks to the use of data and new technologies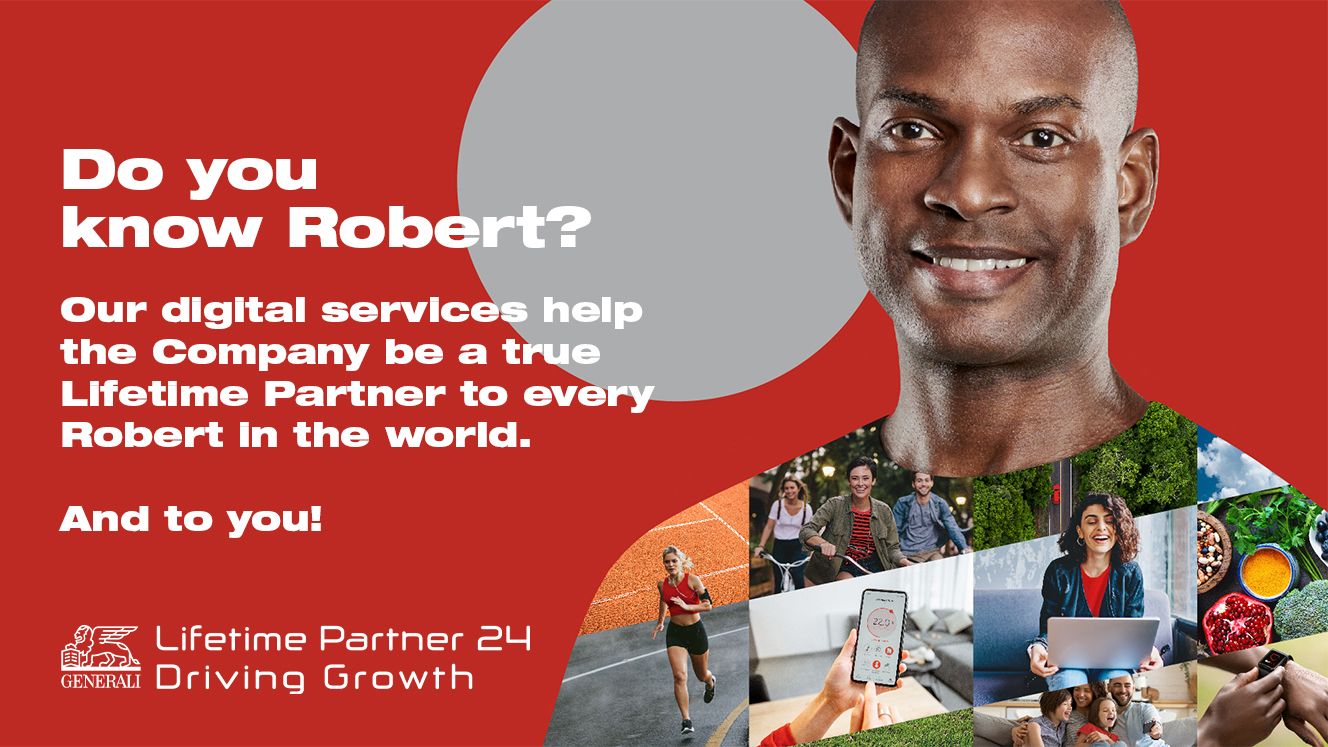 For Robert, technology is part of everyday life. His car is equipped with satellite devices and insurance services that provide assistance in case of need; he invests through digital platforms, assisted by an advisor at his disposal; at home, he uses domotics integrated with insurance products; and he owns wearables to monitor his biometric data and maintain a healthy lifestyle.

Generali stands by Robert and all those for whom prevention, protection and assistance are important, guaranteeing the well-being of its customers and the confidence that they will get the support they need anywhere and at any time, thanks to a network of more than 165,000 digitally enabled agents, personalised insurance products, interconnected devices, and digital platforms.

An example of this is Jeniot, the company owned by Generali Italia that offers devices and technological solutions to help families and businesses in everyday life: from connected cars for road safety and to improve one's driving style to domotics with sensors for prevention and protection, from our own personal well-being and that of our four-legged friends to sensors for safety in the workplace.

Concerning health, innovative solutions for the wellbeing of customers through prevention, assistance and the adoption of healthy behaviour are also provided. The Generali Vitality programme, for instance, encourages preventive behaviour and rewards healthy lifestyles, while Europ Assistance's My Clinic provides advanced digital assistance with a full range of services including telemedicine, home care, and digital symptom control. In Italy, Welion is a company specialising in integrated welfare programmes and services dedicated to health that facilitate access to care, reducing time and costs, thanks to integrated service platforms. Another solution, VitalSigns&Care, is available in Germany to provide new early diagnosis tools such as an app that allows users to self-monitor their vital parameters using just their smartphone camera.
Lead innovation, a pillar of the new strategy
We have a clear vision of Generali in 2024: a customer-focused and data-driven innovator, able to "Lead innovation" – which is one of the fundamental pillars of the new three-year strategic plan Lifetime Partner 24: Driving Growth.

For Generali, this means increasing customer value through the "Lifetime Partner" advisory model by scaling digital advisory capabilities and establishing a seamless omnichannel approach across all distribution channels.

Investments in digital technology leveraging the potential of data will total € 1.1 billion over the course of the new plan, a 60% increase on the last strategic cycle. In addition, a new € 250 million venture capital fund focused on insurtech will allow Generali to harness high-potential opportunities. The Group will also take forward the Innovation Fund initiative, launched in 2020 to co-finance ideas generated by Generali people and aimed at accelerating innovation.