Investments, customised insurance solutions, and a culture of sustainability: Generali's actions to support SMEs
Contributing to the sustainable transition of small and medium-sized enterprises, offering them modular and innovative solutions, specialised consultancy, and cutting-edge risk advisory tools means driving sustainable growth. One of the pillars of the new strategy 'Lifetime Partner 24: Driving Growth'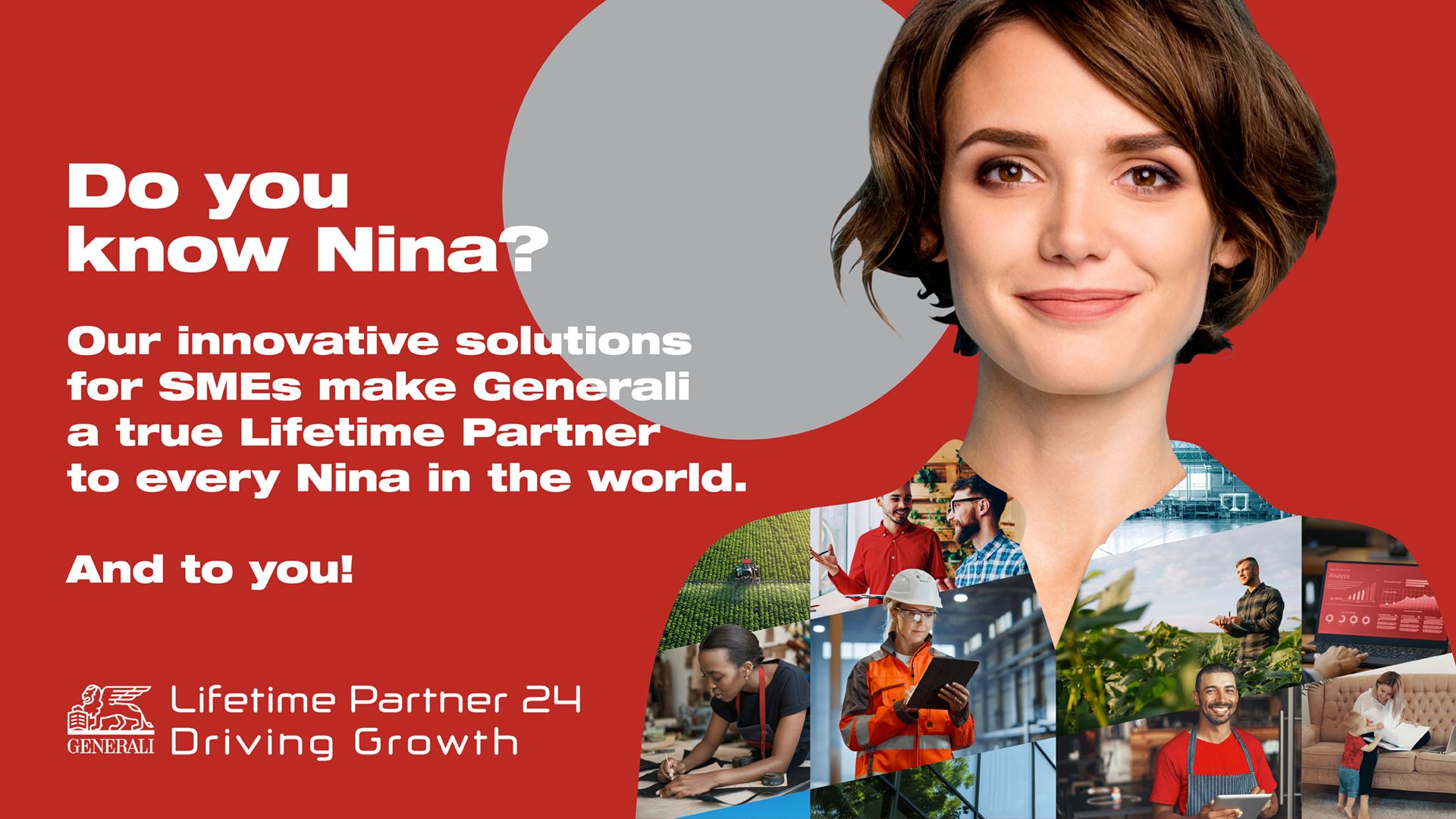 "Small" businesses with a big impact. Within the EU only, small and medium-sized enterprises:
make up more than 99% of businesses

employ two thirds of all private sector employees

and contribute to 53% of the added value created by the EU27 non-financial business sector.
SMEs are the bedrock of the real economy, and the welfare and future of communities depend on them. For this reason, and especially in the current historical moment, in which companies are at the forefront of efforts for the post-pandemic recovery and the ecological and digital transition, it is essential to help them move towards increasingly more sustainable business models, to contribute to a fairer society and a more resilient economy.

Generali supports Nina and all entrepreneurs with insurance solutions and services tailored to the needs of their businesses, as well as with investments and initiatives aimed at promoting a culture of sustainability and enabling them to meet today's socio-economic challenges.

Generali's offer includes solutions for the protection of activities, savings, and investments - a wide range of products dedicated to small and medium-sized enterprises in all sectors, offered locally by all of the Group's Business Units. An example of this are those offered by Generali Italia and Europ Assistance, which provides SMEs with integrated welfare services (such as medical assistance, senior care, rehabilitation, travel) for their employees.

These are innovative and modular solutions allowing small and medium-sized enterprises to integrate their traditional insurance cover with parametric solutions (policies that entail the right to receive compensation when an event occurs, such as the fall of a certain number of centimetres of rain or hail, a given number of days of drought, or the absence of electricity for a certain number of hours), for example in the agricultural and renewable energy sectors, and cover against cyber risk.

Such as Cyber Lion, the insurance solution to protect businesses and professionals from cyber attacks, or the Majorana platform created with Generali's technology start-up CyberSecurTech which, thanks to the use of innovative technologies, enables the assessment of real risks to which customers are exposed and the provision of detailed information that can be used to build a plan of residual risk mitigation and transfer, both from a technology and insurance perspective.

Or the recent collaboration with Accenture and Vodafone Business to support corporate and SME clients in managing cyber risk and responding to cyber attacks, also providing assessment and education services on these threats and how to deal with them.

Generali's offer also includes risk advisory and assistance tools, which leverage innovative technologies and are enhanced by the experience of the Group's agency networks. A distinctive and fundamental resource for Generali's ambition to be a Lifetime Partner for its customers.

Generali's commitment for small and medium-sized enterprises also means supporting their relaunch in the hardest times, such as following the crisis caused by Covid-19, with investment plans such as Fenice 190: 3.5 billion euro in five years, with resources dedicated to sustainable growth through international investment funds focusing precisely on SMEs, among other things.

Among the priorities of the new strategic plan 'Lifetime Partner 24: Driving Growth' is the achievement of a positive social and environmental impact through the integration of sustainability in business activities. That is why Generali has launched SME EnterPRIZE, an initiative already joined by more than 6,000 companies in Europe and created to promote a culture of sustainability needed to meet the challenge of ecological transition.