Generali takes part in Milano Pride 2023
The Group joins Pride Month celebrations again this year in support of the LGBTQI+ community rights – but there's more: Generali is also taking part in Milano Pride 2023, reaffirming its commitment to acting as a responsible employer and ensuring an inclusive work environment
A rainbow that crosses the city. This is Milano Pride, making the streets colourful and animated every year and which, for the 2023 edition, saw Generali participating for the very first time in the parade as a sponsor thanks to the collaboration between Group DEI and We Proud, the Group's first LGBTQI+ Employee Resource Group (ERG). Colleagues, friends, and families came together in one big rainbow embrace in support of inclusion, respect, and freedom of expression to unleash one's full potential.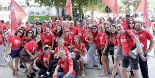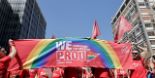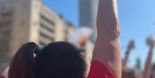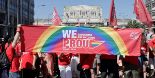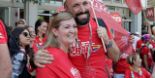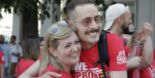 Generali at Milano Pride 2023 and the We Proud community
By participating in Pride Month celebrations and Milano Pride 2023, Generali reaffirms its commitment to promoting the values of diversity, equity, and inclusion, which are among the priorities of the Lifetime Partner 24: Driving Growth strategy.

At Generali, "Pride" is first of all about inclusion, providing a work environment where everyone feels safe, comfortable and free to be themselves, and therefore valued, respected and able to unleash their potential, to contribute with their talents to driving the Group's innovation, growth and success.

At the same time, the concept of "Pride" for Generali is about the cultural transformation journey that the Group has embarked on together with the LGBTQI+ people and allies of We Proud, Generali's first LGBTQI+ Employee Resource Group (ERG) dedicated to these issues.
We Proud
The participation in Milano Pride further confirms the commitment of the Group and its People to equality and freedom of expression.

We Proud gathers members of the LGBTQI+ community and their allies to foster inclusion in the workplace, raise awareness on the challenges LGBTQI+ employees face, and improve understanding of the needs of our colleagues and customers. In so doing, it contributes to removing cultural and behavioural barriers, while promoting important projects dedicated to diversity, equity, and inclusion in line with the Generali People Strategy, in order to:
provide an environment where people can feel safe and at ease

generate employee interest and awareness

advance personal and professional growth

foster innovation and drive social impact
Generali and Pride: sharing the same values
Generali is proud to support LGBTQI+ colleagues, who contribute to enriching our Company in an increasingly significant way. Being a Sustainable Lifetime Partner for all our stakeholders also means welcoming and recognising the value of all the differences that make the difference in our daily activities.
Generali's commitment to Diversity, Equity, and Inclusion
Diversity, equity, and inclusion are fundamental pillars of the cultural transformation we promote every day to generate value for people and society. Counting on a governance of engaged business leaders, on an international community of active champions, and on a system to monitor DEI progress, Generali will continue to implement fair and meritocratic processes and procedures to make sure that all employees enjoy access to equal opportunities and are able to fully unleash their potential.
The history of Pride
Pride is celebrated every year in June to support the rights of the LGBTQI+ community and fight against all forms of discrimination. During Pride month, participants hold parades and public demonstrations to show solidarity and pride in their gender and sexual identity.
The Stonewall uprising and the LGBTQI+ movement
In the not-so-distant past, police used to raid gay bars in Manhattan to intimidate and imprison staff and customers. But on June 28, 1969, patrons of the Stonewall Inn fought back and started a rebellion that would change history, helping to kick off the modern LGBTQI+ community rights movement.

The rebellion inspired a series of demonstrations for the civil rights of LGBTQI+ people and their full acceptance into society. The first anniversary of the Stonewall protests, in June 1970, was celebrated with a parade in New York. Since then, every year in June Pride Month honours the history of Stonewall with parades and events and is a major opportunity for the LGBTQI+ community to manifest their identity and renew the call for equal rights.
The meaning of Pride for the LGBTQI+ community
Pride is a very important moment for the LGBTQI+ community, as it celebrates diversity and equality, regardless of sexual orientation, gender identity or other personal characteristics. In addition, Pride is also about fighting against homophobia, transphobia, and all forms of discrimination.