Be Bold for Inclusion 2023
This year's initiative, now in its sixth edition, celebrates the power of Employee Resource Groups (ERGs): a fundamental tool promoting workplace inclusion by organising awareness-raising events, sharing best practices and to contribute to Generali's cultural transformation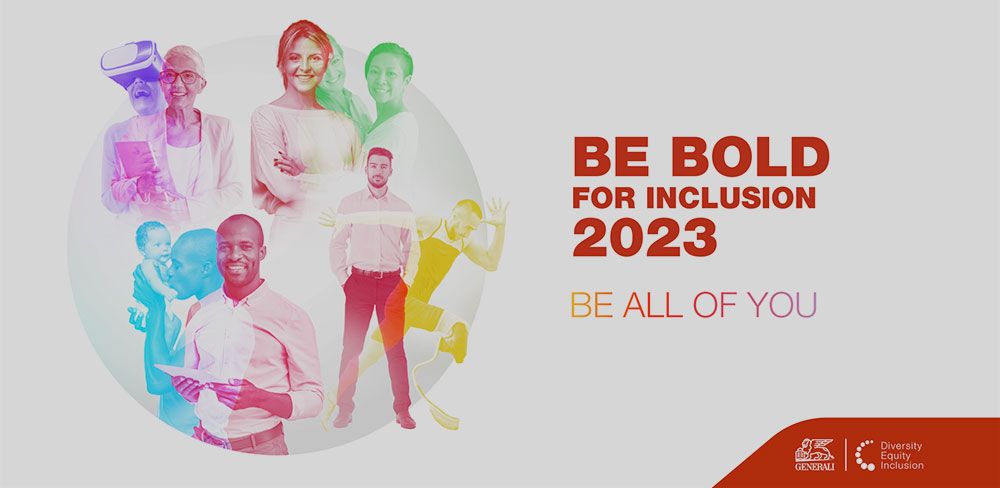 For the sixth year running, Generali again celebrates #BeBoldForInclusion on International Women's Day. The annual campaign sees over 50 among CEOs and senior managers from across the Group meet with their people to focus on their vision about how to promote a culture of inclusion and on the concrete initiatives they commit to take.
Meetings, events, and initiatives are organized in several countries, testifying to Generali's strong commitment to Diversity, Equity and Inclusion (DEI) – a fundamental strategic priority for the Group, to achieve its sustainable Lifetime Partner ambition and continue being a responsible employer and corporate citizen.
For the 2023 edition of #BeBoldForInclusion, Generali wants to pay special tribute to its many Employee Resource Groups, which contribute to removing cultural and behavioural barriers and promote important projects covering all Diversity, Equity & Inclusion priorities.
What are Employee Resource Groups in Generali?
Employee Resource Groups (ERGs) are voluntary, employee-led groups whose aim is to foster a diverse, inclusive, and equitable workplace aligned with the values of our Group. They are led and participated in by colleagues who share similar identities or interests.
In Generali there are currently more than 20 ERGs in different countries focusing on parenthood, gender, LGBTQI+, generations, disability or, more generally, diversity, equity and inclusion. At global level there are two ERGs: the first one is We PROUD, gathering LGBTQI+ community members and allies, and playing a critical role in highlighting the importance of equality. The ERG raises awareness on the challenges LGBTQI+ employees face and improve understanding of the needs of a diverse workforce and customer base.
Moreover, in a few months the list of our Global Employee Resource Groups will see a new entry: TOGETHER, the Global network of women and allies. This ERG will create space and opportunities to share experiences, learn and encourage the advancement of skills and growth as professionals and human beings.
Why do Employee Resource Groups matter?
ERGs are effective in multiple ways:
Providing an environment where everyone can feel safe.

Within ERGs, people can bring their whole selves to the table and feel comfortable in sharing their experience. This in turn helps approach certain topics that might be very difficult for individuals to face on their own and address them thanks to the support network that these groups provide.

Generating employee interest and awareness.

ERGs are communities that bring new ways to look at issues, by providing insights into specific diversity topics, inspiring conversations. They help to dismantle prejudices and biases, bringing on board allies, thus amplifying the company's efforts to promote a culture of inclusion.

Advancing personal and professional growth

. These communities also provide opportunities to access training initiatives and discussion on specific topics, to connect with role models, mentors, and supportive colleagues across business units. This helps to boost networking, providing opportunities to improve personal development and professional advancement.

Foster innovation and drive social impact

. Thanks to ERG inputs, companies better understand their customers and, leveraging the mix of diverse perspectives and mindsets, contribute to the development of solutions that address diversity by design. By connecting their members to colleagues and parts of the business looking to embed diversity in operations and core strategy, ERGs drive social impact.
Generali's commitment to diversity, equity, and inclusion
Diversity, equity, and inclusion are fundamental pillars of the cultural transformation we promote every day to generate value for people and society. Counting on a governance of engaged business leaders, on an international community of active champions, and on a system to monitor DEI progress, Generali will continue to implement fair and meritocratic processes and procedures to make sure that all employees enjoy access to equal opportunities and are able to fully unleash their potential.
Let's all #BeBoldForInclusion!