Innovation
One of the three main pillars of Lifetime Partner 24 Strategy
Technology, connectivity and, above all, new forms of consumer behaviour will substantially transform the insurance sector.
As outlined in our Generali Lifetime Partner 24 Strategy, Innovation is one of the three pillars on which the strategy is built. We prioritise innovation in order to:
build future-ready business models;
lead the way in the industry by increasing customer value through our Lifetime Partner advisory model;
accelerating innovation as a data-driven company;
achieving additional operating efficiency by scaling automation and technology.

To achieve this, besides pulling all the resources and efforts required from the different parts of the Group, Generali will invest 30 million euros to fund new projects and start-ups partnerships. We believe that innovation is not just a key lever for our long-term success but also an opportunity for Generali to guide the process of change as a leader of the insurance industry. Its purpose is to grow and foster innovation, everywhere, for everyone.
In this sphere we have adopted different approaches in both our internal and external activities:
internally, we are focused on promoting innovative projects and solutions to advance the business across the value chain, with structured processes and methodologies for knowledge sharing and cross-fertilization among the individual functional areas and business units;
externally, we collaborate with leading technology counterparts (from start-ups to large industry leaders from all over the world) that can enable the development of new high-potential services or business models scalable within the Group. In 2022, we have launched Generali Ventures

, the venture capital initiative

to accelerate innovation

,

enter new markets

and

generate additional operating efficiencies for the Group

.

We have also signed partnerships with venture incubators (e.g. from universities), Scouting & Relationships Hubs (such as Sønr), accelerators (the most notable being the one with Plug&Play Insurtech Hub in Munich).

Both our internal and external approaches will provide Generali with the innovation it needs in order to grow, helping us to guide the process of change as a leader of the insurance industry.

Generali Innovation Fund
In January 2020, the Generali Innovation Fund was launched as part of the Innovation & Digital Transformation pillar to support innovative initiatives across the Group. The aim is to stimulate and accelerate innovation across Generali by triggering and feeding local and global innovative ideas. Anyone at Generali is eligible to apply: the only requirement is a good idea.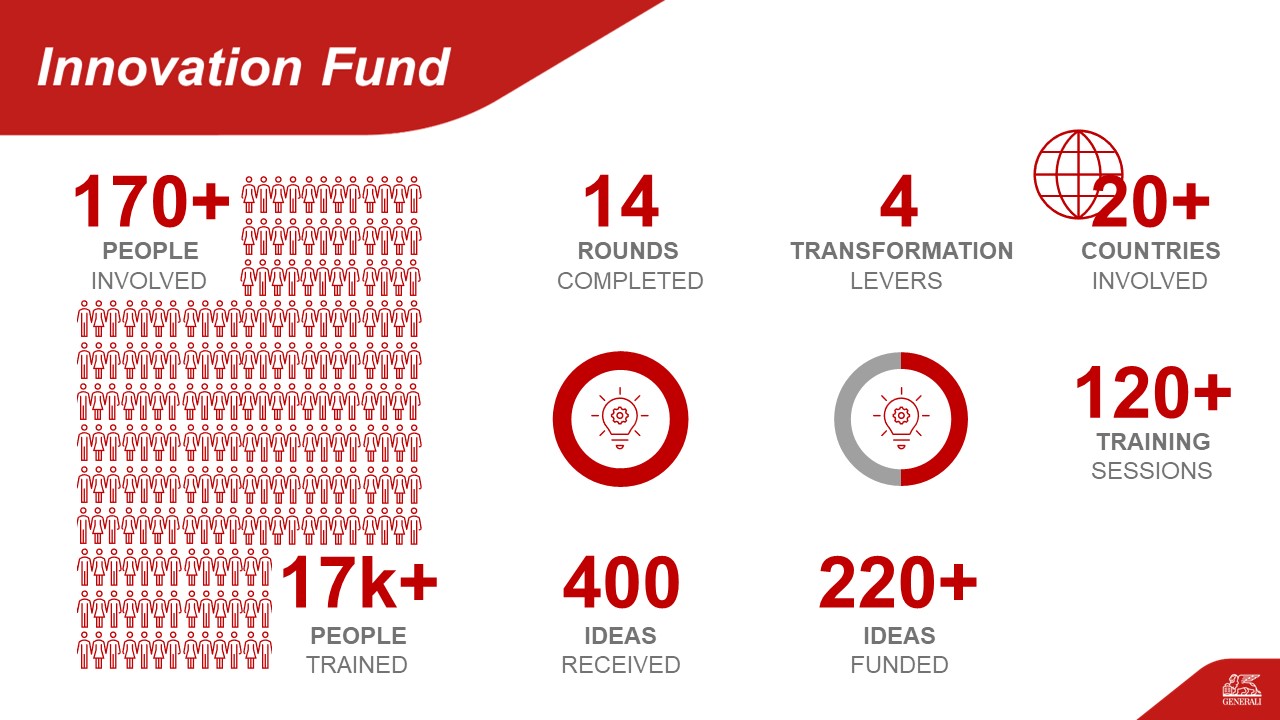 Each round of the Fund sees enthusiastic engagement from across the Group, with hundreds of ideas submitted from all Business Units and Countries.
Watch the videos below to have a sense of the great ideas we funded:
Our success stories