Generali People Strategy
In line with the new strategic plan and in coherence with the new business priorities, in 2021 we have developed a new Generali People Strategy, that will define people priorities and key initiatives in the timeframe 2022-2024: "GPeople24 – Ready for the Next".

GPeople24 has been defined through a co-creation process, involving also virtually hundreds of colleagues around the world, across all business units and at different organizational levels.
With the goal of unlocking the potential of our people and boosting the "Lifetime Partner 24: Driving Growth" strategy through the implementation of the Next Normal, four priorities have been defined, supported by dedicated global and local initiatives, along with clear and continuously monitored indicators and ambitions.
Enhance a Lifetime Partner, sustainable and meritocratic culture
Build a more diverse work environment ensuring equal opportunities and inclusion
Invest in business and digital skills to drive growth and boost our people impact
Enable an effective organization embracing a sustainable hybrid work models rooted in digital

Next normal
In the post-pandemic era, Generali wants to continue to optimize its organisation with the ultimate goal of maintaining and strengthening its ability to adapt and evolve, seizing emerging opportunities through an agile and effective digitally-enabled organization.

In this context, Generali is building its Next Normal based on hybrid, flexible and sustainable work models, enhancing the potential of our people, boosting the ambition of the business strategy and delivering benefits to all the stakeholders involved.
Generali's vision for the Next Normal is outlined in our Next Normal Manifesto and its seven Group key principles, which incorporate our Lifetime Partner Behaviours and touch on all relevant dimensions to shape the future of our ways of working.
The ambition is to have 100% of our Group's organizational entities implementing hybrid work models inspired by the Group's principles, an objective already achieved in 2022.

The Generali Global Pulse Survey 2022 confirmed Generali's people's positive attitudes towards hybrid work models in the Next Normal, with an overall favourable score of 83% of the relative Next Normal survey section, and 96% of respondents affirming that the team performance increased or remained stable while working hybrid.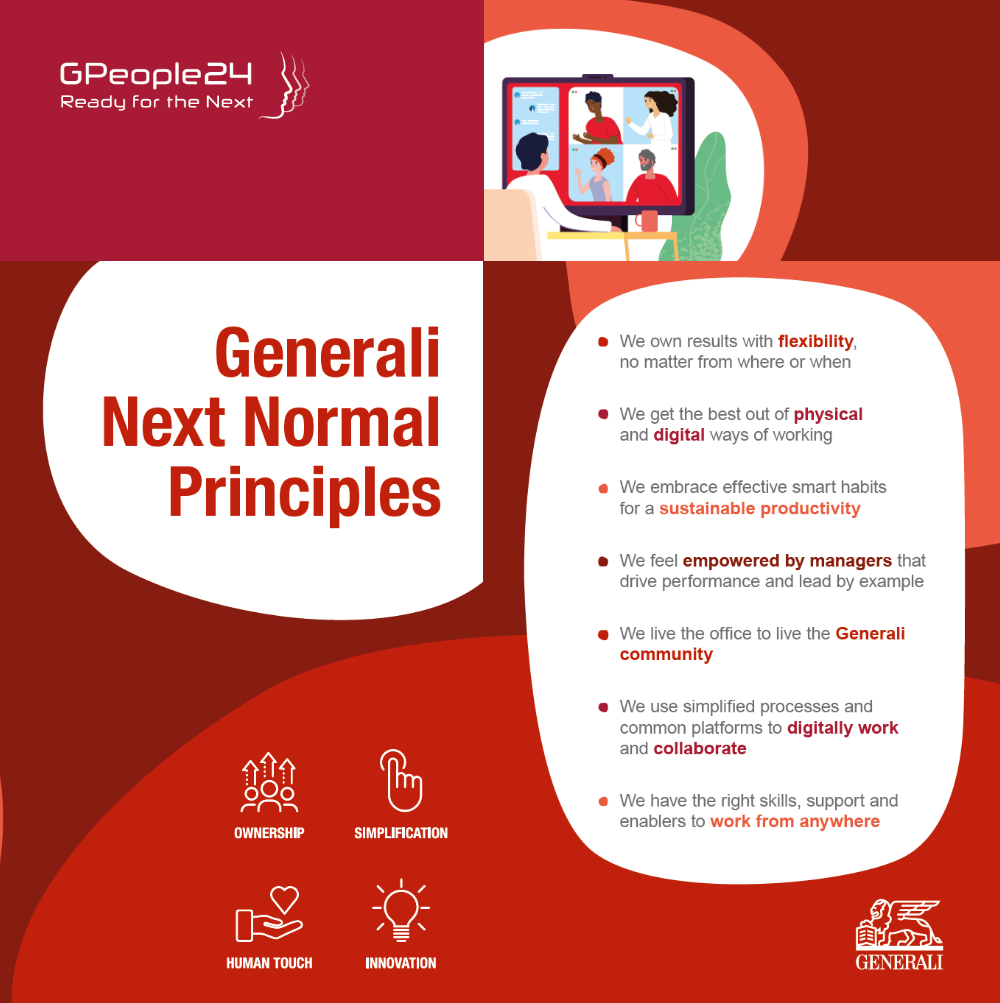 Culture
Generali wants to be a sustainable Company where everyone feels valued, included, and equipped to face the future at best, while nurturing empowered and engaged Talents and Leaders.
To do so, we aim to cultivate an environment that values Sustainability, enhances a customer-centric and Lifetime Partner mindset and fosters a meritocratic culture.

CULTURAL FRAMEWORK

Our cultural framework, based on Lifetime Partner Behaviours, together with our values and purpose will continue to be our pillar in the Next Normal and will lead us to support the Lifetime Partner 24: Driving Growth strategic plan in a sustainable way.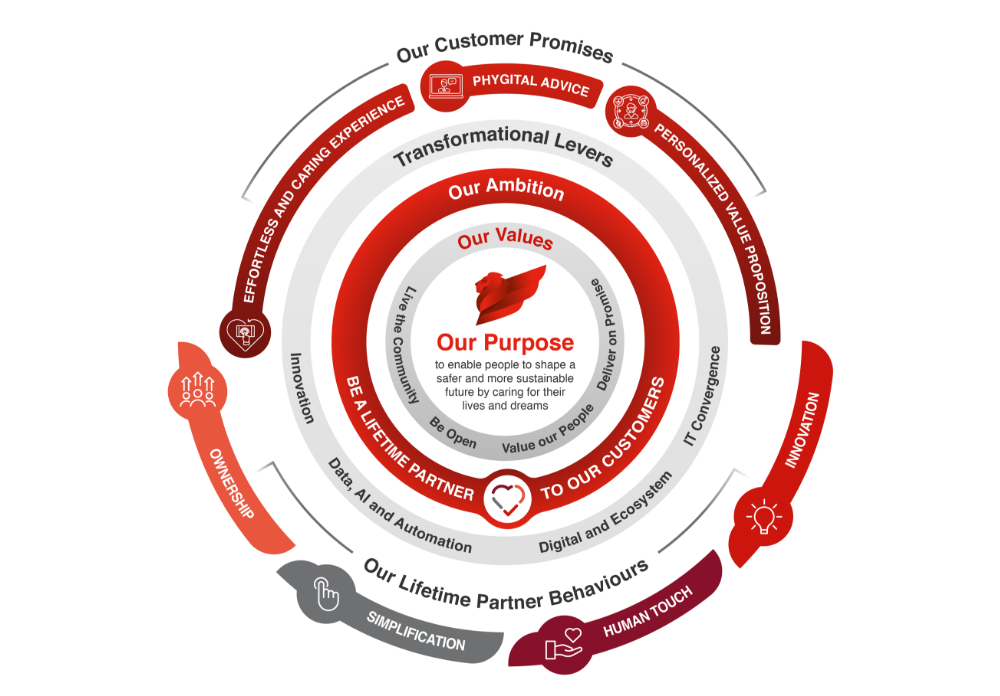 GENERALI GLOBAL ENGAGEMENT SURVEY & GLOBAL PULSE SURVEY

To measure and promote the engagement of our people, in October 2021 we carried out the fourth edition of the Generali Global Engagement Survey, which highlighted an engagement rate of 83%.
During 2022, each business unit addressed the improvement opportunities emerged with specific action plans, identifying 414 local engagement actions. Since January 2022, 72% of these actions have been launched, with the ambition to implement 100% of them by 2024.

As part of GPeople24 - Ready for the Next, we decided to enhance our employees listening approach with more active and regular interaction, increasing the moments to stay in touch with and receive input from our people. For this reason, in October 2022 we launched our first annual Global Pulse Survey, which is added to the Global Engagement Survey that will be conducted every three years.
70,000 INVITED EMPLOYEES
+ 180 ORGANIZATIONAL ENTITIES
+ 58,000 RESPONDENTS
+ 49,000 OPEN COMMENTS RECEIVED
84%

ENGAGEMENT RATE:


+1 p.p. compared to 2021
+1 p.p. compared to the market benchmark
MANAGERIAL ACCELERATION PROGRAM (MAP) AND MAP2THENEW

Since 2020, the unexpected has challenged our lives, requiring an evolution of both the way we work and our managerial approach in order to take full advantage of the benefits deriving from the Next Normal. A new managerial approach based on trust, ownership, meritocracy, and accountability has become essential in this new hybrid work environment to get the best out of both physical and virtual environments.
With this ambition, we launched MAP2TheNew, a new global management training program. The program was designed from the first Managerial Acceleration Program and our cultural underpinnings - the Lifetime Partner Behaviours and GEM principles - with the goal of providing more than 8,000 Generali people managers with the key skills needed to lead their teams in hybrid work environments.
By the end of 2022, the program has successfully achieved its goal of training 100% of Generali people managers.
Diversity, equity, inclusion
Diversity, Equity and Inclusion (DEI) are fundamental to enable our Group to become a sustainability champion. For this reason, DEI is an integral part of the way we work and do business every day and is supported by a structured governance (Group DEI Council) and an annual monitoring process designed to support countries and business units in assessing the progress and impact of specific actions needed to achieve the Group's ambitions.

GENDER BALANCE AND PAY EQUITY

In order to promote a culture based on gender balance and pay equity, since 2020 specific analyses have been conducted at local level by applying a common methodology for the Group, focusing on equity in terms of the gender pay gap for same work or work of equal value (equal pay gap) and across the entire organization, regardless of roles (gender pay gap).
During 2022, the methodology of analysis further evolved, introducing a regression model that considers the most relevant gender-neutral objective factors of salary differentiation representative of remuneration policies (e.g. job family, organizational level, tenure in the role, people management).
Compared to 2021, the equal pay gap result has improved, i.e. the difference between males' and females' base salary for the same work or work of equal value decreased by 0.2 p.p. The results of gender pay gap and accessibility gap to variable remuneration have also improved, respectively by 2.4 p.p. and 2.6 p.p..

Based on the results of the analyses, all countries and business units will continue to develop specific actions at local level, with the aim of structurally reducing the gender pay gap and supporting our ambition to achieve an equal pay gap towards zero in the strategic cycle 2022-2024. These actions include initiatives aimed at having a positive impact on gender balance and pay equity, both locally and in relation to the Group's diversity, equity and inclusion strategy.

In order to support countries and business units on this path, an annual recurring monitoring process is in place in order to assess improvements throughout the entire organization and the impact of the actions taken.
Skills
We provide our people with the knowledge and tools to continue to grow and support strategic business priorities in a sustainable way, enabling them to define their own customized training path based on their specific needs.

The sustainable ambition to become a Lifetime Partner to our customers, the ever-changing external environment and the accelerating path of diffusion of new technologies require us to continue to invest in building and evolving core competencies for transformation through innovative approaches such as microlearning.

We will continue to invest, providing our people with cutting-edge skills to drive growth and transformation and make a difference in the new digital era, enabling us to thrive in the Next Normal and increase the impact and employability of our people.

We want to implement an upskilling journey that in three years time will reach 70% of our employees on a new catalogue of skills, competencies, and behaviours - with a renewed focus on sustainability and data-driven innovation.
Organization
In today's digital economy and ever-changing world Generali wants to continue optimizing his organization across processes and technology to succeed in delivering the business strategy and sustain an agile, effective and productive working environment where people can work to their best ability.

As we navigate through the Next Normal, the final goal is to maintain and strengthen our ability to adapt and evolve by quickly implementing new ways of working and capturing emerging opportunities through an agile and effective organization rooted on digital.
Monica Possa, Group Chief HR & Organization Officer, presents GPEOPLE24
To meet the challenges of tomorrow while also leveraging on future opportunities, we developed the "Lifetime Partner 24: Driving Growth" business strategy, and our People are the true competitive strength to deliver the new plan effectively. This is why we've created the "GPeople24 - Ready for the Next". Watch the video to hear Monica Possa, our Group Chief HR & Organization Officer, present the new Group People Strategy.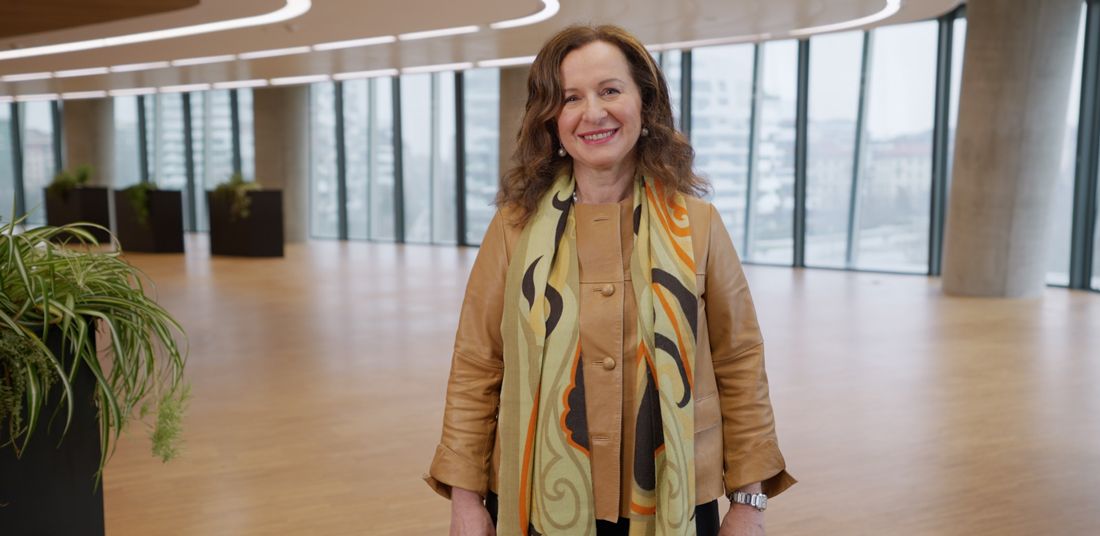 Key Metrics to Measure our Success
Measuring results and performance is crucial to an organization's effectiveness.

That is why we have identified a set of key Group metrics to measure the success of the GPeople24 strategy.

This represents also a strong commitment towards sustainability. Indeed such ambitious metrics prove our strong commitment to build an inclusive, meritocratic and sustainable workplace for all Generali people across the globe.
| | | | |
| --- | --- | --- | --- |
| GPeople24 Priority | KPI | Results 2022 | Ambition 2024 |
| Culture | Engagement Index | 84% Higher than External Benchmark | Higher than External Benchmark |
| DEI | Women in Strategic Positions | 30% | 40% |
| Skills | Employees Upskilled | 35% | 70% |
| Organization | Entities Working Hybrid | 100% | 100% |