Generali People Strategy
To accompany the launch of a new strategic cycle and new business priorities, in 2018 we developed GPeople 2021, the new Generali People Strategy that will guide the Group's priorities and initiatives over the three-year period 2019-21. We embarked upon a co-creation process involving over 400 people group-wide at different organisational levels, to develop the new Generali People Strategy.
We identified five priorities as a result:
To promote a culture of innovation, customer-centricity and inclusion
To build and develop the key skills for the digital age
To encourage the development of leaders and global talent
To promote excellence and the creation of sustainable value
To become a streamlined, agile and efficient organisation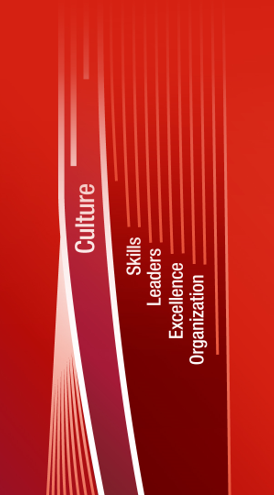 We support each priority through specific global and local initiatives and defined and monitored targets, in line with the Generali 2021 strategic plan.
IN 2019, 9,800 PEOPLE HAVE BEEN TRAINED THANKS TO THE BEHAVIOURS IN ACTION EXPERIENCE
In order to promote a culture of innovation and become Lifetime Partner to our customers, the adoption across the Group of the four new Behaviours is key: Ownership, Simplification, Innovation and Human Touch. To do this, in 2019, a training experience called Behaviours in Action Experience was designed to let Generali's employees experience the Behaviours.
IN 2019, THE RESPONSE RATE WAS 89% (+3 P.P. VS 2017) AND THE ENGAGEMENT RATE WAS 82% (+2 P.P. VS 2017).
As to measure and promote the engagement of our people, in June 2019 the third edition of the Generali Global Engagement Survey was carried out as a managerial tool for continuous improvement. More than 62,000 employees took part to the survey.
Three global priorities were identified on the basis of the results achieved:
Eliminate bureaucracy to boost efficiency and decision making
Unlock people potential by fostering transparent meritocracy, recognition and growth
Nurture an inclusive environment to embrace diversity
430 local actions were identified to be launched in 2020.
The 390 local actions identified in the previous survey have been implemented at 100%.
IN 2019, 77% D&I INDEX
We have a clear strategy supported by a structured D&I governance and we believe in taking concrete measurable actions to achieve our ambitions. The Group D&I Index measures the progress our Group is making on our Diversity and Inclusion ambitions on our key areas of action for 2019-2021, which are gender, generations, culture and inclusion.
IN 2019, 19.7% RESKILLED EMPLOYEES
The trends of the sector, our ambition to become Lifetime Partner to our customers and the new technologies demand the development of new skills. The We LEARN program aims to carry out reskilling for 50% of the employees by the end of 2021. It breaks down into 3 training components and a new interactive Group digital platform that enable to develop new business, technical, technological and behavioral skills.
62% OF ORGANIZATIONAL ENTITIES WITH SMART WORKING

We believe in a clear and simple organizational model that also encourages new methods of working that are more streamlined in order to facilitate speed, collaboration, accountability and innovation. We support smart working, which will be extended to the entire Group by the end of 2021.