Metaverse, the new frontier of business: new opportunities for the insurance world
Some of the world's most famous brands have already started to integrate and build their digital presence in the 'cloud', creating immersive experiences comparable to the real world. The role of insurance companies
The metaverse is an immersive digital world that only exists in the 'cloud', and in which people can connect, interact and transact. The term first appeared in the 1992 science fiction novel 'Snow Crash', in which author Neil Stephenson used it to describe an immersive 3D virtual space. However, the concept of virtual worlds can also be found in the cyberpunk culture of the 1980s, for example in the novel 'Neuromancer' by W. Gibson.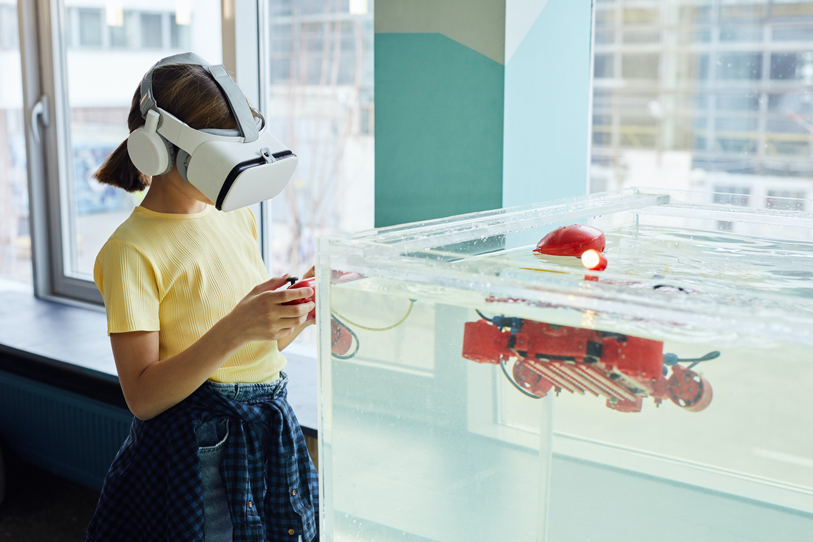 The word derives from the fusion of the terms 'meta' (which in ancient Greek means 'beyond') and 'verse' (a contraction of the English word 'universe'), and means 'beyond our universe', so it is a digital world that transcends our reality. The concept is still in an embryonic state, but experienced a considerable boom following several recent decisions by tech giants, and especially Facebook, whose parent company was renamed 'Meta' in October 2021. Another tech giant, Microsoft, has allocated similar resources, in order to become part of this virtual space: in 2021, it launched 'Mesh', a platform designed for virtual collaboration across multiple devices, while in January 2022, it acquired 'Activision Blizzard', one of the world's largest game companies, for USD 68.7 billion.



A million dollar business
At the same time, some of the world's most famous companies and brands have already begun to integrate and build their digital presence in the metaverse, and more and more companies are starting to use cryptocurrencies as incentives for their customers to earn rewards or cashback. Since 2019, for example, Nike has been collaborating with Lolli, a rewards company that gives away bitcoins when customers shop in any one of over 1,000 shops. Adidas recently announced its partnership with popular Non-Fungible Token (NFT) collection Bored Ape Yacht Club, which signalled another move by the company to venture into the metaverse. The sportswear giant also purchased 144 plots of land for 400 ether (equivalent to roughly USD 1.7 million) in order to create a virtual universe, known as 'AdiVerse', which offers users exclusive content and experiences, as well as access to digital collectibles.

Many luxury companies are also exploiting the metaverse, in order to build 3D worlds and virtual boutiques. Balenciaga recently created its own video game for its Fall 2021 collection, organised an entire catwalk show with 44 clones of a model, and joined forces with Fortnite on in-game items. JP Morgan also entered the up and coming sector with a virtual lounge (called 'Onyx') in the popular blockchain-based world 'Decentraland'.

Most of the concepts and ideas behind the metaverse are far from new, such as online games, virtual reality, and blockchain, but there is now a convergence of trends that are bringing the metaverse closer than ever before. In particular, the advent of new virtual reality hardware promises to create immersive experiences comparable to those in the real world, which should attract many new users to the metaverse in the not too distant future. For instance, a new and improved form of digital economy is expected to emerge where the digital and real worlds meet, which is the metaverse. New digital resources and services will be available online (and in many cases linked to the 'offline' economy), triggering a strong network effect, and in this context, 'Meta' expects to see USD 1 trillion in additional revenue by 2030. Moreover, some core technologies that are the backbone of the Metaverse, such as cryptocurrencies, will continue to advance, thus creating opportunities in other areas where these technologies are used.
What role for the insurance industry?
Insurance companies could play several roles in the evolving environment of the metaverse. For example, they may establish their presence for branding purposes, or in the future they could use the metaverse to streamline certain core processes, such as risk assessment, virtual underwriting, claims management, and so on. Moreover, they could also exploit the metaverse as a marketplace for new products and services, from insuring digital assets to addressing potential health problems arising from the use of technology itself.

Although the metaverse will not be fully functioning in the immediate future, we can nevertheless expect immediate benefits and deeper insights into some key enablers, which will play a key role in many business areas, for example NFT, digital currencies, digital identities, and so on. Among other things, customers and agents could meet for consultations in the metaverse. But the metaverse also presents totally new risks, which need to be assessed and will require new insurance solutions. For instance, every time users purchase virtual currencies and digital assets, they receive proof of confirmation, possibly in the form of a token, which presents the risk of third parties accessing digital assets. Insurance companies will therefore have to work with huge volumes of data, in order to analyse risks in the metaverse, and develop appropriate premiums, also by exploiting artificial intelligence and analytics.