How the Covid-19 emergency is changing environmental policies
Institutions and companies can challenge the resistance to change and launch a green recovery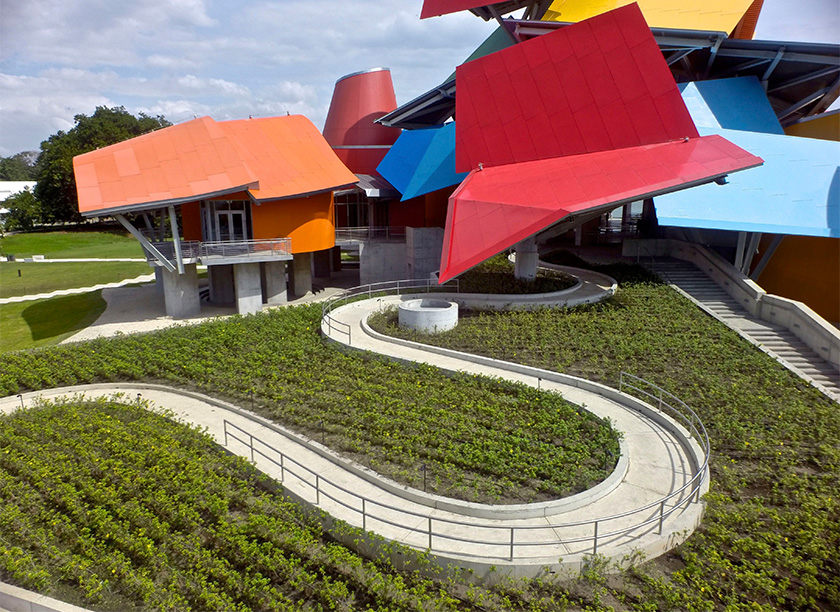 Panama City, the Biodiversity Museum designed ​by Fr​ank Gehry
The coronavirus emergency is forcing us to learn important lessons, encouraging us to reflect on our society and, above all, on ways to reinvent development models to fight other threats to our future, such as climate change, once and for all. This will not be a simply academic exercise but will have an inevitable impact on government and corporate policies and must therefore be able to correct habits and lifestyles regardless of emergencies: unfortunately, we will see an increase in poverty in all its forms, but the ban on movement and production – if accompanied by an overall vision – may have beneficial effects on biodiversity, pollution and energy consumption. For example, the Covid-19 pandemic may contribute to speeding up interdepartmental work with solid bases in research and expert advice, with a view to finding a solution to the economic crisis that focuses on an ecological transition.
Encouraged by technology and public opinion, especially among younger generations, many companies are already making progress in this regard: Generali, for example, has adopted clear principles to fight climate change, increasing its commitment to green activities and offering environmentally friendly products. The company also decided to join Green Recovery, an informal alliance launched by the European Parliament to revive the economy through sustainable investments. The initiative is based on the belief that the need to recover from this crisis will offer an opportunity to rethink society and develop a more resilient and inclusive European economic model in which finance and the planet are not at odds with each other. According to the signatories, efforts to combat the spread and consequences of the Covid-19 pandemic should not cancel out the fight against climate change and the destruction of the planet and they believe that one battle cannot be won without the other. A further example, from the world of research, is the discovery of an eco-friendly solution to guarantee safe distancing on beaches during the post-emergency phase. The idea, developed by Enea in collaboration with Ecofibra, is to produce ecological security barriers using Posidonia oceanica, a marine plant found in large quantities on the basin of the Mediterranean Sea. The innovative project will place partitions padded with dried Posidonia to separate beach umbrellas and create pathways to the water in accordance with the current health regulations.

On the other hand, while recognising the devastating impact the pandemic will have on economy and society over the upcoming months and years, it seems increasingly clear that the planning of the post-emergency recovery offers an important chance to set the world on a path that concentrates on the fight against climate change, on environmental protection, combating the loss of biodiversity and safeguarding humankind's long term health and security, with the final goal of creating a cleaner, greener and more prosperous world for everyone. To do this, we must focus on a series of objectives that can be summed up as follows:
Create a global security network based on nature, strengthening the weakest links in our global systems;

Choose multidimensional solutions to resolve complex challenges;

Act now;

Establish a "Marshall Plan" for nature.

Regarding the first objective, nature and our economic systems are inextricably linked because the global food system is extremely vulnerable to the loss of biodiversity – this is why it is important to support natural ecosystems and consider them as a global security network for humankind. Concerning the second point, the Covid-19 emergency has revealed the urgency of acting as efficiently as possible when simultaneously resolving multidimensional challenges combining nature and development. A good starting point would be to engage in significant inclusive investments in agroforestry and regenerative agriculture that contribute to protecting biodiversity and mitigating greenhouse gases by over one third (agriculture is responsible for almost 30 percent of global greenhouse gas emissions), as well as preventing catastrophes and supporting the more than 2 billion people living in poverty who are directly dependent on nature to survive. To achieve this, we must commit to acting immediately, adopting intelligent and strategic action. This means challenging the resistance to change by listening to science and nature's signals and using the best available data to make informed decisions on land use. Much like the Covid-19 emergency, taking measures to prevent species extinction and ecological collapse is mainly a question of timing. Finally, regarding the fourth objective, it is important to rethink our unified action and draw up a brave, coordinated and global plan. It is time, in short, for a Marshall Plan for nature that sufficiently invests in the protection, restoration and sustainable management of biodiversity and that places nature at the heart of sustainable development.

A common framework of action to facilitate this process already exists and must be taken into consideration: the 2030 Agenda for Sustainable Development and the Paris Climate Agreement, under which 121 nations have already committed to achieving carbon neutrality by 2050 through national action plans. However, as recently stressed by UN Secretary General Antonio Guterres, "brave, visionary and collaborative" leadership anchored in multilateralism is essential in order for these efforts to be successful. "We still lack the necessary political will", said Guterres, calling for "more ambition" on fighting climate change.