The Innovation way
Interview with Stefano Bison, Head of Group Business Development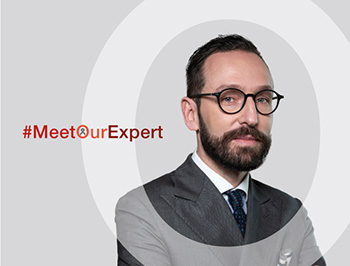 In recent years there has been a huge -and continuously increasing- attention to innovation in the Financial and especially Insurance sectors. Do you "feel the pressure" also at Generali, and why so?

The whole insurance sector is under increasing pressure from all angles: changing customer needs and expectations, new and hardened regulations, diminishing margins and interest rates, increasing role of disruptive technologies and, eventually, competition from innovative players. Everything around us is changing at an unparalleled pace, and consumers are typically much faster in adopting new technologies and business innovations, as corporates experience more inertia given the complexity of their processes and cultures vis-à-vis single individuals.
We are concerned that the whole insurance paradigm will progressively change over time – the "when" is uncertain, not the "if" – and this will impact the entire value chain. Products will become more modular and flexible, distribution multichannel, pricing and UW more intelligent and automated, and so on (Figure 1).
Of course Generali is no exception, and we look closely at innovation trends along the value chain, acting selectively to capture the opportunities on the rise, also thanks to the partnership with innovative players.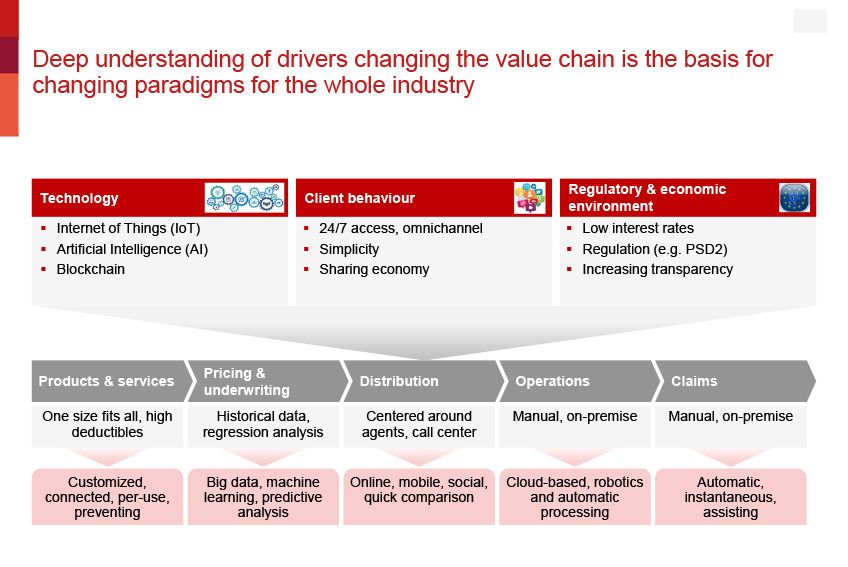 What you describe looks quite revolutionary. Is it possible to already see visible signals in the market?

InsurTech investments keep growing and are actually one of the fastest growing VC topics. E.g., in 2018 the overall global financing to InsurTech companies has been growing to 3.2bn USD, almost doubling from 2017. By the way, Europe is increasing its weight with 31% of investments, progressively shifting the innovation power away from US.
The number and quality of startups is growing in each step of the value chain, with some of them covering the whole proposition, and starting to become respectable competitors in some fields - e.g. Oscar for health insurance or Lemonade for home, both in US (Figure 2). And big corporates, often looking for innovation engines outside their boundaries, are starting intense collaborations with startups ("SUs"), that are on their side facing still relatively strong barriers of entry in a market characterized by a high intensity of regulation and investments.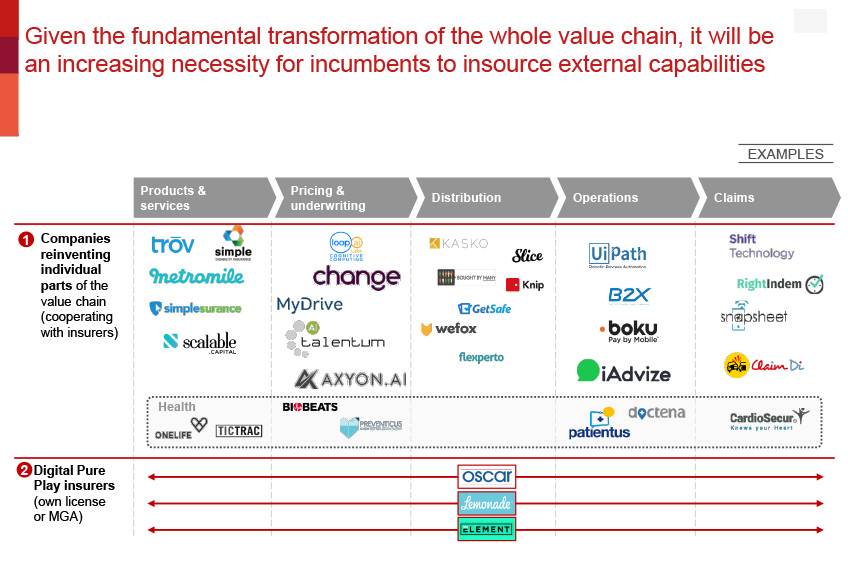 What is Generali innovation strategy and how has it been incorporated in the recent Group strategy?

At Generali, we welcome and embrace innovation and, in our new Group 19-21 Strategy, "innovation and digital transformation" is one of the 3 main pillars. We in fact committed up to 1bn€ investments to:
Become life-time partner to our customers, e.g. through modular products and 360° advisory;
Enable digital transformation of our distribution, launching a new pan-European mobility platform, developing B2B2C ecosystems and, of course, digitalizing agent-customer relationship;
Transform and digitalize our operating model, e.g. scaling up automation and Artificial Intelligence in core operations.
All this is going to require a huge effort and the pull of all resources available internally as well as externally to the Group.
Talking about internal v. external resources, what is the best model for collaboration between startups and large global insurance companies like Generali?

As a caveat, let's say that there is no single right model of collaboration with startups, as it widely depends on the objective of the "partnership" (that can be financial, industrial, or both), stage of growth of the startup, product or services that the specific startup provides.
While, we keep pushing on inside innovation, especially to advance business along whole value chain and to trigger cultural change, we heavily rely on the outside ecosystems and leverage external partners to access latest technologies and/or innovative business models, and eventually test, inject and scale innovation into our value chain – reminder: innovation is valuable only if adopted at scale!
Notable examples of inward-focused innovations are the brand new EuropAssistance MyClinic, Generali Italia's Jeniot products and services, and LINGS – an on/off instant insurance startup, digital-native and fully independent from our operations that is registering good market traction in the Swiss market.
On the external innovation side, the examples are even more, with among these the famous Generali-Vitality joint venture with Discovery, the acquisition of MyDrive – a UK data analytics platform for customer behavior / profiling and driving scoring, the collaboration with Google's Nest for the home insurance product in Germany, and the partnership with TicTrac for offering digital Health&Wellness solutions to employees of our multinational corporate clients outside EU, among many others.
This looks exciting and very effervescent. How do you make it happen? Any own notable experiences to share with us?

In order to originate, screen, filter and seize such opportunities with external players, at Generali we leverage on a number of different approaches that vary in terms of sourcing channel or partnership "facilitators" (e.g. incubators / accelerators, universities, VC funds, …), level and intensity of engagement, steering of the project, or ownership of the IP. We are present in different "hubs" of the innovation ecosystems, recognizing the specificities and capabilities of each to extract the best value from them and seize win-win partnerships with the right startup,. All this "organized chaos" goes under the name of "Open Innovation" (Figure 3).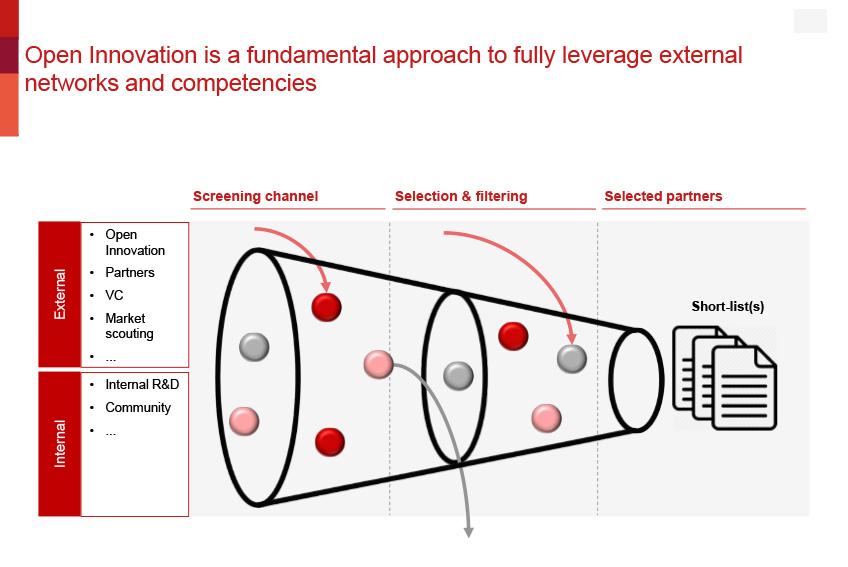 For example, and to make it more concrete, when scouting for emerging trends and hence, typically, very early stage startups, we look into universities' research centers or incubators – a notable one in Italy is the PoliHub of Politecnico di Milano, with which we collaborate effectively across different units of our Italian operations, including the Group Head Office.
Alternatively, when scouting for more structured / developed startups on specific needs, we engage with innovation accelerators and launch with them "calls for innovation" with the objective to identify SUs with the right products / services for us, or hackatons to develop something ad-hoc, jointly. Of course, in these latter cases, the intensity of collaboration and reciprocal bonding is much stronger as it is demonstrated also by the successful activities that over the last 2 years we did with GrowItUp from Cariplo Factory to scout for innovative solutions for 2 of our Group companies (respectively Welion in 2017 – for innovative digital Health & Welfare services - and EuropAssistance in 2018 – for innovative solutions for the senior segment).
In Switzerland, we even set up an "Innovation Garage" where we host different SUs during the joint development phase, so that we can work more closely and provide them with extensive mentoring from our industry leaders and managers.
Finally, in selected cases, when the SU is in need of funding and if there is a strong strategic rationale, we even invest in them, providing (part of) the capital needed for their growth and making stronger the partnership.
Open Innovation and Ecosystems seem to be the keyword of this approach. What is the role of ecosystems in the Generali approach to innovation?

We need to distinguish between "process ecosystems" and "content or product ecosystems". The first are what we already discussed, i.e. open innovation approaches involving other external actors. We instead define the latter as a "complex system of diverse actors that collaborate with each other exchanging value reciprocally and in the client interest, given that he will be able to access a wider set of services more tailored to his needs and through an integrated customer experience". Through integration with other partners, mostly happening via APIs – that have a central role in the equation – it is in fact possible to enable seamless product proposition and better customer experiences, thanks to a better client knowledge and more frequent interactions with him.
Examples of ecosystem partners we collaborate with at Generali can be found in all the different lines of business, e.g. in the mobility (with Renault, BMW-DriveNow, …), in the living / smart home (Nest, Enel / EDF), travel (Amex and Expedia with EuropAssistance), B2C / eCommerce / Telco (TIM Brazil), and Health&Wellness (Vitality and its partners network).
Together with clear benefits (e.g. higher conversion, fast and data-driven underwriting, tailored pricing and accurate/predictive product proposals, claims prevention and fraud detection), ecosystems also bring with them some risks (e.g. premia reduction in the medium term and especially disintermediation in the client relationship), and require us to develop specific skills, competencies and organizational structures to cope with them (e.g. B2B sales and global coverage of multinational partners, and developers, data analysts, flexible products and scalable product factories, just to name the most important ones). Everyday at Generali we are committed on this path to grow as a strong and credible partner for the future of insurance services.