Barcolana 2021
Taming the Bora, Furio Benussi's Arca Sgr wins

Palazzo Berlam, the Company's historic headquarters where the new home of the Group's historical archive was inaugurated, took centre stage during the initiatives organised for Barcolana and marking Generali's 190th anniversary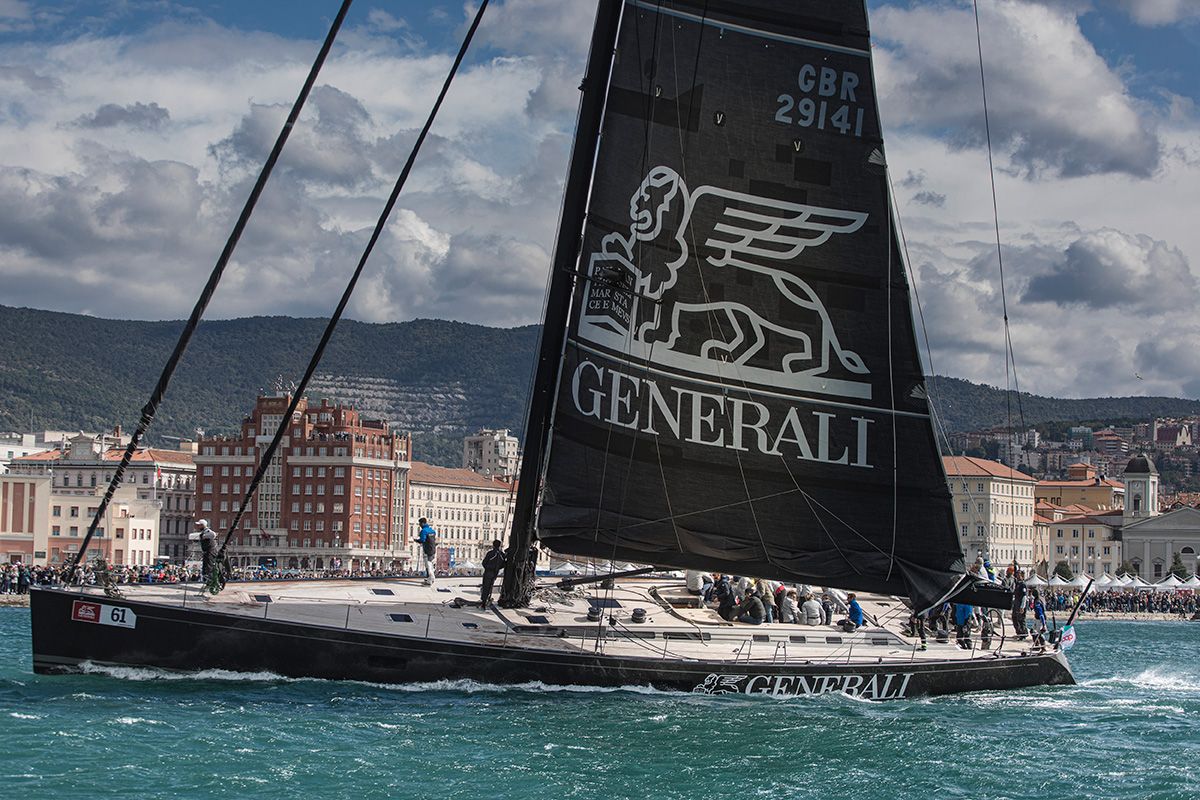 The 53rd edition of Barcolana that took place in the Gulf of Trieste was an exciting regatta, but not for everyone to join. The Bora was the absolute star, blowing fiercely, making the competition technical and strategic and forcing smaller boats not to lose their moorings for safety reasons. A regatta that will be remembered as one of the most challenging ever, with 1609 participants and only 126 boats in the final ranking, demonstrating how sailing ensures respect for the sea even when it forces you to stay ashore.

Crossing the finish line first was Furio Benussi's boat Arca Sgr from Trieste, followed by Ewol and Maxi Jena. Claudia and Alberto Rossi's Swan 90 Woodpecker Cube-Generali, with its fifth overall, earned the best result in the special "cruising" ranking.

"Returning to experience this festival of the sea together after such a complicated period was special and allowed us to experience some intense moments: the Bora wind made the competition fast, highlighting the technical and tactical skills of the team, which took us to fifth place with Claudia Rossi at the helm", the Chairman of Assicurazioni Generali, Gabriele Galateri di Genola, commented. "Sailing requires knowledge, respect, and passion: these are the ingredients for success. I would like to thank all those who made this event possible, from organizers to police forces and public and private institutions, who, like a single crew, have once again crossed this milestone".

Sailing is a sport that Generali has historically supported and whose values it shares, as an ambassador of gender equality through Barcolana and focusing, in this edition, on the issue of marine occupations that have been traditionally deemed more appropriate for men. To address this, Generali has launched the Generali - women in sailing Trophy for the first mixed team to be guided with a woman at the helm, awarding a customized coaching and leadership programme delivered by the Generali's Group Academy.

Generali, which has supported Barcolana for more than 40 years as presenting partner and sponsor, shares the regatta's commitment towards society, promoting a culture of participatory sport, healthy lifestyles, Diversity & Inclusion and environment, as a commitment to building a sustainable future, through the many initiatives that have characterised this edition.

Palazzo Berlam was the beating heart of activity on the occasion of the regatta and to mark the Company's 190th anniversary. It is one of Generali's historic buildings, recently renovated by the internationally acclaimed architect Mario Bellini, and the new home of the Group's historical Archive, recently inaugurated. Moreover, from 6th to 9th October, palazzo Berlam was illuminated with lights, images and phrases sharing Generali's commitment to environment, inclusion, and gender equality, starting from the city where the Company was founded in December 1831.