Palazzo Berlam lights up for Generali 190!
At sunset, the Company's historical headquarters was covered with lights and words in support of environmental sustainability and gender equality to celebrate the 190 years since its foundation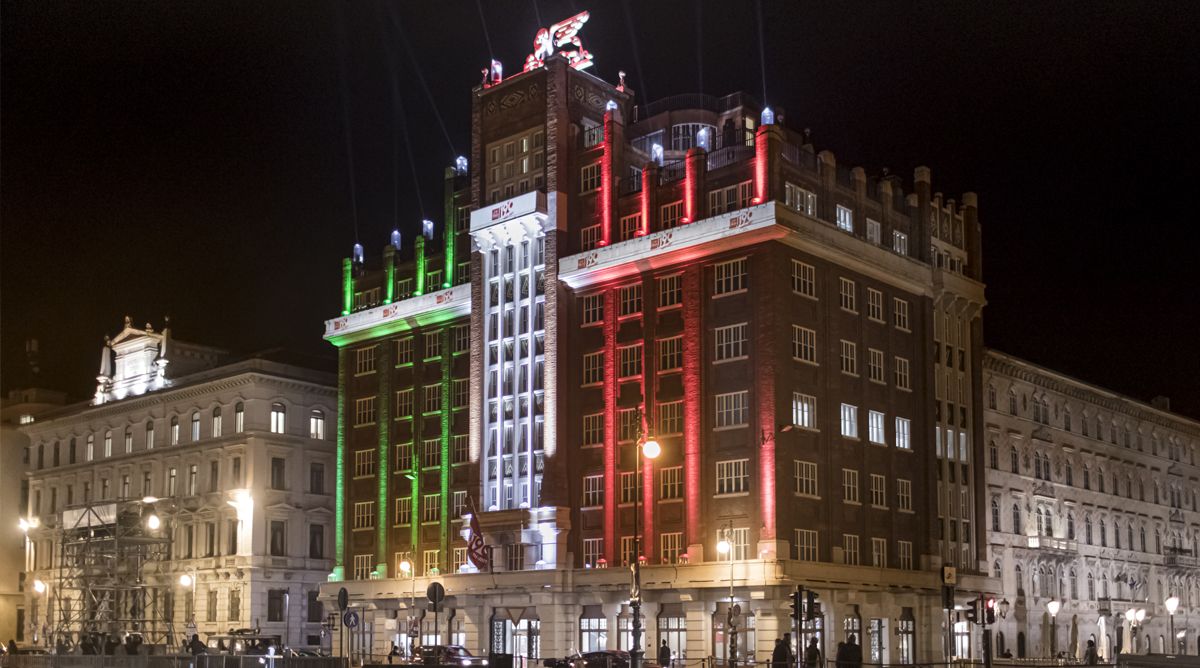 Games of light shaping a shared and sustainable vision of the future, and the winged Lion standing out against Trieste's sky: on Wednesday 6 October from 18.30 to midnight, on the occasion of Barcolana and to mark Generali's 190th anniversary, the historical headquarters of palazzo Berlam lit up with projections of images and words giving shape to the Group's commitment towards the environment, inclusion, and gender equality, starting from the city where the Company was founded in December 1831.

The project will be repeated on 7 and 8 October at the same times and will end on the evening of 9 October, when the lights will go out at 02:00. The projected messages will be about social inclusion, environmental sustainability and the bond with the territory and the sea, which is the protagonist of Barcolana.
The lighting is also meant to convey a positive message in a complex moment for the community, hit by the pandemic, but looking to the future and joining forces to restart, together.

Recently renovated by world-renowned architect Mario Bellini, palazzo Berlam hosts the Group Academy, the Generali Group's international training centre - whose strategy has diversity in terms of gender, generations, culture, and inclusion among its founding principles – and the Historical Archive.

Built between 1926 and 1928 based on the design of Arduino Berlam, the building is one of the best examples of twentieth century modernist architecture in Trieste. Situated between two historic offices of Assicurazioni Generali, Palazzo Carciotti and Palazzo Geiringer, this historic building was acquired by the Company in 1932 as an office building and is spread over 9 floors above ground level, with a floor area of around 5,500 m2. The renovations were carried out on the entire body of the building, inside and out, with particular attention to restoring the original architectural details, and also involved seismic upgrading and energy efficiency measures, in line with the objectives set by the Group to reduce environmental impacts.