Responsible business
At Generali we believe sustainability is a necessary strategic way to approach business and not just a nice-to-have.

It all stems from our purpose, to "enable people to shape a safer and more sustainable future by caring for their lives and dreams".
As an insurer we can tackle the megatrends of our times, protecting people, their health, our planet and future generations.
It is about creating long-lasting value shared among a wide array of stakeholders: not only shareholders, investors and clients, but also employees, suppliers, the environment, local communities, and society as a whole.
Our sustainability commitment is an enabler of the new Generali 2021 strategy which is inspired by our ambition to be a life-time partner.

In the next three years we commit to increasing the portion of premiums deriving from green and social products by 7-9% and we will allocate €4.5 billion to green and sustainable investments. We will also launch two flagship initiatives: Responsible Consumers, a distinctive and customized product offering, and EnterPRIZE, an award for the best sustainable SMEs. At the same time, we are expanding even more our global community initiative, The Human Safety Net, aiming to unlock the potential of disadvantaged people so that they can transform the lives of their families and communities.

We want to protect the environment, which we consider a primary asset to be preserved for future generations, implementing our Climate Change strategy, approved by our Board of Directors, in our core business activities.

We believe in the people who have chosen to work with us worldwide. We know that their talent, their diversity and their abilities to be inclusive allow us to be a more innovative Group, capable of changing our customers' lives.
Our sustainability commitment is not something new: throughout the years, we have publicly joined voluntary initiatives such as the Global Compact (2007), the Principles for Responsible Investment (2011), the Principles for Sustainable Insurance (2014) and the Paris Pledge for Action (2015), consistently with our vision.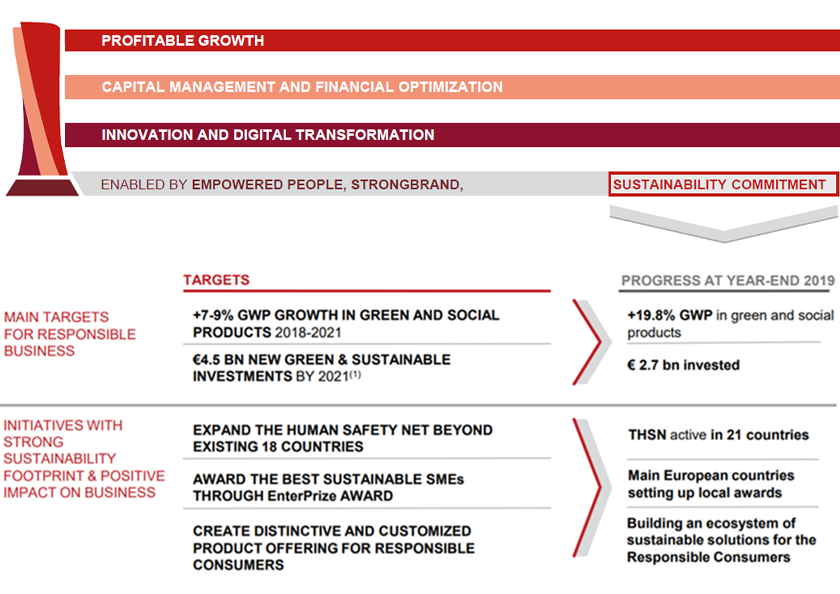 Progress at year-end 2020
In 2020:
€ 16,930 MLN premiums from social and environmental products

Insurance products, by their very nature, have a high social and environmental value given that they constitute a concrete response to pension and protection needs of customers and the growing needs of society. We constantly monitor risks that may have impact on the society and the environment as to identify opportunities and continue to create value.

As part of its offering, the Generali Group is committed to promote several high value-added solutions from a social and environmental perspective. Developing this type of coverage means providing a service that creates value over time, responding to new requirements related to emerging risks, fostering eco-sustainable conduct, and bridging gaps in the pension and public health services sectors. Embracing technology and innovation, we address habits and behaviour towards healthier and more informed lifestyles, aiming at risk prevention rather than claims settlement. In order to encourage eco-sustainable conduct and support green activities, consistent with our climate change strategy, we develop and distribute products and services with particular attention to environmental protection.
In 2020:
€ 5,973 MLN of new green and sustainable investments

Green and sustainable investments are investments that support green and/or social projects, with the explicit aim of creating a positive impact and contributing to the United Nations Sustainable Development Goals. Our goal is to reach € 4.5 bn in green and sustainable investments, by 2021. This goal is also part of our Climate Change Strategy.
Initiatives for the communities where the Group operates have been addressed to The Human Safety Net since 2017, with a view - provided in internal guidelines - to focusing on a smaller number of more similar and impactful initiatives compared to the past. It aims to activate both financial and technical resources, as well as the network of people and the skills of Generali's employees and agents to meet shared goals, favouring contact with local communities and making lasting change in the lives of recipients.

In 2020: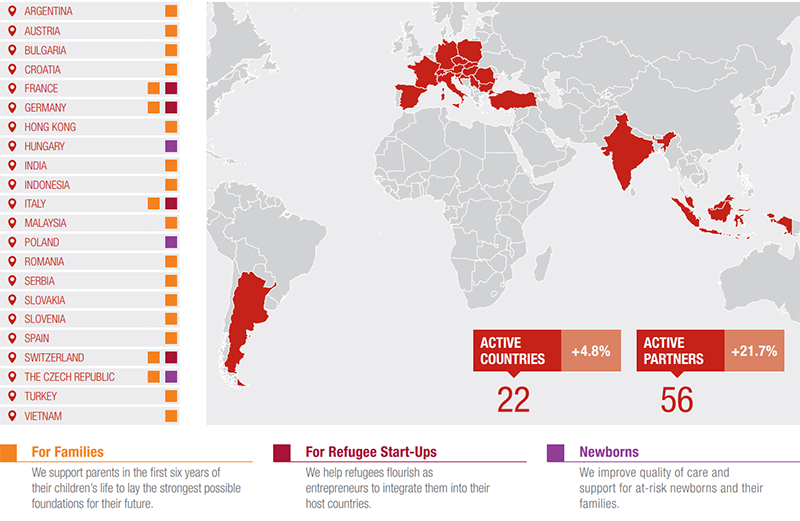 The Human Safety Net is active through three programmes with the shared mission of freeing the potential of disadvantaged people to enable them to improve the living conditions of their families and communities, by working alongside partners, like local social businesses and non-governmental organizations. Every country and business unit of the Group can choose to participate in one of these three programmes, identifying, conducting due diligence on and suggesting one or more partners to directly manage activities with beneficiaries. All of the activities and the results achieved are monitored through a measurement system based on the London Benchmarking Group's international standard.

In the coming three years, our ambition is to further extend The Human Safety Net. We aim to achieve it by keeping high quality programmes that so far have characterized us, while enhancing initiatives where we are present through active engagement of employees and distributors, including volunteering activities, as well as of customers and other third-party organizations that share its approach and mission.
Given the importance of Small and Medium-sized Enterprises (SMEs) for the integration of sustainability into the real economy, Generali has created EnterPRIZE, an international award for the best sustainable SMEs.

The inspiration stems from the experience of Generali Italia and Generali France, who for years have valued and awarded sustainable SMEs, respectively with PMI-Welfare Index in Italy and Generali Performance Globale in France.

In 2020, the project assumed a new relevance in the light of the huge impact caused by Covid-19, and it set among its main goals the establishment of a link between sustainability, resilience and recovery. More specifically, activities defined by the work group started in 2019 were carried out with the 7 European countries involved in the project; a reference framework shared at Group level was defined. SMEs will be assessed and selected at local level on the basis of their approach to sustainability in one of the following areas: the environment, welfare initiatives and positive impact on the community. Local award-winning SMEs will then participate in the international competition in 2021, becoming virtuous examples of inspiration and improving their visibility.

The project will be an opportunity for Generali to concretely support the real economy on the theme of sustainability, increasingly determining for the growth of the entrepreneurial fabric.
Generali is drawing up a distinctive offer dedicated to responsible consumers who want to have a positive impact on the environment and society. The offer consists of environmental and social products and sustainable investment solutions.
In 2020, we identified the responsible consumer's profile at Group level and integrated sustainability preferences in the approach to our customers, that is even more focused on their needs.
The first sustainable investment solutions launched by Banca Generali and Generali Italia in 2019, that link their offer to the United Nations Sustainable Development Goals, have met with great interest from consumers.