Our #BeBoldforInclusion campaign is back for its fourth edition, and we are celebrating again this year with more than 50 of our CEOs and senior leaders around the world confirming their commitment to Diversity & Inclusion.

It is an important chance to involve our people in the D&I dialogue, exchange views and discuss how to best promote it within our Company. On International Women's Day, All Group companies and business units have planned initiatives to discuss and share what #BeBoldForInclusion is about and the steps that have been taken so far.

During our journey towards becoming an ever more diverse and inclusive workplace, we have developed a clear strategy supported by a structured D&I governance and a Group D&I Index that measures our progress on the Group's priorities of gender, generations, culture and inclusion. Moreover, over 200 local actions have been developed to seize the opportunity we have to grow and thrive together by re-imagining the way we work and setting common principles that put people at the centre.

Today Jean Laurent Granier, Country Manager France & Europ Assistance and the new Group D&I Sponsor, exchanges his dream on Diversity & Inclusion for 2021 with Monica Possa, Group Chief HR & Organization Officer, calling for more ambition and courage to ensure our Group achieves this strategic priority.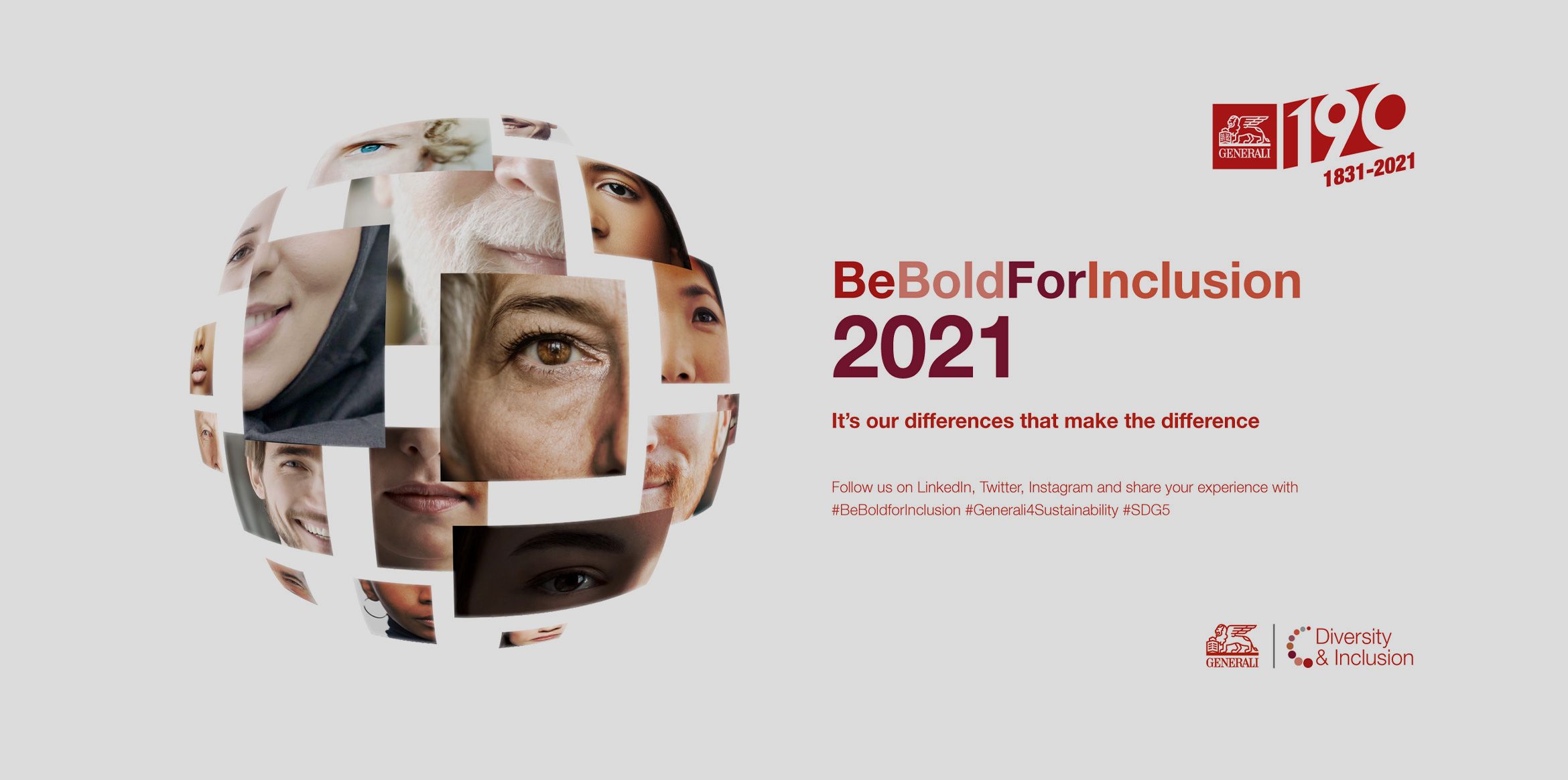 Read the interview
Granier: I believe that our motto "it is our differences that make the difference" really represents the Generali world.

But this diversity will be a strength only if we are good at leveraging on it and recognizing that it brings higher innovation, higher performance, higher employee engagement.

Really I would like to say that our Diversity and Inclusion journey is moving in the right direction and I thank all the Group D&I Council members that delivered a great job over the last 4 years with the great support of the HR team.


Possa: Business leaders' accountability and engagement are key factors for the successful implementation of our D&I strategy. To mention some examples, we implemented programs to support our women, to identify and develop our internal young talents, to shift our view and behaviours on Disability, to upskill and reskill our people, and to promote inclusion at large.

Today I am very, very pleased to welcome you as our new Group D&I Sponsor on the occasion of our BeBoldForInclusion campaign, which has reached its fourth year with more than 50 of our CEOs joining!


Granier: I have a simple dream for 2021: let's be more ambitious! D&I is strategically important for the Group and this is why we need to keep it high in our agendas, with our four priorities: gender, generations, cultures and inclusion, and we need to fix higher targets for 2022-25.

Gender balance, for instance: it is even more important with all the consequences of the crisis. Research says that 1 woman out of 4 is now contemplating downshifting her career opportunities or to abandon the job market. This is unacceptable! And we need to take action, we need to fix the pain points in order to be sure that we guarantee them a higher level of ambition.


Possa: This is crucial, I could not agree more. Our Group Management Committee takes Diversity & Inclusion ambitions very seriously. Our GMC members sponsor most initiatives personally. For example, the Lioness Acceleration Program , where each woman participating in the program was mentored directly by a GMC member.


Granier: Let me add that, for me, being more ambitious also means being more COURAGEOUS.

Courage means being humble enough to accept being challenged in our biases, in our behaviours, in our assumptions – none of us is perfect. And we need this challenge from our peers, from our colleagues, in order to identify our blind spots.


Possa: We have to push for the diversity we want, and the next ambitious step is to work hard to create a truly inclusive workplace that mirrors the diversity we want. Together we have the opportunity to re-imagine the way we work and to set common principles fostering the Diversity & Inclusion culture principles and putting the employee at the center of this re-design. We will support this new culture also with a specific global program, in particular on the managerial competences that are needed and on performance management. It's really up to us to create a more sustainable future and the moment is now. We have a special window of opportunity that we should definitely leverage.
Granier: Let me conclude by saying that for me, being bold for inclusion means that we are more ambitious and more courageous. That we do not consider D&I another box to tick, but rather one of the biggest opportunities we have within the Group to grow and thrive.

Working with more diverse management teams and having a truly inclusive approach, genuinely increases human richness, the ability to innovate, creativity and the pleasure of working together as a team.