How Fintech can help SMEs recover
New lending models, mobile networks and startups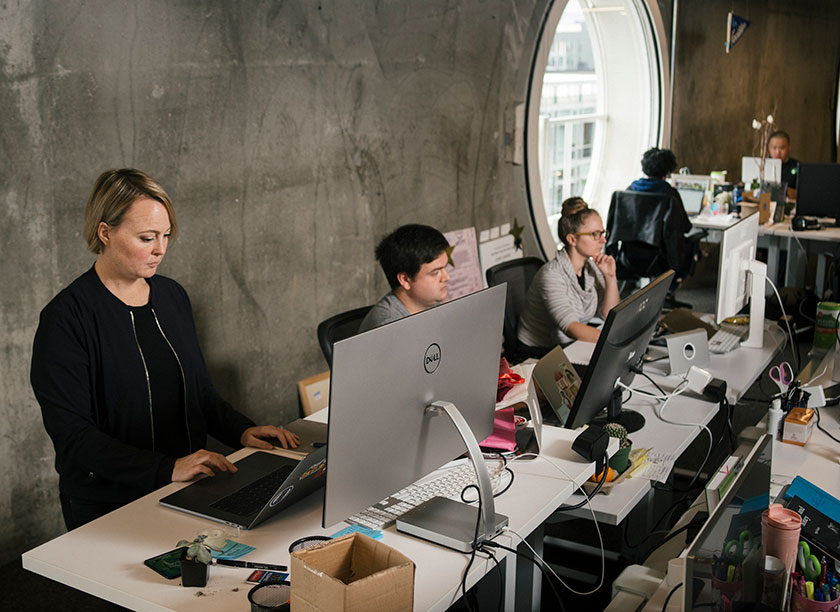 Patreon's offices – a crowdfunding site – in San Francisco
The financial sector, like many others, has also suffered the far-ranging consequences of the Covid-19 pandemic. The increased rigidity of health and safety measures in the workplace and social distancing have made it impossible to meet with clients physically and have put strain on other types of interface tools such as the telephone, websites and social media. The economic crisis caused by the pandemic has also led growing numbers of individual and corporate users to contact their financial services suppliers, further increasing the global pressure on the sector. The delicate phase the entire world is currently facing is, however, a chance to completely rethink the sector and take advantage of various technological advances that, up until now, have only been put to use in certain sectors.

At the start of the outbreak, banks increased their capacity to carry out remote operations in order to allow employees to work safely from home, but they also had to tackle a further problem: helping large multinational companies and their vendors within the supply chain adapt to the huge social impact brought about by the pandemic. An example is the British High Street Bank TSB, which worked with service supplier IT IBM to develop a smart agent able to serve customers while branches remained closed and call centres remained overloaded during Covid-19 restrictions. In the hard-hit United States, the use of fintech technologies has increased. Through Apps such as Venmo, industry players have been called upon for the first time to help distribute part of the massive 2,000 billion dollar government stimulus package, which includes loans for small businesses and 1,200 dollar cheques for individuals and aims to mitigate the consequences of the virus.

However, the importance of using new models and financial technologies is becoming especially evident in developing countries where small and medium enterprises are the most affected by containment measures. In rapidly growing economies, traditional lending models have long been a hindrance to SMEs looking to access funding, but these new fintech-based approaches can unlock financing and facilitate economic recovery once the pandemic is over. In most countries, SMEs make up more than half the GDP and are responsible for nearly seven in every 10 jobs. Even before the coronavirus epidemic, less that 15 percent of SMEs in rapidly growing economies had access to the credit they needed to expand, limiting economies and hindering the creation of new jobs and wealth. According to the International Finance Corporation (IFC), the unfulfilled financial requirements of SMEs in these markets amounts to 5,000 billion dollars a year. This funding gap will increase significantly following the Covid-19 pandemic, especially in developing countries. In Nigeria, for example, less than 7 percent of SMEs have ever taken out a formal loan and requests from SMEs for loans under 50,000 dollars are rarely approved. The development of the financial sector thanks to new technologies has given rise to a new, more efficient and faster lending model. According to the World Economic Forum, for the first time SMEs can share data in their possession in exchange for access to credit to help them expand. By using advanced analytics platforms and artificial intelligence to evaluate transactional and alternative data, fintech lenders are gaining deeper understanding of the small and medium enterprise sector. A concrete example is "Lidya", which has been operating in the so-called frontier markets, such as Nigeria, since 2016. This platform, as well as other start-ups, now provide loans throughout Europe and Africa and are paving the way for a new economy by granting loans for as little as 150 euros. In countries where there is a chronic lack of infrastructures, the only widely-used devices are smartphones and these represent the only connection between people and financial tools, information and other services. The coronavirus pandemic has clearly shown the importance of having an internet connection and, especially, a smartphone. The second largest mobile phone operator in the world, Vodafone, has recorded a 50 percent increase in internet usage during this time. Channel Vas, a fintech leader founded in 2012, is a further example: in a few years, the company has expanded its activity in over 30 countries in Africa, the Middle East, Asia and Latin America with particular emphasis on emerging markets. In 2019, the company supported mobile network operators and financial institutions to provide over 8 million dollars a day in credit to more than 700 million people and continues to expand to new global markets.