Responsible Corporate Citizen
A different story
If we change the beginning of the story, we change the whole story
"Framework for Nurturing Care for Early Childhood Development" is a WHO / UNICEF call to action to encourage governments, institutions, private actors and foundations to invest in early childhood development – a strong confirmation of the relevance and strategic mission of the Human Safety Net from the Generali Group.
The launch of the "Framework for Nurturing Care for Early Childhood Development" reflects a growing movement and alignment of many partners from across different sectors, including foundations such as The Human Safety Net.
Studies show that the human brain develops faster from pregnancy to the age of three than at any other time during life, and that over 80% of neurological brain connections are formed in this period.
Investing in early childhood development (ECD) helps countries to boost economic growth, promote peaceful and sustainable societies, and eliminate extreme poverty and inequality.
On 23rd May, the World Health Organization, UNICEF, and the World Bank, in collaboration with the Partnership for Maternal, Newborn & Child Health and the Early Childhood Development Action Network, have launched the Framework for Nurturing Care for Early Childhood Development at the 71st World Health Assembly.
The Framework provides an evidence-based roadmap for action and outlines how policies and services can support parents, families, other caregivers and communities in providing nurturing care for young children and comes at a time when countries are boosting their efforts to meet the Sustainable Development Goals, which includes several targets related to early childhood development.
The framework recognizes that nurturing care not only promotes the physical, emotional, social and cognitive development of young children, but it also protects them from the worst effects of adversity. It produces lifelong and intergenerational benefits for health, productivity and social cohesion.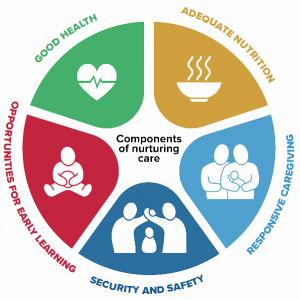 According to the framework, to reach their full potential, children need the five interrelated and components of nurturing care: good health, adequate nutrition, safety and security, responsive caregiving and opportunities for learning.
In the first years of life, parents, intimate family members and caregivers are the closest to the young child and thus the best providers of Nurturing Care. In order to provide caregivers with time and resources to provide nurturing care, policies, services and community supports need to be in place.
Nurturing care increases health, productivity and social cohesion throughout a person's lifetime, and the benefits continue into the next generation. 250 million children under the age of five in low- and middle-income countries – more than four out of every ten children – are at greater risk of not reaching their development potential due to poverty and neglect.
The cost of inaction is unacceptably high for individuals and societies. Without intervention, adults who experience adversities in early childhood are estimated to earn close to a third less than the average annual income of their peers. And calculations of the cost of inaction show that countries would spend less on nurturing care now than they would lose in the future from the consequences of poor child growth and development.
Among the 1000 individuals from 111 countries who have contributed to craft the document, the only Italian representative was Giorgio Tamburlini, paediatrician and president of the Center for Child Health (Centro Per La Salute del Bambino), one of the NGO partners supported by The Human Safety Net of Generali Group.
With The Human Safety Net for Families, one of the global programme launched by Generali, we want to promote equal life chances for children (0-6 years) who live in poverty, and are deprived of opportunities for their future. We are creating a network of expert partners operating all around the world, wherever Generali operates, activities, spaces and occasions for parents to come together, get support and learn skills to offer nurturing care to their children.
Read the full report at http://nurturing-care.org/.
Find out more about The Human Safety Net programme at http://www.thehumansafetynet.org/.