The mystery of the population pyramid
Interview with Alessandro Rosina, Professor of Demography, on the management of ageing society
Interview with Alessandro Rosina, Professor of Demography, on the management of ageing society
The term ageing society (ageing of population) indicates a very widespread trend. Europe holds the record with an average age of 47 years in 20150, according to UN forecasts. Africa, instead, is the youngest continent (and according to forecasts it will be for a long period of time): the average age in 2050 will reach 31 years. The other main regions are placed in an intermediate zone: 39 years in Asia, 42 in North America, 38 in Latin America and the Caribbean, 39 in Oceania (in 2050).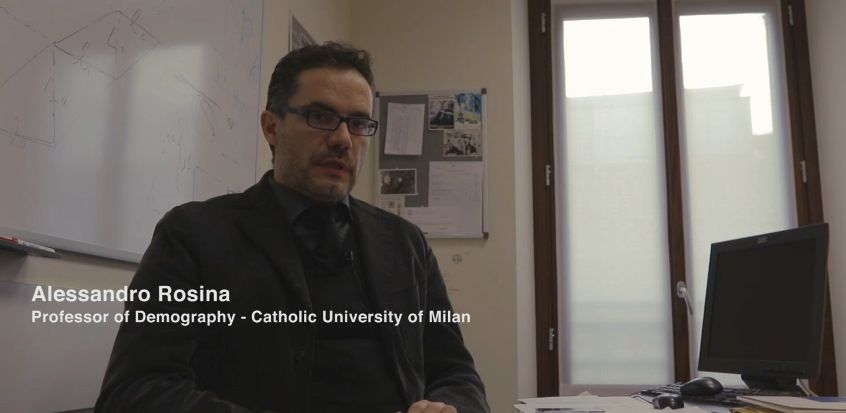 In Europe, the oldest countries are Germany and Italy, while the youngest are France and the Scandinavian countries, where fertility rate is about two children. «In Italy», explains Alessandro Rosina, demographer at the Catholic University of Milan, «there is a demographic structure in which the upper floors – where there are people born in the '50s and '60s – are very consistent and the lower floors are increasingly reduced, with the risk that this building doesn't have a great strength». Nothing new: the population ageing is a factor common to all industrialized countries, with an average life expectancy that will rise to almost 85 years in 2040. But how does this new generation of over 65 years live? How does it behave and what are its needs?
In Italy it's the so called baby boomer generation, so numerous as to undermine the traditional welfare, but very important for consumption. Its members are usually retired, some still working, others do both things or are engaged in associations and voluntary. They are active seniors, who do not feel «old»: a sort of «sandwich generation», on one hand taking care of their parents, the «very old», and on the other taking care of their children, less guaranteed.
Needless to say, the ageing of population heavily influences the world of work, primarily in respect of those activities related to personal care. From this point of view Bolzano, one of the richest cities in Europe, is a positive example. Since 23.5% of the population overtook 65 years, in fact, the mayor decided to adopt technologically advanced solutions through the project Living Safe (in partnership with IBM), in order to tele-monitor and tele-assistance those elderly and those people who require assistance in their homes. The system communicates a sense of security to patients and keeps people in their own homes instead of building dedicated facilities, thereby reducing the costs of social health service.
But the combination of elders and work also means active ageing. Entry into the labor market has been pushed forward, and the release date too. Companies challenge is to design new measures to promote active ageing, guaranteeing the right position of senior in the corporate organization.
The Randstad Agency's Permanent Observatory on Active Ageing monitors the industry since 2012. A report presents six cases of large companies – from ABB to STMicroelectronics – which showed examples of good practice in age management. In the best practices we find cases in which senior employees have been used in the company as mentors for the younger ones, cases of mutual coaching, forms of job-sharing (sharing the same turn by several employees), continuing education programs, alternative career plans, but also medical and health benefits for screening and prevention and new ways of reconciling work and family. And of course the re-employment of workers over 50 who have lost their jobs.
«This is not to prepare for a passive condition», explains Alessandro Rosina, «rather, it is to accommodate ageing with vitality, enthusiasm, even with the idea of being able to do different things than in the past, to innovate the social role, even with the investment on personal growth, that is the true aspect around which you can build a successful active ageing. And this is the real challenge that mature countries such as Italy have to face to continue grow and produce wellness with an ageing population».