Renaissance in Milan
CityLife, the urban redevelopment project that is reshaping Milan's skyline
Fully owned by Generali, CityLife is the urban redevelopment project that is reshaping Milan's skyline with the help of three world-famous archistars. With its 366,000 square meters of total surface, it is one of Europe's most impressive architectural endeavors.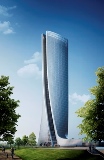 The Generali Tower in CityLife (on the right), in the heart of Milan, to be ready by 2017
© Hayes Davidson
"Milan is the city that best represents the international face of Italy. In this sense, for us, designing in Milan brings us into contact with the most modern face of Italy". With these words the archistars Zaha Hadid, Arata Isozaki and Daniel Libeskind commented their effort to design the business and residential buildings that will become the landmarks of CityLife.
Located close to the city center, this project will include the most extensive pedestrian area in Milan, a 170,000-square-meter park and a mix of private and public spaces – residences, offices, shops, services and a crèche. The heart of CityLife will be the business district featuring three towers designed to be environmentally sustainable. The 202-meter-tall Isozaki tower – fully built – is the tallest building in Italy.