SME EnterPRIZE
Generali's flagship project designed to promote a culture of sustainability among European SMEs

SME EnterPRIZE is the initiative launched by Generali in 2021 on the occasion of the Group's 190th anniversary to promote a culture of sustainability among European SMEs.

The project was created with the intention to:
support SMEs in their sustainable transition, consistent with the European ambition to develop a more "green" and inclusive economy

stimulate public debate on the importance of sustainability for SMEs, promoting further research on the subject

highlight significant examples of responsible business, recognising entrepreneurs that can become an inspirational model for others to follow.

SMEs collectively represent more than half of Europe's GDP and 99% of companies in the EU, they are the bedrock of the European economy and are essential drivers of sustainable transition. However, with businesses under strain, now is the time for Europe to double down on keeping on a sustainable path. That means keeping environmental and societal goals, and SMEs, at the heart of major policy initiatives, from the Capital Markets Union, to the EU recovery plan, to the recently announced SME Relief Package and upcoming energy market reforms.
On October 2022 the second edition takes place in Brussels Leading representatives of the European arena took part in the event, including Paolo Gentiloni, European Commissioner for Economy, and Didier Reynders, European Commissioner for Justice, together with the Chairman of Assicurazioni Generali Andrea Sironi and the Group CEO Philippe Donnet, Generali Group local CEOs and top management, leading academics and thought leaders, as well as SMEs themselves.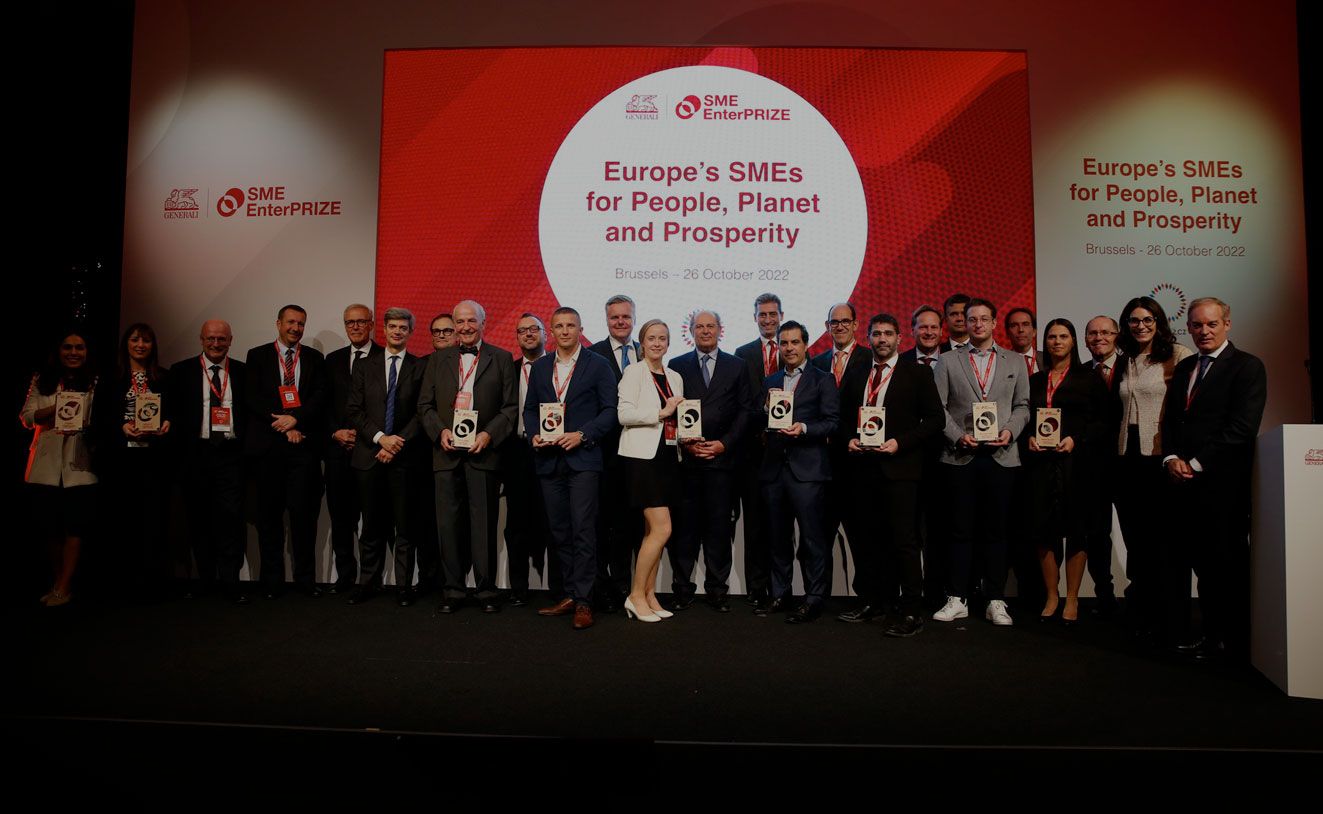 Generali anticipated the key findings from a survey of over 1,000 small and medium sized businesses from across Europe, which shows that there's a strong business case for good environmental and social practices.
"Europe has been a positive and guiding force in the sustainable transformation. The current energy crisis and the potential economic downturn represent a concrete risk for Europe's geopolitical positioning, for its economic resilience, and for its green transition. In this new complex scenario, more should be done," said Andrea Sironi, Chairman of Assicurazioni Generali. "As Europe seeks to support SMEs through major policy initiatives, we shouldn't lose sight of SMEs' sustainability journey. Supporting them means supporting Europe in achieving its sustainability goals", he concluded.
We presented the second edition of the White Paper - developed by SDA Bocconi School of Management and promoted by Generali - and 9 Sustainability Heroes from Austria, Croatia, Czech Republic, France, Germany, Hungary, Italy, Portugal and Spain.
Generali Group CEO Philippe Donnet commented: "It is a very challenging time for many small and medium-sized businesses that have had to face crises impacting the entire world over recent years. Europe has made great strides in putting environmental goals and social commitments at the heart of the economy. We must continue to push forward, now more than ever. We have to keep SMEs front and center in all major policy initiatives in order to meet the EU's green and economic ambitions that are at the heart of building a sustainable and resilient future for all."

Generali Group General Manager, Marco Sesana stated: "This project is part of our 'Lifetime Partner 24: Driving Growth' strategy. Our commitment as a responsible insurer is to foster the sustainable transition and SME EnterPRIZE is a flagship project to help achieve this goal. Today in Brussels, at the heart of the European Union – we have brought together experts, policymakers and the SMEs themselves for a discussion on the road ahead while celebrating success. We simply cannot achieve the inclusive and green future that all of us in Europe share, without SMEs."

Discover more on our dedicated website sme-enterprize.com.