28th Sep, 2021 - Brussels
SME EnterPRIZE
Generali presents SME EnterPRIZE in Brussels to promote sustainability in European small and medium-sized enterprises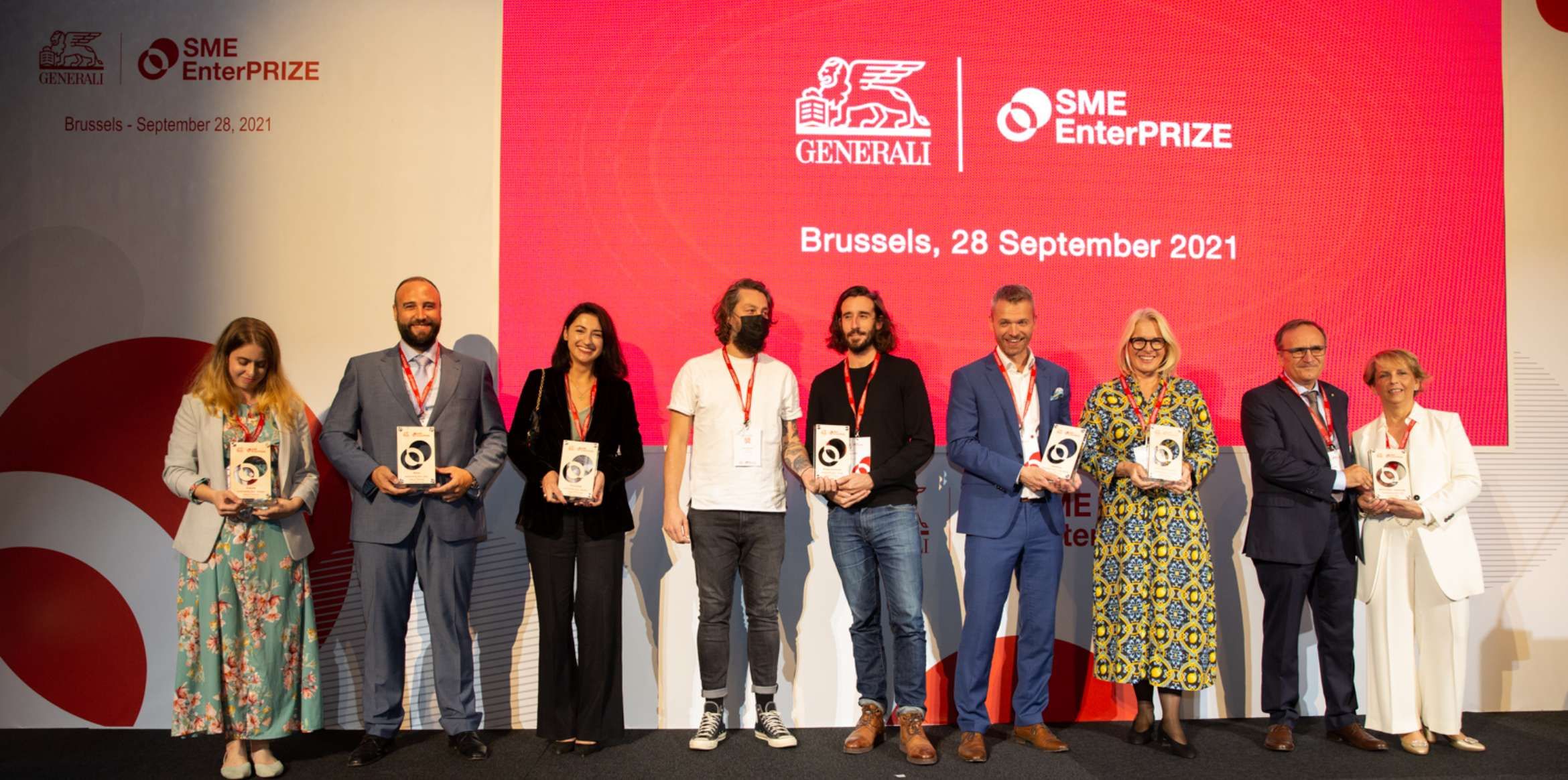 SME EnterPRIZE is the initiative launched by Generali with the purpose of encouraging European small and medium-sized enterprises (SMEs) to adopt sustainable business models. The project aims to give visibility, also through a digital platform, to companies that have already moved in this direction and to provide businesses with a space for inspiration and sharing of ideas. SME EnterPRIZE is one of the flagship activities launched by Generali on the occasion of the Group's 190th anniversary.

The project was created with the intention to:
support SMEs in their sustainable transition, consistent with the European ambition to develop a more "green" and inclusive economy
stimulate public debate on the importance of sustainability for SMEs, promoting further research on the subject
highlight significant examples of responsible business, inspiring small and medium-sized entrepreneurs to develop sustainable behaviours in three areas: environment, welfare and community.

"With SME EnterPRIZE we have achieved the goal of creating a network to promote the culture of sustainability at a European level, positively influencing the ecosystems of SMEs and achieving important environmental objectives" said Gabriele Galateri di Genola, Chairman of Assicurazioni Generali. "Through this initiative, we can support Europe's green and digital transformation by creating value for all stakeholders."

During the event that was held in Brussels, dedicated to the first edition of SME EnterPRIZE, Philippe Donnet, Group CEO of Generali, underlined that "Small- and medium-sized enterprises are a fundamental pillar of the European economy and one of the main drivers of the sustainable transition. SME EnterPRIZE is part of the strategic plan 'Generali 2021' and is in line with our ambition to promote a greener and more inclusive society, consistent with the European Green Deal and Next Generation EU."

Through SME EnterPRIZE, the Group wanted to give visibility to the best practices implemented by European SMEs in three specific categories:
welfare: improving the well-being of employees and their families
environment: achievement of important objectives, such as the fight against climate change and the development of a circular economy
community: implementation of initiatives with a positive impact on the territory and on the communities in which they operate.

Lucia Silva, Head of Sustainability and Social Responsibility of the Generali Group, underlined how "SME EnterPRIZE brought together SMEs from all over our continent and identified the best practices of each of the countries involved, enhancing the commitment to welfare, the environment and the community. We want to encourage, educate and inspire SMEs through this program, which will continue next year with a second edition."

The Brussels event consisted of a press conference, a seminar with delegates from the European Commission and Parliament, and an award ceremony. Vincenzo Amendola, Under Secretary of State to the Prime Minister responsible for European Affairs in the Draghi government, and Paolo Gentiloni, European Commissioner for Economy, spoke during the event. The European Commissioner for Financial Services, Mairead McGuinness, also participated with a video message.

During the event, the White Paper "Fostering Sustainability among Small and Medium-sized Enterprises" was also presented - promoted by Generali and edited by SDA Bocconi, School of Management Sustainability Lab, which represents a guide to the sustainable transition of SMEs.
Among more than 6,000 SMEs participating, Generali presented the "Sustainability Heroes",which are the companies selected from the three main categories across seven European countries that joined the project: Austria, Czech Republic, France, Germany, Hungary, Italy and Spain.
Boutique Hotel Stadthalle (Michaela Reitterer, Austria), the world's first zero-energy hotel based in Vienna, Austria
CleverFarm (Vojtěch Malina, Czech Republic), dedicated to improving the agricultural industry with smart solutions such as IoT-based sensors and precision farming tools
Wanted Community (Christian Delachet, Jérémie Ballarin and Luc Jaubert, France), a supportive community that aims to create inclusive spaces by managing responsible cafes and restaurants
PlanA.Earth (Lubomila Jordanova, Germany), an AI- and science-driven certified SaaS (Software as a Service) platform for automated carbon accounting, decarbonisation, ESG management and reporting
Virgin Oil Press Ltd. - Grapoila (Marianna Pinczés, Hungary), a company that eliminated waste in the production processes of its oils and devised a program relating to the urban environment to familiarize locals with permaculture
Natura Iblea-PaniereBio (Roberto Giadone, Italy) an agricultural company with the highest organic production volumes in Southern Italy, has implemented significant welfare initiatives for its employees, especially during the pandemic crisis
Rioma (José Almedina Polonio, Spain), a textile company that has created a Foundation that operates in Spain and South America to support young people at risk of social exclusion.

Watch the documentary video and discover some of the best practices!

SMEs collectively represent more than half of Europe's GDP and 99% of companies in the EU, they are the foundation of the European economy and are essential drivers of sustainable transition. In order for them to lead this transition, it is necessary not only for these companies to be aware of the risks that society faces if action is not taken quickly, but also to identify the key paths that will allow them to progress in this direction quickly and effectively.