Report on share buyback for the share plan for Generali Group employees
23 March 2020 - 19:01
Trieste – REPORT ON SHARE BUYBACK FOR THE SHARE PLAN FOR GENERALI GROUP EMPLOYEES, IMPLEMENTING THE RESOLUTION OF THE SHAREHOLDERS' MEETING OF 7 MAY 2019.

Assicurazioni Generali S.p.A. (or the "Company") announces that it has purchased on the Mercato Telematico Azionario, organised and managed by Borsa Italiana S.p.A. ("MTA"), during the period from 16 to 20 March 2020, no. 1.050.000 treasury shares at a weighted average price per share equal to 10,8007 euro, for an aggregate amount of 11.340.768 euro.

The purchase of treasury shares follows up the announcement made last 13 March concerning the start of the share buyback for the Share Plan for Generali Group employees, implementing the resolution of the Shareholders' Meeting of 7 May 2019 and following the announcement made in the press release of 7 May 2019.

On the basis of the information provided by the intermediary appointed to carry out the purchases, please find below a table that summarizes, in a daily and aggregate form, the Company's ordinary shares' purchases transactions carried out by the same intermediary on the MTA during the period indicated above.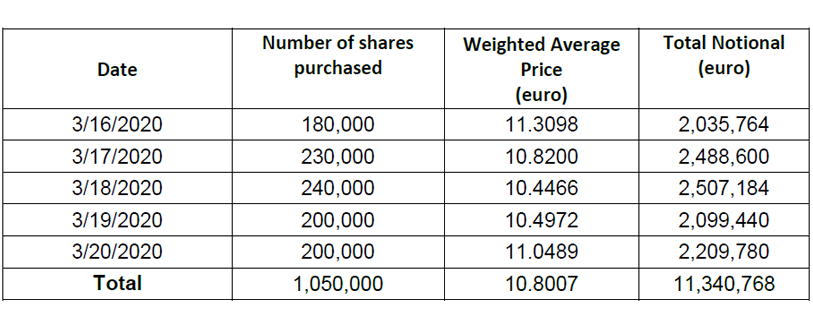 Following these purchases, as of 20 March 2020 the Company and its subsidiaries owns no. 1,482,583 treasury shares, equal to 0,094% of its share capital.

Please find also below the daily breakdown of purchases of Assicurazioni Generali ordinary shares (ISIN code IT0000062072) carried out during the period from 16 to 20 March 2020.