A new Generali Balloon in the skies of Paris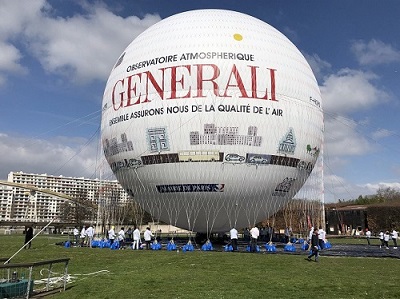 The Generali Balloon – that thanks to the collaboration between the Company, Paris City Hall, AirParif, the CNRS and Aérophile has flown since 2013 over the skies of Paris – was launched from Citroen Park after a technological renovation.
Parisians and tourists alike can once more enjoy a bird's-eye view of the capital while studies of the air quality are taking place.
"Generali France is delighted to see the balloon floating in the Paris sky again. – explains Jean-Laurent Granier, Chairman and CEO of Generali France – Since 2010, with our partners – customers, employees, distributors and shareholders – we have conducted consciousness-raising campaigns on the health consequences of atmospheric pollution (particularly the consequences of fine particles). The re-inflation of the balloon will enable us to continue the scientific research we started in 2013 and obtain new data about the composition of the air we breathe".
While flying over the city, the balloon collects data and sends them to the AirParif processing centre. This data is then presented to the people on board through a series of colourful pictograms that provide a portrait of Paris that continuously changes colour depending on the level of air pollution. The Generali Balloon has over years enabled scientific work to be carried out, investigating in even greater detail the composition of the air Parisians breathe.
Thanks to the results obtained from the previous version of the balloon, the French authorities have introduced a series of measures to reduce pollution. This new technologically advanced version allows, among other things, to study ozone and fine particles in real time and to use the Balloon as a testing platform for new startups in collaboration with AirParif. This will make citizens even more informed and aware of air quality and will suggest further actions to reduce smog.
For further information, please visit the website www.ballondeparis.com.