Venice Royal Gardens receive the European Prize for Cultural Heritage / Europa Nostra Award 2023
The recognition celebrates the complex restoration carried out by Venice Gardens Foundation with Generali as its main partner, which has made it possible to restore the Royal Gardens of Venice to their former glory and enabled to citizens and visitors from around the world to re-discover this green oasis of beauty, close to one of the world's most famous squares
The restoration and conservation project of the Royal Gardens of Venice has received the European Prize for Cultural Heritage / Europa Nostra Award 2023, the recognition established by the European Commission in 2002 to celebrate and promote the values that natural and cultural heritage hold for society, the economy and the environment in Europe.

The complex restoration work of the Royal Gardens promoted and carried out by Venice Gardens Foundation under President Adele Re Rebaudengo, with Generali as its main partner, has made it possible to bring this green oasis of peace back to life and to finally reopen it on 17th December 2019. Dating back to the Napoleonic era, the gardens were in a serious state of neglect; not only did the intervention make it possible to restore their architectural link with St. Mark's Square, but it also enabled citizens and visitors from all over the world to re-discover the gardens, giving back to the local and international community an important element of the history and art of the Marciana area.

Simone Bemporad, Group Chief Communications & Public Affairs Officer at Assicurazioni Generali - Deputy Chairman at The Human Safety Net, stated: "St. Mark's square and its overall surroundings represent a symbolic place known throughout the world. As its sole partner, Assicurazioni Generali supported the restoration of the Royal Gardens commissioned by the Venice Gardens Foundation because this project has returned to the city, and to those that visit it, an oasis of beauty and reflection, surrounded by greenery. It also did this because there is a common thread that leads from water, the symbolic element of the city, to St. Mark's square, where the Procuratie Vecchie – the Home of the Human Safety Net - provides an unmistakable backdrop - opening the doors to a journey that touches all of us: expressing one's full potential."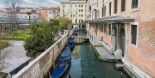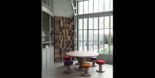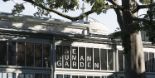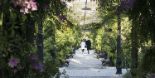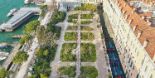 The intervention supported by Generali in the Marciana area
In addition to the recovery and reopening of the Procuratie Vecchie, the vast intervention supported by Generali in the Marciana area has included a complex work of botanical restoration and enhancement of the nearby Royal Gardens.
The reopening of the Procuratie Vecchie, Home of The Human Safety Net
On 8th April 2022, following a complex recovery work carried out by David Chipperfield Architects Milan, the iconic building in St. Mark's Square reopened its doors to the public for the first time in 500 years to host the activities of The Human Safety Net, which aims to unleash the potential of people living in vulnerable circumstances so that they can improve the living conditions of their families and communities.

In addition to the Foundation's offices, the third floor features the exhibition "A World of Potential", curated by Orna Cohen of Dialogue Social Enterprise. It offers a personalised experience of The Human Safety Net and helps visitors to connect with their personal potential by exploring their own character strengths, while enabling them to see the best qualities in the people around them.
The restoration and enhancement of the Royal Gardens
The gardens were the object of a conservative intervention on the design and architecture, deliberately respectful of the historical evolution that has characterized the site and consistent with the historic nineteenth-century design. However, it was also an innovative and experimental project from a botanical and gardening point of view thanks to the work of landscape architect Paolo Pejrone.

The Royal Gardens are now cared for and preserved through specific programmes, which combine ancient knowledge and new techniques for a sustainable and responsible management without the use of synthetic chemicals, with special attention to the conservation of natural resources, reuse, recycling, and enhancement of existing physical elements.

The architectural renovation and restoration of the Greenhouse, based on plans drawn up by architects Carlo Aymonino and Gabriella Barbini, were directed by architect Alberto Torsello. Inside, there is space for "The Human Garden", which hosts the artistic, cultural and research activities promoted and supported by Venice Gardens Foundation. Here there is also the "Archivio delle Radici" (Archive of the Roots) installation, a xylotheque of different woods coming from the countries where The Human Safety Net is present.

The historic drawbridge, which once connected the Royal Gardens to the Procuratie Nuove and St. Mark's Square, has also been renovated; the aim, in the future, is to restore the passage from the lagoon to the Correr Museum that passes through the gardens, thus recreating the connection with St. Mark's Square and the Marciana area.