Angelique Kerber for Generali Vitality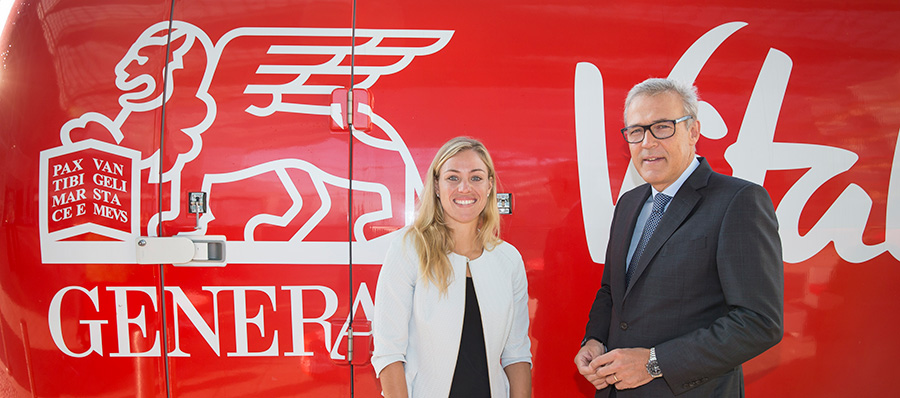 Angelique Kerber and Generali Deutschland CEO Giovanni Liverani
A world-famous tennis player as brand ambassador: Angelique Kerber becomes the face of Generali Vitality, the innovative programme launched to encourage healthier behaviour among customers. A philosophy that, as witnessed by Angelique, is the perfect expression of how important it is to take care of health to obtain major goals. Developing and keeping mental and physical wellbeing requires diligence and endurance, the same qualities that helped Angelique to reach major sporting achievements such as the participation in the finals of Wimbledon, the recent triumph at the Australian Open and at the US Open, the silver medal at the Olympic Games in Rio de Janeiro and the first position of the WTA Ranking.

During the press conference, Angelique said: "I know as an athlete how important it is to move and eat healthily, no matter whether you are an amateur or professional athlete. During my career I've learned how important it is to believe in yourself and work on yourself, step by step. Then everything is possible. I fully support Generali Vitality's goal to motivate people to live healthier lives and I am delighted to have the chance to help to achieve this".

Giovanni Liverani, CEO of Generali Deutschland AG, is also enthusiastic about the new face of Generali Vitality: "I am very pleased to welcome Angelique Kerber, into our Generali Vitality Community. One of the most successful sportswomen of our time, an international star and rightly the number one in the world of tennis, Angelique is both ambitious and humble. Angelique Kerber is down-to-earth and modest despite her sporting success. We are incredibly excited to work together to inspire people to achieve their own personal best".

Click here to learn more about Generali Vitality.