European Mobility Week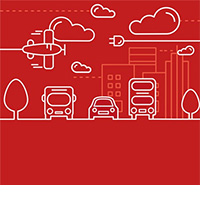 Around 1.25 million people die every year in car accidents and several tens of millions get injured. This number is even larger when considering economic and social consequences. The responsibility is often not only upon the car driver: car accidents may also be caused by the behaviour of bikers, pedestrian and passengers, although this represents a lower risk factor. Knowing the main risk factors is crucial to enhance awareness and prevention. It is for this reason that on September 21st Generali will renew its commitment to road safety by supporting the European Day Without a Road Death initiative, promoted by the European Commission with the aim of achieving a European day without any car accident victim. EDWARD (A European Day Without a Road Death) is part of the European Mobility Week, that is held from 16th to 22nd of September with the goal of spurring new forms of mobility as well as innovative strategies aimed at developing a sustainable European system of transportations. Starting from today we will publish a series of road safety tips: they are actionable suggestions, expressed through a direct language, and will help realize that being prudent on the road does not only save your life, but can also help reducing pollution and the environmental impact.
VIDEO
VIDEO










Drive green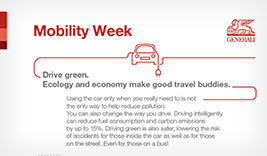 Read and share the infographic on drive green.