My life - 30 years at Generali
30 years at Generali have left their mark on me, and my grey hair is a testimony to my career in the company over the years. I have lived in 3 buildings (Michalakopoulou, Maroussi and St John) and if God deserves me, I will soon live in the 4th.

I have met hundreds of people, some who have left their mark and others who I only remember as names. I have met people who understand me, who can tell with a look (without saying anything) when I am well and when I am not. When I need help and when I need a word to relax. People I can trust, who have had a glass of wine outside the company. That is the greatest value.

But I also met people who left a little unfairly but I will remember them forever ( Terpandre, Gavrile, Dionysis, George, George I am talking about you ..) . Even now, as I write these few lines, tears come to my eyes.

I close my eyes and images, faces, events, stories pass before me. I joined Generali at the age of 23 and without realizing it I lived in the company for most of my life. Every day is a story. 10,900 stories, as many days as the days I have been at Generali.

When I got my first tickets, Mr.Tzounis (the treasurer of Generali at the time) told me to keep them. It may seem funny now but there will come a time when you will appreciate them like never before. And here I am heading towards the end of my career and I'm starting to count them. Here I remember his words ...

I remember Generali :

Giving opportunities to our children. There were times when the company was filled with the children of colleagues, giving them a chance to find their feet.

To reward its employees and give opportunities to those who really want it and can do it.

To support us financially, never forgetting us.

To offer us a friendly and collegial working environment.

I remember at Generali :

To treat all our colleagues in the Company on our celebrations and to accept their wishes.

To make jokes that we still remember and laugh at after so many years..

To make jokes to our colleagues and to Mr. Dimitrios ( on his birthday ).

To give names (nicknames) to several people.

To listen to the Panathinaikos Anthem when the Team wins or when Olympiacos loses.

To party at Generali events.

To keep the traditions, to masquerade on Halloween and order on Chiknopetnopetnday to eat together at the Company.

To have the floor buzzing with tension, anxiety, hours of endless work at the end of the year, of the tenders and the completion of the projects.

To see Sophia moving , when she mentioned her cooperation with us ...





I remember, I remember, I remember ...A whole Life.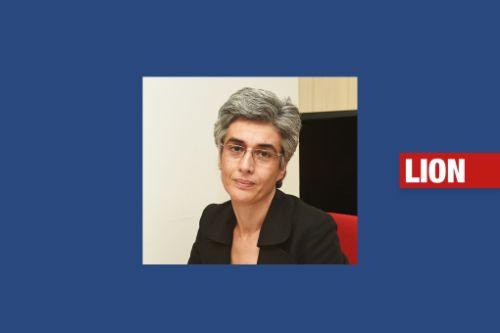 Read the story in original language
Η ζωή μου - 30 χρόνια στην Generali
30 χρόνια στην Generali αποτυπώνονται πάνω μου .Τα γκρίζα μου μαλλιά δείχνουν την πορεία μου στην εταιρία όλα αυτά τα χρόνια. Έζησα μέσα σε 3 κτήρια (Μιχαλακοπούλου , Μαρούσι και Αγ. Ιωάννη) και εάν με αξιώσει ο Θεός θα ζήσω σε σύντομο χρονικό διάστημα και στο 4ο.

Γνώρισα εκατοντάδες ανθρώπους , άλλους που αφήσαν έντονα το στίγμα τους και άλλους που απλά τους θυμάμαι σαν ονόματα . Γνώρισα ανθρώπους που με καταλαβαίνουν , που με μία ματιά τους ( χωρίς να χρειαστεί να πω τίποτε) καταλαβαίνουν πότε είμαι καλά και πότε όχι. Πότε έχω ανάγκη από βοήθεια και πότε πρέπει να μου πουν μία κουβέντα για να με χαλαρώσουν . Ανθρώπους που εμπιστεύομαι , που ήπιαμε και ένα κρασί εκτός εταιρίας . Αυτή είναι  και η μεγαλύτερη αξία .

Γνώρισα όμως και ανθρώπους που φύγανε λίγο άδικα αλλά θα τους θυμάμαι για πάντα ( Τέρπανδρε, Γαβρήλε, Διονύση , Γιώργο για εσάς μιλάω ..) . Ακόμα και τώρα που γράφω αυτές τις λίγες γραμμές μου έρχονται δάκρυα.

Κλείνω τα μάτια μου και περνάνε από μπροστά μου εικόνες, πρόσωπα, γεγονότα, ιστορίες. Ήρθα στην Generali 23 ετών και χωρίς να το καταλάβω έζησα μέσα στην εταιρία τα περισσότερα χρόνια της Ζωής μου . Κάθε μέρα είναι και μία ιστορία .10.900 ιστορίες , όσες και οι μέρες που είμαι στην Generali.

Όταν πήρα τα πρώτα μου ένσημα, μου είπε ο κ.Τζούνης ( ο ταμίας τότε της Generali) κράτησέ τα . Τώρα μπορεί να σου φαίνεται αστείο αλλά θα έρθει κάποια στιγμή που θα τα εκτιμήσεις όσο ποτέ άλλοτε. Και να που οδεύω προς το τέλος της καριέρας μου και αρχίζω να τα μετρώ . Να που θυμάμαι τα λόγια του ...

Θυμάμαι την Generali :

Να δίνει ευκαιρίες στα παιδιά μας .Υπήρχαν εποχές που η Εταιρία γέμιζε από παιδιά συναδέλφων προσφέροντάς τους τη δυνατότητα να βρουν τα πατήματά τους επαγγελματικά.

Να βραβεύει τους υπαλλήλους της και να δίνει ευκαιρίες σε αυτούς που πραγματικά το θέλουν και μπορούν.

Να μας στηρίζει οικονομικά , να μην μας ξεχνά ποτέ.

Να μας προσφέρει ένα εργασιακό περιβάλλον φιλικό και συναδελφικό .



Θυμάμαι στην Generali :

Να κερνάμε στις γιορτές μας όλους τους συναδέλφους στην Εταιρία και να δεχόμαστε τις ευχές τους.

Να κάνουμε πλάκες που ακόμα και μετά από τόσα χρόνια τις θυμόμαστε και γελάμε.

Να κάνουμε εκλπήξεις στους συναδέλφους μας και στον κ. Δημήτριου ( στα γενέθλιά του ).

Να δίνουμε ονόματα (παρατσούκλια ) σε αρκετούς.

Να ακούμε τον Ύμνο του Παναθηναϊκού όταν κερδίζει η Ομάδα ή όταν έχανε ο Ολυμπιακός .

Να γλεντάμε στις εκδηλώσεις της Generali .

Να κρατάμε τις παραδόσεις , να μασκερευόμαστε τις Απόκριες και να παραγγέλνουμε την Τσικνοπέμπτη για να φάμε όλοι μαζί στην Εταιρία.

Να σφύζει ο όροφος από ένταση, αγωνία , ώρες ατελείωτης εργασίας στα κλεισίματα του έτους, των διαγωνισμών και της ολοκλήρωσης των projects.

Να βλέπω την Σοφία να συγκινείται , όταν  αναφέρθηκε στην συνεργασία της μαζί μας ...





Θυμάμαι, θυμάμαι, θυμάμαι ...Μία ολόκληρη Ζωή.