Start-up feelings for the service anniversary
I have been with the Group since 1992, that is 29 years. The first 24 years I worked in Aachen, as a clerk at AM Leben and AM Informatik in various departments.

Then came SSY 2015, the plan to restructure the group and make it fit for the future. There was one aspect that caught my interest right from the start, and that was the idea of setting up a site in the new federal states. Specifically, a group was to be set up in Leipzig for the Insurance Customer Services department in the operational area of GDS.

I quickly realised that this was an opportunity for me to start something completely new, and I applied for the position of team leader. So I made my way to the new location in Leipzig and became a man of the first hour.

It all began on the evening of 3 October 2016 in the Italian restaurant around the corner, with eight people in attendance: two department heads who were based in Aachen and Hamburg but who spent a lot of time in Leipzig, especially in the early days; a group leader who had also been with the company for a long time and was joining us from another location; two new external team leaders from Leipzig; the chairman of the GDS works council; a personnel developer who was to accompany us intensively in the first few weeks; and me.

The next morning we started with 30 new people in 3 teams. Among them were 3 group changers who had used the new location to return to their 'old home'. The majority of the new employees had never worked in the insurance industry before. We started with technical training, team building, getting used to a new space concept with desk sharing and various little things that suddenly appeared and were not expected despite careful planning. I had to deal not only with work distribution, workloads and SLAs, but also with moving furniture, taking photos for documentation and ensuring a supply of coffee. Just a touch of start-up.

We were constantly interviewing and growing: a telephony team in 2017, a fourth team in 2018 in records processing, a fifth and a second telephony team in 2020.

For the first birthday there was a big cake. And on 17.8.2017 I celebrated my 25th anniversary with my team and some executives. Almost all of the guests had been with the company for less than a year.

However, after almost 5 years, a bit of normality has returned to Leipzig. At the moment we have about 140 employees in 7 teams. There have been no new hires in the records department since September. Our former department heads have now retired and the former group leader has returned home.

I have never regretted my decision to change. I would not want to miss the experience of the last five years. In a small location like Leipzig, managers are more often involved in cross-divisional issues, which is a special attraction for me.

What will it be like when we get back to the offices? Maybe it will come again, that touch of start-up...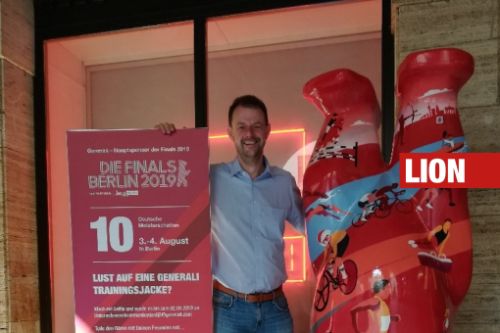 Read the story in original language
Start-up-Gefühle zum Dienstjubiläum
Ich bin seit 1992 im Konzern, also seit 29 Jahren. Die ersten 24 davon habe ich in Aachen gearbeitet, als Sachbearbeiter bei der AM Leben und der AM Informatik in unterschiedlichen Bereichen.

Dann kam 2015 SSY, der Plan, den Konzern umzustrukturieren und fit zu machen für die Zukunft. Ein Aspekt hat bei mir von Anfang an Interesse ausgelöst, nämlich die Vorstellung, einen Standort in den 'neuen Bundesländern' zu gründen. Konkret sollte in Leipzig eine Gruppe für die Abteilung Insurance Customer Services in der GDS im operativen Bereich eröffnet werden.

Schnell wurde mir klar, dass das für mich eine Möglichkeit wäre, noch einmal etwas ganz Neues anzufangen, und ich bewarb mich als Teamleiter. So machte ich mich auf zum neuen Standort Leipzig und wurde zum Mann der ersten Stunde.

Alles begann am Abend des 3. Oktober 2016 beim Italiener um die Ecke, an dem 8 Personen teilnahmen: Zwei Abteilungsleiter, die ihre Dienstsitze in Aachen und Hamburg hatten, aber gerade in der Anfangszeit sehr häufig in Leipzig waren; eine Gruppenleiterin, die ebenfalls schon sehr lange im Konzern war und von einem anderen Standort dazu stieß; zwei neue externe Teamleiter aus Leipzig; der BR-Vorsitzende der GDS; eine Personalentwicklerin, die uns die ersten Wochen intensiv begleiten sollte und ich.

Am nächsten Morgen ging es los mit 30 neuen Mitarbeitern in 3 Teams. Darunter waren auch 3 Konzernwechsler, die den neuen Standort zur Rückkehr in ihre 'alte Heimat' genutzt hatten. Die Mehrheit der neuen Mitarbeiter hatte zuvor noch nicht in der Versicherungsbranche gearbeitet. Wir stiegen ein mit fachlichen Schulungen, Teambuilding, Gewöhnung an ein neues Raumkonzept mit Desksharing und diversen Kleinigkeiten, die auf einmal auftauchten und mit denen man trotz sorgfältiger Planung nicht gerechnet hatte. Meine Themen waren nicht nur Arbeitsverteilung, Auslastung und SLAs, sondern auch Möbel schleppen, Fotos zur Dokumentation machen und die Kaffeeversorgung sicherstellen. Eben ein Hauch von Start-Up.

Ständig gab es Bewerbungsgespräche, und wir wuchsen immer weiter: 2017 ein Telefonie-Team, 2018 ein viertes Team bei der Schriftgutbearbeitung, 2020 ein fünftes und ein zweites Telefonie-Team.

Zum ersten Geburtstag gab es eine große Torte. Und am 17.8.2017 feierte ich mein 25jähriges Dienstjubiläum, mit meinem Team und einigen Führungskräften. Fast alle Gäste waren noch nicht einmal ein Jahr im Unternehmen.

Doch auch in Leipzig ist nach knapp 5 Jahren ein wenig Normalität eingekehrt. Aktuell haben wir rund 140 Mitarbeiter in 7 Teams. Neueinstellungen gab es seit September im Schriftgutbereich nicht mehr. Unsere früheren Abteilungsleiter sind mittlerweile im Ruhestand und die ehemalige Gruppenleiterin ist in ihre Heimat zurückgekehrt.

Ich habe meinen Entschluss zum Wechsel nie bereut. Die Erfahrungen der letzten fünf Jahre möchte ich nicht missen. An einem kleinen Standort wie Leipzig werden die Führungskräfte häufiger in übergreifende Themen mit eingebunden, was für mich einen besonderen Reiz ausmacht.

Wie wird es sein, wenn wir wieder in die Büros zurückkehren? Vielleicht kommt er dann wieder, dieser Hauch von Start-Up...