may 31, 2012. Strangely enough, it was a numbers game and not a mistake. On that day, 9 years ago, a car left Mogliano Veneto loaded with laptops, mobile phones, SIM data cards (remember, you had to insert a special "key" into the PC) and some printers.

On May 20, the first earthquake hit one of the most productive areas of Italy, and Generali was not spared: the San Felice sul Panaro agency was in the red zone, with cracks everywhere. On Friday, many positions were still being processed and documents, subagent collections, claims reported and not yet opened and customer files had to be retrieved.

On May 29, a powerful new earthquake, stronger than the previous one, expanded the affected area just as people were trying to resume their daily routines. As many as 8 agencies were uninhabitable, and the staff who worked there had to deal with new fears, family drama, logistics and anxiety about the future. The land on which they proudly set their feet every day had suddenly become unsafe, shaky..

Some Agents and many of our employees have moved on to life in tents, collective canteens and living a new season.

Our customers, the main source of our business, are struggling with the problems caused by the earthquake, but also with the need to provide more and better service than before. The collapsed house, the interrupted business, the damaged machinery, the unusable cars, the current deadlines. Were they insured? Were extensions of the suspension planned? Where was Generali when the usual offices were closed?

One day, May 30, was needed to source new laptops and cell phones, configure them as Agency systems and prepare them for use.

The next day, the 31st, at a time when all the usual logistics were still in shambles, Roberto left with his car loaded, avoiding the guarded bridges and closures due to danger of further tremors, destination Emilia

Three days after the last major tremor that had rendered it unfit for use, the Mirandola Agency returned to operate with its own people, who fortunately had not been damaged, among the tent cities.

The other Agencies affected, such as San Felice sul Panaro, Carpi, Fabbrico, etc., are back in operation thanks to Lucio's remote work, the technical rerouting to other sites (sub-agencies) and the support of neighbouring agencies not affected by the earthquake, which have guaranteed space and operational support to the affected colleagues.

On June 7, a communication campaign was launched within the affected areas, among evacuees and people who feared they had lost their business forever, to inform them how and where they could find their lifelong Generali advisors.



In one of the most productive areas of Italy, the timely response, the closeness, the advice and the rapid settlement of the claims proved to be a contribution to the Generali community and to the entire affected population.

From the first moments of despair, the Agency moved to the tent, then to the container, then to the shared spaces reserved by the authorities for productive activities. Finally, it moved to its new premises, but in the meantime a year had passed (in the photo I want to mention how an entire agency was made operational again in a 2×10 space).

I like to remember this anniversary also in the light of the times in which we live. After 9 years, perhaps many have forgotten those moments, perhaps some do not remember what happened, but those agencies that, even in the face of very serious problems, were able to put their clients first, have not only recovered, but have become stronger than before.

I hope this is an omen for our next 190 years so that Partners of Life is not just a slogan.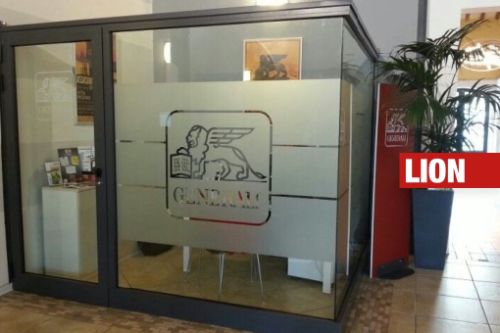 Read the story in original language
31 maggio 2012 - Emilia
31 maggio 2012. Stranamente un gioco di numeri e non un errore. Questo giorno, 9 anni fa, partiva da Mogliano Veneto un'automobile carica di laptop, cellulari, schede dati sim (vi ricordate che si doveva inserire un'apposita "chiavetta" nel pc) e alcune stampanti.

Il 20 maggio una prima scossa aveva colpito una delle aree più produttive d'Italia, neanche Generali fu risparmiata: l'Agenzia di San Felice sul Panaro in zona rossa e con crepe ovunque. Il venerdì erano state lasciate tante posizioni ancora in lavorazione e andavano recuperati documenti, incassi subagenti, sinistri denunciati e non ancora aperti, documentazione di clienti.

Il 29 maggio una nuova potente scossa, più forte della precedente, ha esteso l'area colpita proprio in un momento in cui si cercava di riprendere la quotidianità. Ben 8 Agenzie in tutto inagibili, collaboratori che vi lavoravano alle prese con nuove paure, drammi familiari, logistici e paura per il futuro. Quella terra su cui con orgoglio ogni giorno poggiavano i propri piedi all'improvviso era diventata insicura, tremolante.

Alcuni Agenti e tanti nostri collaboratori sono passati alla vita in tenda, alle mense collettive e al vivere una nuova stagione.

I Clienti, fonte essenziale del nostro business, alle prese con i problemi creati dal sisma ma anche con l'esigenza di essere seguiti più e meglio di prima. La casa crollata, l'attività interrotta, i macchinari danneggiati, le vetture inservibili, le scadenze in corso. Erano coperti? Erano previste proroghe sospensioni? Dov'era Generali se gli uffici di riferimento di sempre erano chiusi?

Un giorno, il 30 maggio, è stato necessario per reperire nuovi laptop e telefoni cellulari, configurarli come sistemi di Agenzia e predisporli all'utilizzo.

Il giorno dopo, il 31, nel momento in cui tutta la consueta logistica era ancora in tilt, Roberto è partito con l'auto carica, evitando i ponti sorvegliati e le chiusure per pericolo di ulteriori scosse, destinazione Emilia

Tre giorni dopo l'ultima grande scossa che l'aveva resa inagibile, l'Agenzia di Mirandola è tornata a operare con le proprie persone, che fortunatamente non avevano subito danni, tra le tendopoli.

Le altre Agenzie impattate, come San felice sul Panaro, Carpi, Fabbrico ecc., grazie all'operosità da remoto di Lucio, sono tornate all'operatività grazie al reindirizzamento tecnico su altre sedi (subagenzie) agibili e grazie al supporto delle Agenzie limitrofe non impattate dal sisma che hanno garantito gli spazi e il supporto operativo ai colleghi colpiti.

Il 7 giugno è stata avviata una campagna di comunicazione all'interno delle aree colpite, tra sfollati e persone che temevano di aver perso l'attività per sempre, per informare come e dove potevano trovare i loro consulenti Generali di sempre.



In una delle zone più produttive d'Italia, la risposta tempestiva, la vicinanza, la consulenza e la gestione rapida dei sinistri si è rivelata un contributo per la comunità Generali e per tutta la comunità colpita.

Dai primi momenti di sconforto si è passati all'Agenzia in tenda, poi nel container e poi a spazi comuni riservati dalle autorità alle attività produttive. Infine alle nuove sedi, ma intanto un anno era già trascorso (nella foto voglio ricordare come un'intera Agenzia sia stata resa nuovamente operativa in uno spazio 2×10).

Mi piace ricordare questo anniversario anche alla luce del periodo che stiamo vivendo. Dopo 9 anni forse molti hanno dimenticato quei momenti, forse qualcuno non si ricorda cos'è avvenuto, ma quelle Agenzie che pur con gravissimi problemi da affrontare hanno saputo pensare soprattutto ai propri Clienti, non solo si sono riprese ma sono divenute più forti di prima.

Spero sia un auspicio per i nostri prossimi 190 anni perché Partner di Vita non sia solo uno slogan.