AGM 2022 - LIVE STREAMING
For the 2022 Shareholders' Meeting, held without the physical attendance of shareholders, Generali offered the possibility to its shareholders entitled to vote to attend the entire proceedings of the Meeting via a video live streaming.
Gabriele Galateri di Genola
Chairman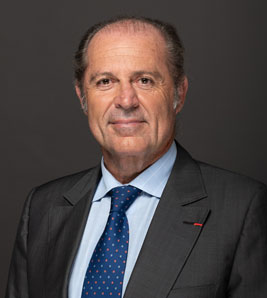 Philippe Donnet
Group CEO
Cristiano Borean
Group CFO
For the Shareholders' Meeting of 29th April 2022, Assicurazioni Generali offered the opportunity to follow the Meeting's proceedings in video live streaming. In this way an increasingly larger audience of shareholders was able to easily witness this important moment of corporate communication.
The live streaming service was also available, aside from the Italian version, with simultaneous translation in English, French, German, Spanish and Italian Sign Language. Italian subtitles were also available.
Since the Annual General Meeting is a private event, access to the video streaming of the whole Meeting was allowed only for those that requested the communication for participation in the Assembly from their custodian (under art. 83-sexies of the CLFI) and, as a consequence, were certified as shareholders on the 14th April 2022, the record date.
Shareholders who did not request the communication to attend the Shareholders' Meeting had access to the live video streaming of the public part of the Meeting only, including the opening speeches by the Company's top management.
Opening speeches
| | | |
| --- | --- | --- |
| Chairman Gabriele Galateri di Genola - English | | |
| Group CEO Philippe Donnet - English | | |
| Group CFO Cristiano Borean - English | | |
| Chairman Gabriele Galateri di Genola - Italian | | |
| Group CEO Philippe Donnet - Italian | | |
| Group CFO Cristiano Borean - Italian | | |
| Chairman Gabriele Galateri di Genola - French | | |
| Group CEO Philippe Donnet - French | | |
| Group CFO Cristiano Borean - French | | |
| Chairman Gabriele Galateri di Genola - Deutsch | | |
| Group CEO Philippe Donnet - Deutsch | | |
| Group CFO Cristiano Borean - Deutsch | | |
| Chairman Gabriele Galateri di Genola - Spanish | | |
| Group CEO Philippe Donnet - Spanish | | |
| Group CFO Cristiano Borean - Spanish | | |
| Chairman Gabriele Galateri di Genola - LIS (Italian sign language) | | |
| Group CEO Philippe Donnet - LIS (Italian sign language) | | |
| Group CFO Cristiano Borean - LIS (Italian sign language) | | |