Global leadership programmes
"We, Generali" is a concept that encapsulates our transformation in culture and brand profile, and which inspired two global training programmes in particular - the Global Leadership Program Series and the Global Leadership Program Accelerator. These are specifically targeted at the Global Leadership Group (GLG – composed of around 200 managers with key roles in the organisation) and a select group of their successors.
These training courses are based on two or three modules and comprise preparatory work, individual or group coaching, activities on the educational social platform, and informal exchanges with members of the Group Management Committee, regional managers and country CEOs.
The main goal is to enable participants to become driving forces behind "We, Generali", focusing on the roles, responsibilities and skills required to become agents of change.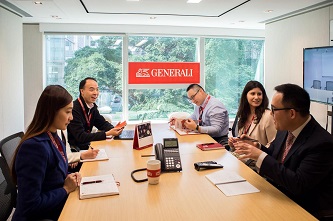 The Leadership Agility in a Global Context programme is the first step of a development path dedicated to senior Generali expatriates and managers who work in international groups. It aims to train global leaders who are able to promote our group's cultural diversity, and interpret and lead the process of change, transforming the experience of living abroad into one of growth.

Global leadership thus becomes an approach based on personal action, taking full advantage of cultural differences to create an environment where ideas can flourish and where they are implemented across the different geographical areas, engaging colleagues at all levels of the organisation.