How we contribute
2020 saw the rapid spread of the COVID 19 pandemic, which has undermined the world's health systems, the socio-economic fabric and drastically changed people's lifestyles. The Generali Group responded to community support with an important contribution of € 135 million.
With the rapid spread of the pandemic, the Generali Group intervened immediately launching an extraordinary international fund of € 100* million to support customers, the distribution network and the communities.
Of these, € 55* million went to support the community in response to the emergency and for bringing relief to the socio-economic context and national health systems.
To the international fund, the Group's companies contributed to support communities with € 68* million of extraordinary funds in response to the COVID-19 emergency and € 12 million in ordinary investments voluntarily allocated every year to non-profit organizations, or organizations pursuing social goals. In line with previous years, of the 12 million earmarked for various community initiatives; approximately € 7.5 million were allocated to support The Huma Safety (THSN) programs in the 22 countries where the project is active.
Our activity, aimed at improving life in the communities in which we are active, focuses on:
financial donations: in 2020, 94% of total contributions

donations of goods and services (in-kind): in 2020, 4% total contributions

time donations (corporate volunteering): in 2020, 2% total contributions
Our employees were involved in corporate voluntary initiatives, providing 11,176 hours for activities in favour of non-profit organizations, mostly supporting The Human Safety Net.
Since January 2017 we have joined the Business for Social Impact (B4SI) (formerly the London Benchmarking Group) and, starting from that year, we classify our investments in the community according to their reporting method.

The areas we contributed to in 2020 were:
Contribution 2020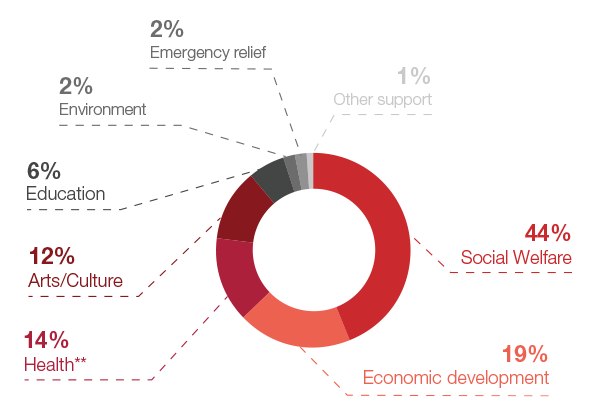 (*) pre-tax
(**) Health: Starting from 2019, we have included all sports-related initiatives in the Health category, in order to be aligned with the LBG guidelines.