How we contribute
In 2019, funds voluntarily allocated to non-profit organizations, or pursuing social goals, amounted to € 12.2 million.
Of these, approximately € 6.3 million were allocated to initiatives within the three programs of The Human Safety Net (THSN) in the 21 countries were it operates.

Our activity, aimed at improving life in the communities in which we are active, focuses on:
financial donations: in 2019, 95.2% of total contributions
donations of goods and services (in-kind): in 2019, 1.4% of total contributions
time donations (corporate volunteering): in 2019, 3.4% of total contributions

Usually the contributions are managed directly by the companies, while in Italy, Austria, Czech Republic and Hungary we also have foundations, which operate according to the purposes of the respective statutes.

In January 2017, we joined the London Benchmarking Group (LBG) and since then we classify our community investments according to their reporting method.
The areas we contributed to in 2019 were: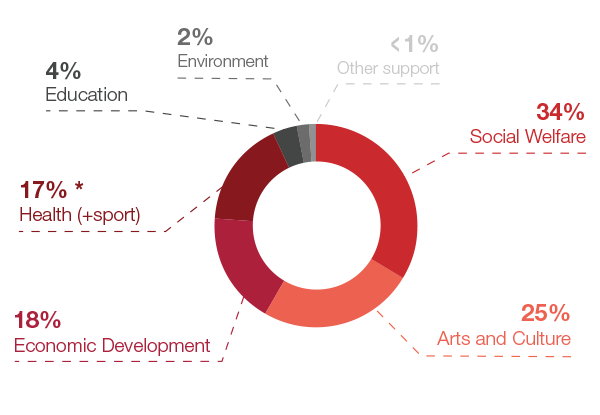 (*) Health: Starting from 2019, we have included all sports-related initiatives in the Health category, in order to be aligned with the LBG guidelines.
In 2019, our employees were involved in corporate voluntary initiatives, providing 14,253 hours during working time for activities in favor of non-profit organizations, mostly supporting The Human Safety Net.